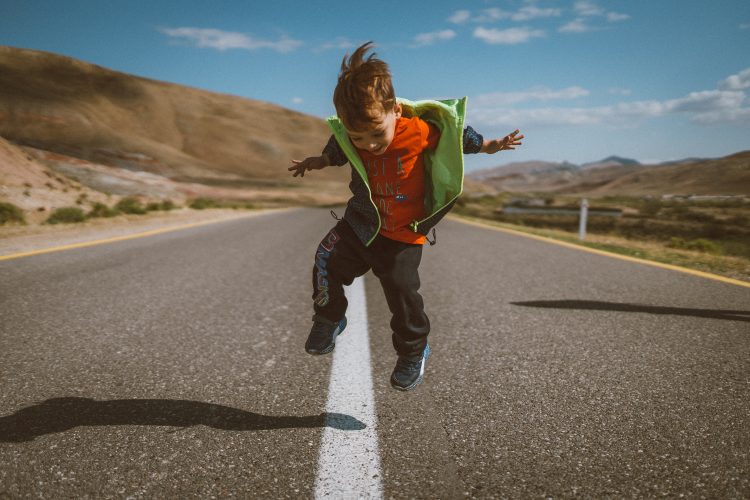 One-third of children in the U.S. are overweight or obese, and 80 percent of those children age into overweight or obese adults. Joey Lee, Assistant Professor of Health Sciences at UCCS, has focused his academic and professional career on changing that.
Lee, who teaches in the Helen and Arthur E. Johnson Beth-El College of Nursing and Health Sciences, works to improve health and wellness promotion efforts in schools.
"What my research aims to understand is why it is easier for some schools to prioritize student health, but much harder for other schools," Lee said.
Lee works to understand what factors are contributing to the schools' challenges, and then identifies and tests strategies that can make prioritizing and implementing health and wellness easier for all schools.
"One thing that my research has found is that the school environment plays a role in promoting youth health," Lee explained. "Children are naturally wired to move and play, especially in comparison to adults. So, it is important to surround them with environments that promote movement and play, and to provide them with opportunities and encourage them to move throughout the day."
As an undergraduate and master's student at Illinois State University, Lee had the opportunity to work with Kelly Laurson, Professor of Kinesiology, and Dale Brown, Professor of Exercise Physiology, at the university. Laurson conducted research on the factors that predict youth health and wellness outcomes like obesity and fitness that helped to expose Lee to the research and writing process.
"Working with Dr. Brown provided me with opportunities to work with school wellness leaders and gain experience with helping schools to conduct fitness assessments with youth. I also worked with schools to optimize how they collect data on youth health behaviors and fitness to inform programmatic decisions," Lee said.
Currently, Lee is working on several projects to encourage healthy behaviors in youth that can translate to lifelong healthy habits that children can practice as adults. 
One of those projects, the School Wellness Assessment Project, has engaged 25 rural Colorado schools to explore how their school wellness teams influence their wellness environments and programs.
"Schools provide information about their school wellness team and the normal wellness opportunities that students have access to during and around the school day. Schools also report what barriers to prioritizing wellness they normally experience and what things have helped or facilitated their ability to implement wellness programming," Lee said.
After collecting the data, Lee and the research team can better understand how having an active school wellness team can influence youth health and wellness. Lee's team found that schools with a more active wellness team offered more time throughout the week for physical activity for elementary and middle school-aged children and had more school-wide offerings of programs to promote and support healthy eating. The research team also identified that wellness teams in rural schools face unique barriers, such as limited access to community health resources and expertise and a lack of community and cultural value around prioritizing healthy behaviors.
Lee is also working on another research project with his doctoral mentor, Dr. Greg Welk, and the Physical Education Coordinator, Javier Carrasco, from the El Paso School District in El Paso, Texas to integrate the assessment of youth physical activity behaviors into physical education classes to balance the focus on fitness and behaviors.
By re-framing the focus of physical education classes to focus on broader physical activity behavior, as well as fitness, the project aims to help students understand their own physical activity behavior and patterns and how they can build physical activity into their days when they are at home or at school. Building the physical activity assessments into physical education classes equips physical educators with data to develop individual plans to improve a student's behaviors. At the same time, these school-level data are used by school leaders to identify and understand where each school in the project can make improvements to their physical activity offerings and environments. 
One of Dr. Lee's most notable research projects is "School Wellness Integration Targeting Children's Health," or "SWITCH." SWITCH is a program that trains schools on how to evaluate their wellness environment and establish plans to enhance it, and provides schools some tools and resources to get started. Lee has been involved with the program for the past seven years.
"The SWITCH mantra is to help students to 'switch what they do, view, and chew!'" Lee explained. "We encourage schools to promote 60 minutes of physical activity per day (do), fewer than two hours of recreational screen time (view), and to eat five or more fruits and vegetables per day (chew) to their students. The program started in its first year with just a group of four schools from a small Iowa community and has grown to having over 50 schools enrolled last year."
SWITCH focuses on training and empowering schools to tackle wellness initiatives head on. The program teaches schools how to implement basic needs assessment and program planning skills, which equips them to be able to identify their unique wellness needs and then implement plans to address those needs.
"If a school can identify strategies for addressing health needs on their own, or be able to identify and bring in community partners to assist with meeting those needs, it creates a more sustainable model for supporting youth health through schools in the long-term," Lee concluded.
Joey Lee is an Assistant Professor of Health Sciences at UCCS at the William J. Hybl Sports Medicine and Performance Center. Learn more about Lee's work on the Helen and Arthur E. Johnson Beth-El College of Nursing website.