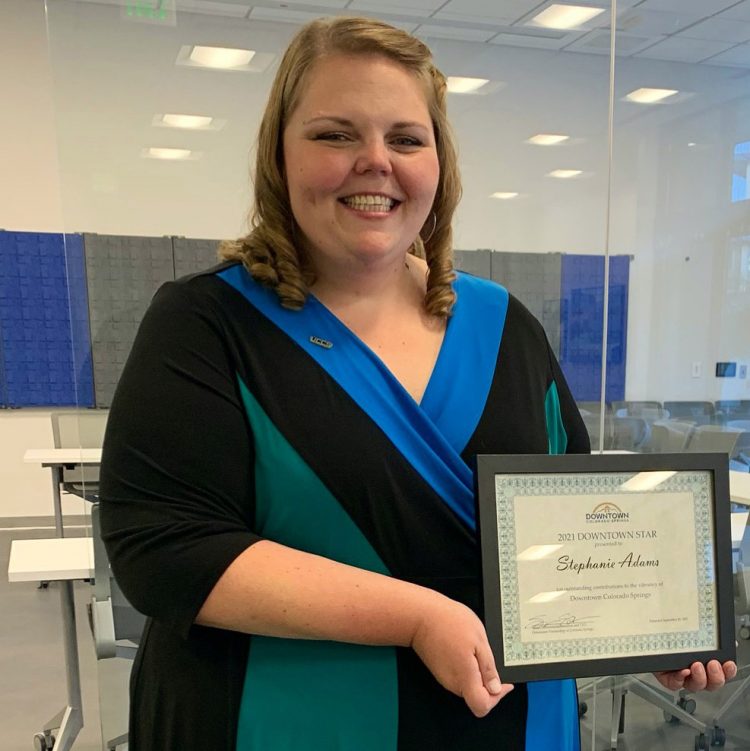 UCCS Downtown Director Stephanie Adams was honored on Sept. 16 with a Star Award, given by the Downtown Partnership of Colorado Springs to "spotlight some of the champions, innovators, visionaries, and problem solvers who make our city center the best it can be."
Adams is in her third year as director of UCCS Downtown, a satellite campus located six miles south of the UCCS campus. UCCS Downtown offers academic courses, professional development opportunities, and cultural events for students, alumni, and community partners.
"When I read the job posting for UCCS Downtown Site Director, it felt like a calling specific to me," Adams said. "I just felt a strong connection to the space. I've always loved UCCS." Adams is a double alumna with an undergraduate degree in geography and a masters in public administration.
The idea for the downtown location started with Regional Connect, a campus commission of local leaders. Adams has adopted their vision and expanded on it, combining a relentless passion for UCCS and urban living that's resulted in a thriving asset to the university and Colorado Springs community.
"UCCS Downtown serves both campus and community stakeholders in many ways. We prioritize academics and student programs downtown, develop convenient high-value programs for adult learners and prospective students of all ages, and help colleges better connect to community support."
Adams eyes a bigger role yet for UCCS Downtown in the Springs community — one that expands its footprint beyond the 3,000 square-feet space it currently uses. "I'd love to see students living in or near downtown, walking to classes, becoming the urban professionals our city center needs to continue thriving. With added infrastructure, UCCS Downtown could do so much more to engage the local business and civic community, connecting them with expert faculty from campus to expand research opportunities, solve regional problems and innovate for the future."
While Adams' ambition is seemingly endless, she remains humbled by her award. "Winning this award was such an honor for me. I'm so happy the work we've done at UCCS Downtown has made a positive impression on Downtown COS, and I'm excited for our future. I so appreciate the faculty, staff, student clubs and departments who have hosted programming in our space and helped make UCCS Downtown the vibrant learning and engagement hub it is today."