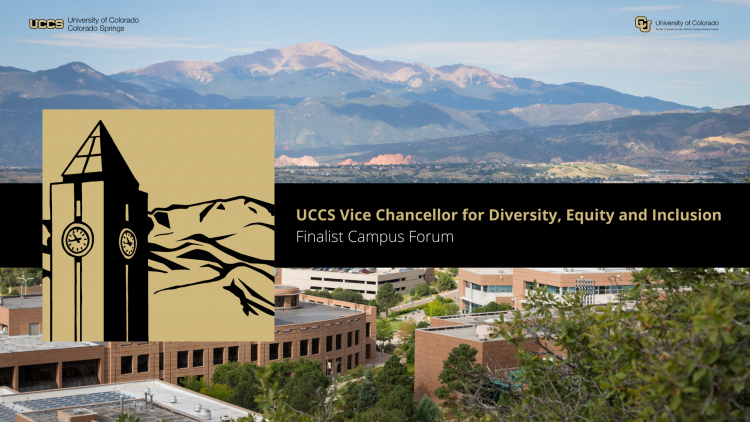 Dear UCCS Community,
I'm writing to provide you with an update about the progress we are making on the search for a Vice Chancellor for Diversity, Equity and Inclusion (VCDEI).
We officially launched this search on Aug. 4 after having collected community feedback on the position and its key characteristics earlier this spring. I'm grateful to Dean Lynn Vidler from the College of Letters, Arts and Sciences, for agreeing to chair the search.
Given the timing of the academic year, we have intentionally paced the interviewing of candidates to begin in the fall hoping that we will have the benefit of our full community back on campus. Our goal is to complete interviews by late October and fill the position permanently by the start of the spring semester.
I would encourage you to review the VCDEI leadership profile (or see PDF, updated Aug. 2021) and share it widely with your networks. The executive summary is shared below.
Finally, please share your thoughts on nominations, questions or comments for the role by emailing [email protected]. Nominations may also be submitted on WittKieffer's posting for the position.
I look forward to providing you with further updates on this search later this term and wish you a wonderful start to the academic year!
Respectfully,
Venkat Reddy
Chancellor
---
Executive Summary
We must ensure that our campus remains a place where differences of all kinds — whether they are of race, ethnicity, identity or belief – are respected, valued and protected. Our best defense against hatred and division is compassion, inclusion and understanding.
Chancellor Venkat Reddy, June 2020
The University of Colorado Colorado Springs (UCCS) seeks in its next Vice Chancellor for Diversity, Equity and Inclusion a collaborative, strategic, inspiring and proven leader in building programs and partnerships that address intersecting dimensions of diversity.
As a premier comprehensive undergraduate and specialized-graduate research university, UCCS provides students with academically rigorous and life-enriching experiences in a vibrant university community. The campus offers liberal arts and sciences, business, engineering, public affairs, health sciences and teacher preparation undergraduate-degree programs and a select number of master's and doctoral-degree programs.
From its founding, UCCS has driven to serve its students and their diverse needs while shaping itself into a transformational force for its surrounding community. Under the University of Colorado System, UCCS fuels success for almost 12,000 students. Students come from all 50 states and 82 different nations, 34% identify as diverse, 20% are military-affiliated and one-third are first-generation college students.
The Vice Chancellor for Diversity, Equity and Inclusion (VCDEI) will join UCCS at a time of increasing opportunity and transformative cultural change. Reporting directly to Chancellor Venkat Reddy, the vice chancellor will serve as a dynamic thought leader, partner and trusted member of the senior leadership team. In collaboration with the university community, the VCDEI will reimagine and articulate a strategic vision for advancing diversity, equity and inclusion, assess and determine structures to meet the University's goals while also building relationships and fostering collaboration, provide leadership to a team of dedicated professionals, and serve as an ambassador in the University and local communities. The new VCDEI will set an ambitious course that reflects the distinctiveness of the University aligned with UCCS's mission and core values. https://www.uccs.edu/mission
In order to achieve these goals, the VCDEI must be an experienced talented professional who is eager to lead purposeful action and embraces a shared responsibility for the community. The VCDEI will define, inspire and execute the work of inclusion, engaging all corners of UCCS communities. Candidates should provide evidence of supervisory and leadership experience and be able to demonstrate a record of success in building strategic coalitions and serving as a connector across organizational and cultural boundaries.