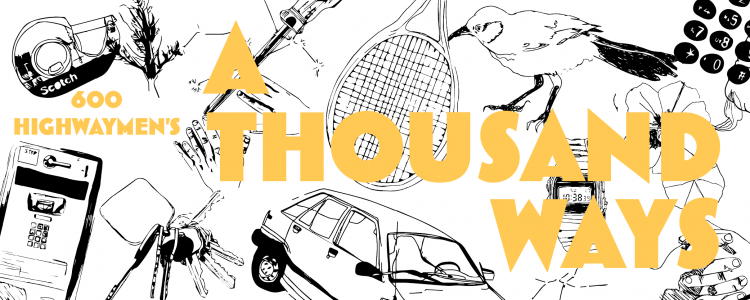 The Obie Award-winning experimental performance group 600 Highwaymen returns to Colorado Springs for a performance of their triology "A THOUSAND WAYS" at UCCS from Aug. 20-Sept. 3.
This sort of a visit isn't new for UCCS. For over 10 years, the Department of Visual and Performing Arts' theatre & dance program has been holding yearly residencies with some of the most prominent theatre makers in the United States.
"We like to see our university as an incubator for new art development. We want to allow our students and community in on the ground floor of that work," said Kevin Landis, Professor and Director of Theatre & Dance.
In the past several years, Landis and his colleagues have been expanding what it means to be "in development." How can visiting artists engage with a university and surrounding community in a way that is generative and beneficial for all? The answer has been multi-week residencies that include student Working Groups, Arts Salons and a Council of Scholars — professors from various departments who add their expertise to the arts-building process.
"The Council and Student Working Groups are really exciting since they expand our reach and demonstrate that arts is not only for arts students and professors," said Landis. "Art is universal, and scholars and students from across campus are essential in its creation."
"A THOUSAND WAYS" is a three-part, enthralling, imaginative, and profound social experience that delivers us from isolation to congregation. This triptych of encounters is designed around social distancing rules to meet participants where they are and when they are.
In Part One, on a simple phone call, you and another audience member — nameless strangers to one another — follow a carefully crafted set of directives. Over the course of the journey, a portrait of each other emerges through fleeting moments of exposure and the simple sound of an unseen voice.
You continue the journey in Part Two, where you and a stranger meet on opposite ends of a table, separated by a pane of glass. Using a script and a few objects, a simple exercise of working together becomes an experience of profound connection.
This year, 600 Highwaymen will be developing Part Three of their trilogy here at UCCS, culminating in a public convening made up of every stranger from the project's journey.
The UCCS Department of Visual and Performing Arts is producing the residency in partnership with the Ent Center for the Arts and Green Box Arts in Green Mountain Falls. Tickets, which can be purchased for individual parts of the trilogy or as a package, are on sale at https://entcenterforthearts.org/vapa/events/a-thousand-ways.