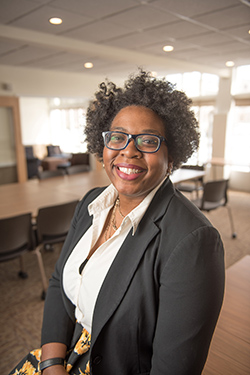 The University of Colorado Colorado Springs Multicultural Office for Student Access, Inclusiveness and Community (MOSAIC) and LGBTQ+ Resource Center recently announced Whitley Hadley, a 2013 UCCS graduate, as the new Director of the Center.
Hadley, who uses she/they pronouns, replaces Anthony Cordova, who retired June 30 after 26 years at UCCS. She joins recent program coordinator hires Joyner Atiles-Lopez and DeJae Spears to complete the MOSAIC staff.
Hadley, a first-generation college student, graduated from UCCS in 2013 after double majoring in communication and women's & ethnic studies. Hadley spent most of her time on campus invested in encouraging other students to maximize their UCCS experience — most notably through her leadership in the Black Student Union (BSU), Student Ambassador position (currently named Clyde's Guides), the Phi Sigma Sigma sorority and while serving as a Junior Teaching Assistant (currently named GPS Peer Leader).
"This is what a UCCS graduate can look like — tall, awkward, Black, fat, woman, queer, first-generation, disabled, eager and from a low-income community," Hadley said. "The possibilities are limitless when a UCCS student knows that they have people with similar stories and backgrounds who have thrived from this educational experience and that those alums are eager to come back to support them along their collegiate journey."
Hadley joins UCCS from Smith College, where they served as the associate director of multicultural affairs and led the charge for activating the newly renovated Mwangi Cultural Center. Prior to Smith, Hadley was the multicultural programs coordinator at the University of Nevada, Las Vegas (UNLV), an emerging minority-serving institution. They served within that position for three years with a focus on culturally centric student leadership development, inclusive education, and cultivating allyship. They also taught within the Leadership and Civic Engagement minor with an emphasis on introduction to leadership development and group facilitation.
Upon graduating from UCCS, Hadley entered the Student Affairs and Higher Education program at Colorado State University, where she received her master's degree.