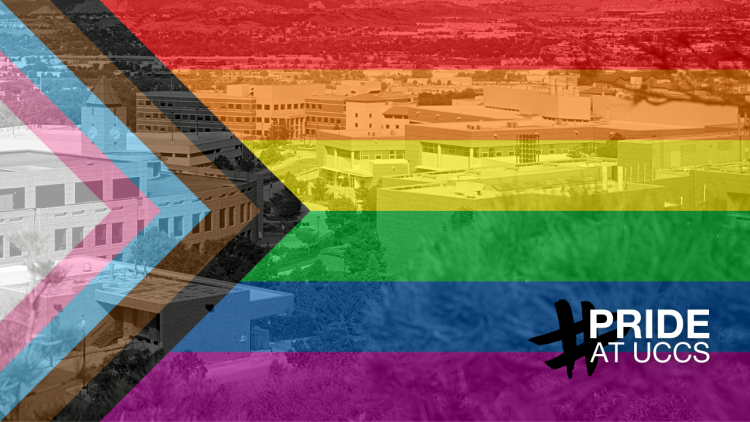 This year marks the 51st anniversary of Pride Month in the United States. Pride Month commemorates the Stonewall riots, which occurred at the end of June in 1969, and recognizes the impact LGBTQIA+ (Lesbian, Gay, Bisexual, Transgender, Queer, Intersex, Asexual) individuals have had on many levels locally and around the world. You can celebrate Pride by attending events, sharing your story or educating yourself by using resources on campus. Below is a list of ways you can get involved during Pride Month and beyond.
UCCS Faces of Pride
MOSAIC (Multicultural Office of Student Access, Inclusiveness, and Community) and the LGBTQ+ Resource Center are highlighting the diversity and intersectionality of LGBTQ+ students, staff, and faculty at UCCS through the "UCCS Faces of Pride" campaign. Members of the UCCS community are invited to submit a photo and respond to questions surrounding Pride. Submissions will be featured on various institutional accounts including MOSAIC, the LGBTQ+ Resource Center, and UCCS and CU System publications. Click here to access the form.
Denver Pride 5K
The University of Colorado continues to be a major sponsor of PrideFest this year and while many in-person events have been canceled the Denver Pride 5K is still happening! Join members of the UCCS community and the CU system (in-person or virtually) on June 26, 2021, for the Denver Pride 5K. Click here to register to join the CU team and learn more.
Don't forget to show your Pride by posting on social media. Use #CUAtPride #PrideAtUCCS and tag @uccs_mosaic for a chance to be featured.
Colorado Springs PrideFest
UCCS is joining the local community for Colorado Springs PrideFest 2021 taking place July 16-18. Events include a trivia night, equality and inclusion workshop, drag queen bingo and more. Stay tuned for more details on a pre-party at the UCCS Downtown location on July 17. Visit Colorado Springs PrideFest's Facebook page for a full list of events.
LGBTQ+ Resource Center at MOSAIC
Did you know that the LGBT Resource Center at MOSAIC began as a task force in 2009? Continuing the mission, the Center works to create a safe and supportive campus environment by offering educational and community-building opportunities and advocating for the needs, visibility, and inclusion of the LGBTQ+ community on campus. Visit their website to learn more about the history of the LGBTQ+ Resource Center at MOSAIC, how to get involved and the resources available to the community.
Staff and Faculty PRIDE Committees
The Staff and Faculty PRIDE Committees work to advocate for the specific needs of LGBTQIA+ identifying staff and faculty and their allies. This work is done through collaboration with campus departments, providing a space where LGBTQIA+ staff and faculty can build social and intellectual connections, and gain and maintain a healthy sense of self-identity as an LGBTQIA+ individual on campus. If you would like to get involved, email [email protected] to learn how.
---
There are additional opportunities to celebrate Pride across the state of Colorado. Follow M.O.S.A.I.C. on Facebook and Instagram to learn more about upcoming events in Denver, Colorado Springs and Pueblo.