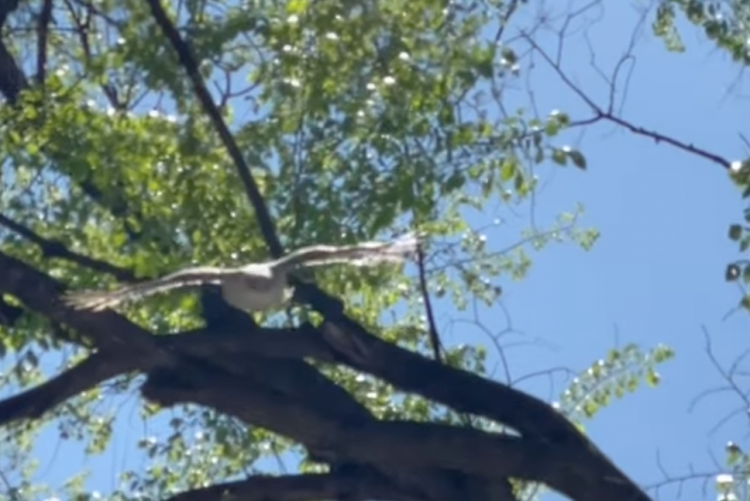 If you have been in front of Main Hall in the past few days, you noticed the temporary barriers and yellow tape blocking off the sidewalk. It is all there for Matilda (who is also known by her alias of "Swoop Dogg").
Matilda, who was affectionately named by Emilie Fox, a graduate student in the Office of First Year Experience and Parent and Family Programs, is a Cooper's hawk who has been nesting in the same spot in front of Main Hall for the past three or four years. She must have a passion for sustainability as she prefers to return to the same nest each year instead of spending the time and energy it takes to build a new nest.
But why the caution tape and barriers? Matilda is fiercely protective of her nest and has swooped down on pedestrians as they walk past her tree. Some have even experienced minor injuries as she made contact. The Colorado Department of Parks and Wildlife was consulted and they recommended cordoning off the area to give her some privacy and peace of mind as she raises her family. Parks and Wildlife told us that she will keep a watchful eye on her chicks for the next 45-60 days, until they are ready to live on their own.
We will keep the barriers up and allow this family of hawks to enjoy their summer at UCCS. For your safety, we ask that you honor the barriers and admire the hawk family from a safe distance with binoculars or a zoom lens. Or you can check out this amazing video of Matilda unexpectedly swooping down on our campus photographer.
Did you know…
The experts at Colorado Parks and Wildlife reminded us that it is illegal to possess even a feather from a raptor. All raptors are protected by State and Federal regulations.