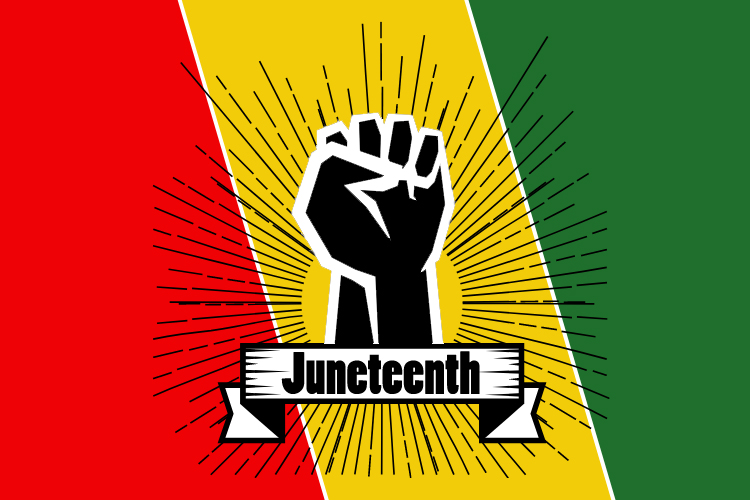 Juneteenth, also known as Freedom Day, Emancipation Day and Jubilee Day, is a 155-year-old holiday commemorating the end of slavery in the United States. As the holiday quickly approaches, you may be seeking more knowledge. Nadia Owens, a senior at UCCS majoring in Biomedical Science and the president of the Black Student Union, and Joyner Atiles-Lopez, the new M.O.S.A.I.C. coordinator, answered questions about the history and significance of Juneteenth and how you can celebrate it.
What is Juneteenth?
Nadia: Juneteenth is a holiday celebration that commemorates the end of slavery. This holiday takes place on the 19th of June and this year, it falls on a Saturday. You might be able to guess that the holiday got it's name by combining June and 19.
Joyner: It is the oldest nationally celebrated commemoration of the ending of slavery in the United States. It was on June 19th, 1865 that Union soldiers, led by Major General Gordon Granger, landed at Galveston, Texas with news of General Order No. 3, which proclaimed freedom from slavery in Texas. This is two and a half years after President Lincoln's Emancipation Proclamation!
Is Juneteenth a national holiday?
Nadia: Juneteenth is celebrated across the United States but unfortunately it is not recognized as a national holiday.
Joyner: Most states have individually recognized the holiday through legislation or declarations. The lack of official national recognition may soon change, as the Senate has just passed a bill that would make Juneteenth an official federal holiday. The bill will require further approval by the House and the President before it becomes law. If it were to be fully approved, this would be a major milestone not only because it would recognize the holiday through official law, but also because this would now mean that many individuals would now qualify for paid holiday time on this date.
How can/do people celebrate Juneteenth?
Nadia: Juneteenth can be celebrated in a variety of ways! Rodeos, carnivals, cookouts, family reunions, historical reenactments and street fairs are just a few ways it is celebrated.
Joyner: Everyone celebrates in their own way but most celebrations are centered around social gatherings and education. If you are looking to celebrate here in Colorado Springs, in partnership with Black Student Union, MOSAIC will be hosting a Juneteenth Watch Party on Friday, June 18th in Kettle Creek at 4pm for all who would like to attend. The event will include some Juneteenth trivia, food, and a screening of Drumline. We ask that you please RSVP through our Mountain Lion Connect event page. In addition to our celebration, there is also a Colorado Springs Juneteenth festival happening June 18-20 with a packed schedule. For more information on those festivities, you can visit their website. As with many other holidays, the important thing is to educate yourself on the true nature of the holiday and honor its origins. Just like Juneteenth has lacked the national recognition it deserves, much of this country's history is yet to be learned by a large portion of our society. For many, this day may be best used to educate yourself on the holistic history of this country and broadening your perspectives.
How can people educate themselves and others about Juneteenth?
Nadia: You can educate yourself about the significance of this holiday by exploring different resources about this historical event. Staying informed through current news articles, books, documentaries or even simply asking peers or community members, such as historians or UCCS faculty members, are just a few ways you can educate yourself about Juneteenth.
Joyner: We live in an age where simply doing a quick internet search can expose you to an endless source of knowledge. Be wary of what sources the information is coming from, but simply start to search and you can quickly find various sources that will share the origins and history of Juneteenth, as well as the various ways it is celebrated. The National Museum of African American History & Culture has done a great job of sharing a history of Juneteenth in a succinct format and the Juneteenth World Wide Celebration website provides a glimpse as to how the holiday is celebrated across the country and ideas on how to celebrate in a multitude of spaces. As MOSAIC, we are happy to provide some further education and resource guidance for those who are interested. Please feel free to reach out to us at [email protected] We will also be posting some educational content centered around Juneteenth on our social media this week (@uccs_mosaic). Another way to educate yourself is to put yourself out there and attend a celebration. Show up, learn more about what is being recognized, and experience it first-hand.
---
Juneteenth Watch Party: Join M.O.S.A.I.C. and the Black Student Union on June 18th at 4pm in Kettle Creek for a Juneteenth watch party! Come watch Drumline, enjoy some food, and learn more about the history and significance of Juneteenth through some trivia. In conjunction with UCCS policies, social distancing and masks will be enforced. Click here to RSVP.