Members of the UCCS Police Department gathered with community members and event organizers to honor UCCS police officer Garrett Swasey, who died Nov. 27, 2015 in the line of duty. With the help of the Shield616 and Carry the Load teams, they also saw 22 new sets of tactical armor donated to the force.
The May 27 event gathered about 100 participants to march in support of those who protect and serve, including those who have given the ultimate sacrifice.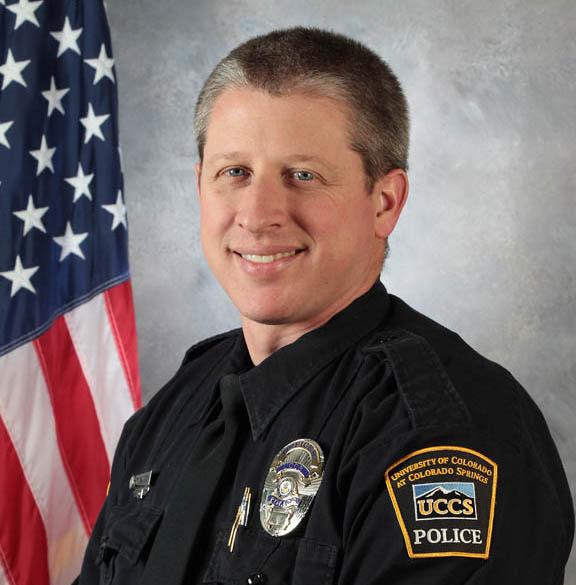 "Today, you and I together, are sending a strong message to our first responders that we are thankful for the service they provide," said Jake Skifstad, founder and president of Shield616 said. "There is no stronger message you can send than to come alongside them, encourage them and support them, but also to help provide something in that is potentially life-saving."
Skifstad, whose organization helps provide police officers with body armor capable of withstanding rounds from high-powered rifles, told those in attendance about his time serving on the SWAT team in Colorado Springs and the day he received the call that a shooting was underway at Planned Parenthood and an officer was down. Officer Swasey, who responded to the event, lost his life in that shooting, leaving Skifstad with the mission of ensuring police departments and officers in the line of duty are adequately protected with proper equipment.
"Help us honor and continue to bring awareness to the sacrifices UCCS officer Garrett Swasey and his family have made," organizers wrote.
Following speeches, photos and signing a flag that the group would carry, the group set out on two marches, a shorter on-campus march and a march across the city.
The event was organized through the nationwide Carry The Load organization, which aims to provide an active way to honor and remember the nation's heroes by connecting communities to the sacrifices made by military, veterans, first responders and their families.
"In a year where law enforcement has seen a lot of turmoil, my family is so thankful for the continued support of Shield 616 and the UCCS Police Department. Shield 616 makes access to specialized tactical gear possible for local police departments, and with the help of Carry the Load, we hope to make a difference for those serving our communities," said Rachel Swasey, widow of officer Swasey, said. "I want to say thank you to Carry the Load for demonstrating a way to support local law enforcement and bringing together the broader UCCS, Colorado Springs and law enforcement communities. It's an incredibly important mission, and it's so meaningful to see so many people involved in the effort."
The Carry The Load organization has helped raise nearly $30 million through its events.
You can see a gallery of photos from the event below: