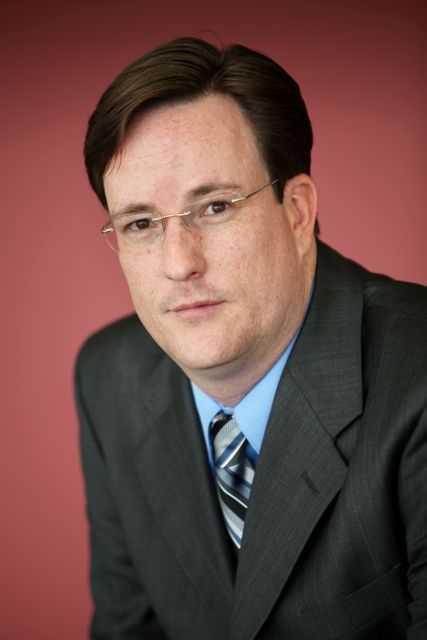 When Mike Sanderson does his job right, nobody hears about it – because nothing happened in the first place.
That's the beauty of a position in compliance, says Sanderson, who is the associate director of the Office of Sponsored Programs and Research Integrity and the winner of the spring 2021 Employee of the Quarter Award.
Sanderson's work stretches across not just the UCCS campus and the University of Colorado system, but also the globe. He works with researchers both on campus and abroad, often helping them to navigate complex regulations – which are frequently written for corporations and federal departments – and put them into practice at the university.
"Mike is akin to the carbon monoxide detector in your home," wrote Jessi Smith, associate director of research in a letter supporting Sanderson's nomination. "His job is to detect what the rest of us can't see before we feel sick. And he is vitally important to the health and wellbeing of our campus – quietly and reliably making sure the rest of us can work and learn with peace of mind."
"There are thousands of compliance professionals out there who have prevented a major regulatory or ethical event from ever happening. We try and make sure that nothing happens while limiting the impact on research," Sanderson said.
"If we do the job right, nobody ever knows that nothing happened," Sanderson jokes. "We walk a fine line."
Sanderson is a UCCS alumnus, having received his MBA in 2009. He has held multiple roles at UCCS, first taking a graduate internship with the UCCS Career Center, then a full-time role as a coordinator of research compliance in the UCCS Office of Sponsored Programs and Research Integrity. He has also worked across the CU system, having served at CU Boulder as a research integrity and compliance quality assurance coordinator and having spent time working on the CU Anschutz campus.
His current work is deeply important to the university. With a foundation in teaching and research, UCCS' mission – and its 2030 Strategic Plan – rest on generating new knowledge through research and creative works for the benefit of students and society.
It's also important for the Colorado Springs community.
"Our research ripples out into the community in a lot of different ways," Sanderson said. "We have researchers that work with our military community, our aging community, and who specifically work and collaborate with small businesses in the city. Our researchers are really dynamic."
And for Sanderson – a Colorado Springs native and the child of a military family – seeing those positive effects ripple through the community is its own reward.
"One of my favorite parts of the job is when we're able to support faculty to get something done that's really beneficial to our community," Sanderson said. "Working with our researchers who deal with homeless veterans, or student health, is really rewarding. Knowing that we're playing a small piece in that work, and supporting it in the best way we can, feels important."
---
In recognition of his efforts, Sanderson will receive one day of administrative leave, a $100 stipend, three months of a free and reserved parking space when normal campus operations have resumed and a $40 voucher to the UCCS Bookstore. Congratulations, Mike!
Do you have a colleague whose extraordinary efforts at UCCS deserve to be recognized? Nominate them for the Employee of the Quarter award.