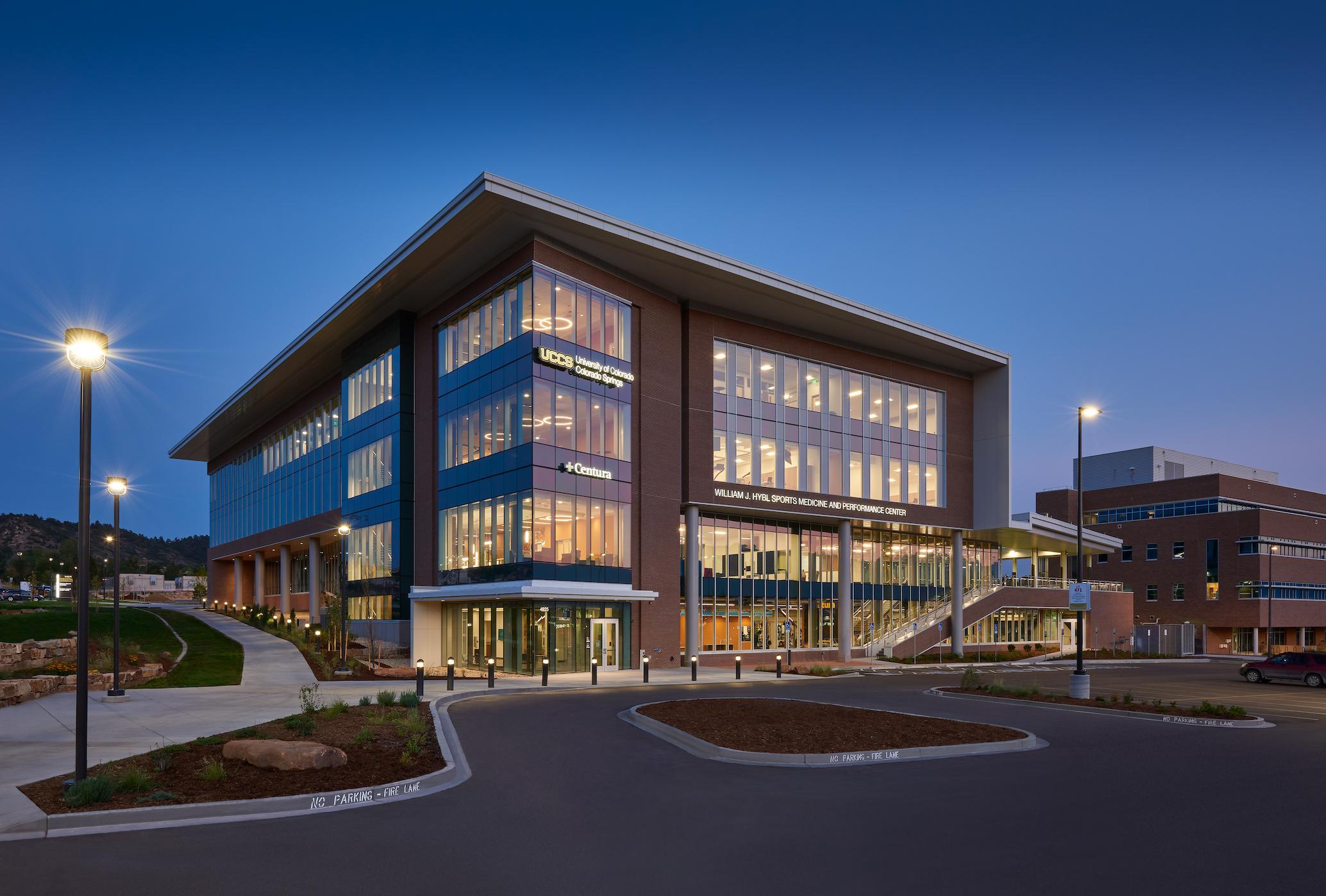 Colorado Springs has a storied past of drawing visitors to the Centennial State not just for beautiful views of the mountains, but for its restorative climate, health experts and more. A recent event celebrating the City of Colorado Springs' 150th took a closer look at the history of medical tourism in Colorado Springs, but also what lies ahead for the city.
From the city's founding in 1871 to the launch of the William J. Hybl Sports Medicine and Performance Center last year, speakers and community members in attendance had much to reflect on as they listened to four experts who helped make the topic approachable to each viewer.
Exploring the past
Presented by Chris Valentine, assistant vice chancellor for marketing and communication at UCCS.
From the early beginnings of Colorado Springs all the way through today, sunshine has been a selling factor. As an expert in the field of marketing, Valentine shined a light on how getting the word out about Colorado Springs set up a foundation to build upon for the field of medical tourism.
"It was all about marketing. We're here to celebrate the 150th anniversary of Colorado Springs, and right in 1871 when Colorado Springs was founded, it was marketed as the City of Sunshine to folks who were chasing the cure for tuberculosis," Valentine said.
Valentine highlighted innovations of their time, such as Gardiner huts, which allowed fresh air to flow through the bottom of a structure and push old air through the top of the hut. He also explored tuberculosis sanatoriums, including the Cragmor Sanitorium, which was located on the now UCCS campus.
"One in three were chasing the cure, or here for a family member chasing the cure for tuberculosis," Valentine said. "The marketing absolutely worked."
Innovations, as well as a reputation for health and curing tuberculosis helped set Colorado Springs up to be a hub, now known as Olympic City USA.
Fueling students through inclusive academics and patients seeking to recover and reach new athletic heights
Presented by Andrew Subudhi, chair of the Department of Human Physiology & Nutrition and Kevin Lesh, primary care and sports medicine doctor with Centura Health.
The time to capitalize on the moniker Olympic City USA is now, according to Subudhi and Lesh, who each play a large role in the Hybl Center's operations.
"There is a rich history, and we want to expand upon this history and keep it going," Subudhi said. "At the Hybl Center, we are able to do something that nobody else in the country is doing. We're integrating undergraduate education with an active medical practice, and that's what's so special about it."
Students, both from the undergraduate and graduate levels, are enabled in their hands-on learning through collision spaces where they will interact with professionals who are treating and working with patients and athletes, Subudhi said. This benefits students, and draws top doctors and trainers to the center, said Lesh.
"Colorado Springs is establishing itself as a world class destination for patients and athletes seeking the highest quality medical care, physiological evaluations and training programs to improve their health and performance," Lesh said.
According to Lesh, a slate of athletes, including Olympic and Paralympic athletes already utilize the center, and the facility's reputation is growing.
Lesh highlighted a number of international draws at the Hybl Center, including the altitude chamber, which allows athletes to live at altitude, but train at sea level, motion analysis and load reducing treadmills, innovative treatment programs and more. But Lesh shined a spotlight on one collaborative draw, a racing wheelchair treadmill which is an active collaboration between Centura Health staff and UCCS students and faculty.
"UCCS engineers helped create a stabilizer for the treadmill. It's the first example of where everything came together, and also highlighted some areas for future research," Lesh said. "We have the present and future colliding all at once."
A slate of degrees preparing the next generation of health professionals, as well as innovative treatments to help patients and athletes are all draws in the present, but will power Colorado Springs and the Hybl Center into the future.
"Certainly we have a bright future ahead. The present time is exciting as well, the unique geographic location of Colorado Springs, along with the cutting edge research and clinical work, will make the Colorado springs area a magnet for athletes of all ages in the coming years," Lesh said. "They can look to Colorado Springs as the place to help them run faster, jump higher, recover more quickly and continue to push the boundaries of what the human body and mind can accomplish.
A spotlight on what's to come
Presented by Doug Price, president and CEO of Visit Colorado Springs.
When examining the future, it can help to select an example from the past. While showcasing all that Colorado Springs has to look forward to in the upcoming years in the field of medical tourism, Price selected former Denver Broncos quarterback Peyton Manning, who upon suffering a neck injury while under contract with the Indianapolis Colts sought treatment in Europe, not the United States.
"Really we have moved from tuberculosis huts to state-of-the-art health and wellness centers to performance centers," Price said. "The vision is for future Peyton Mannings not to travel to Europe, but to come here to Olympic City USA."
Colorado Springs is well on its way to that goal, Price said, as he built upon the presenters before him by showcasing not just the Hybl Center, but all that is being built right now, much through the City for Champions project.
Price shined a spotlight on major projects in Colorado Springs, including the new Weidner Field, a new Colorado College hockey stadium, the Hybl Center, the Lyda Hill Center for Human Resilience at UCCS, the EPIIC Venture Attractor at UCCS and more.
"In the next five years, watch out," Price said. "People will be coming here from all over the world."