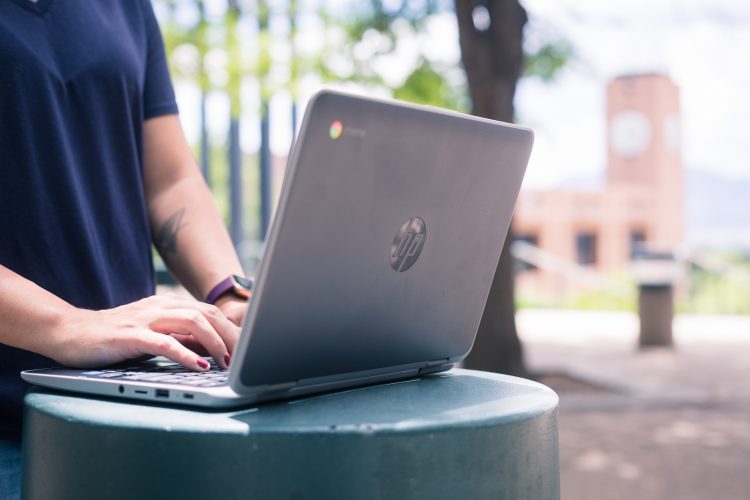 It won't be phishing season anytime soon at UCCS.
In response to a call for proposals using the coming year's Cybersecurity Initiative funds, provided by the Colorado state legislature under Senate Bill 18-086, faculty and staff submitted 43 proposals to advance cybersecurity efforts across the university and wider community. 20 proposals will be funded in the coming year.
"The faculty and staff of UCCS have embraced the growing need for cybersecurity in education. They are pursuing creative and focused efforts to increase the cybersecurity awareness and learning of students in our state," said Gretchen Bliss, director of Cybersecurity Programs.
"Continuing the progress of the last three years, the wide list of awardees shows that cybersecurity is spreading across UCCS. It now has a place in five of our six colleges through degree programs, certifications and concentrations. We are thankful the Colorado legislature for funding the continuation of the SB18-086 at UCCS to support this growth into the future."
UCCS is recognized as a cybersecurity education leader for the Pikes Peak region. UCCS' cybersecurity programs train professionals who work to ensure national security, and the university's faculty conduct research and develop techniques, systems and tools to benefit security and intelligence communities on an international scale.
Proposed projects were reviewed and selected by the Cybersecurity Programs office and will be funded with a total award allocation of $569,089 over the next two years. Take a look at the projects below.
Funding for the Public Safety Initiative Cybersecurity Initiative
Proposed by Janet Van Kampen and funded with $95,000
This project will allow the Public Safety Initiative to continue to provide forensic and cyber-related training, hardware and software to assist local and regional law enforcement in coping with increased cyber threats. With all the advantages of interconnectedness, we are vulnerable to theft, fraud and abuse. Partnerships between law enforcement, information security managers and fusion centers can increase a region's ability to detect, prepare, train for and respond to cyber threats. Law enforcement performs a critical role in achieving the nation's cybersecurity objectives by investigating cybercrimes, from theft and fraud to child exploitation, and for the apprehension and prosecution of those responsible. Using these funds, the Public Safety Initiative will continue to collaborate with local and regional partners, as well as specific vendors – including SANS, Cellebrite and Magnet Forensics – to assist in coping with present and future cyber threats.
Funding for PhilosBDL Blockchain Development Research Program
Proposed by Terry Boult and funded with $80,000
In fiscal year 2022, the Blockchain Research Program will continue to implement supporting features for the project blockchain marketplace to include matching services, search and navigation utilities, smart contract support tools, jurisdictional control features, and econometric controls. These components and capabilities will enable refined operations and create several leading-edge research opportunities for graduate students at UCCS. The project will coordinate with the International Alliance of Trust Chains (IATC) to stand up initial production of consortium servers to test and demonstrate global scalability and governance capabilities. It will also be the basis for new publications.
Promoting Programs Involving Studies in the Discipline of Cybersecurity Management
Proposed by Gurvirender Tejay, Gary Klein, Morgan Shepherd and Robert Block and funded with $50,000
The Cybersecurity Management Council aims to foster excellence and innovation in cybersecurity management education, research and scholarship worldwide. There are significant job openings in cybersecurity management: 65,235 openings in oversight and governance, 38,552 openings for certified information security managers and 60,486 openings for certified information systems auditors. However, there are only 22 graduate programs in the country focused on cybersecurity management. To address this gap, the Council's focus is to promote programs involving concentrated studies in the discipline of cybersecurity management.
Creation of a Cybersecurity Metrics Framework to Enable Quantitative Decision-Making
Proposed by Shouhuai Xu and funded with $50,000
The objective of this project is to create a systematic cybersecurity metrics framework for quantifying and measuring cybersecurity from a holistic perspective. The envisioned framework includes: a coherent suite of cybersecurity metrics, including cyber resilience and agility metrics for critical infrastructure; and the quantitative relationships between these technical metrics for guiding their aggregation into decision-making oriented metrics to better serve the killer applications (which is, in a sense, analogous to "how to combine atoms with each other to form useful molecules and compounds").
Development of a Skill Building Curriculum for Team Collaboration in Cybersecurity
Proposed by Kay Yoon and Sang-Yoon Chang and funded with $31,418
The goals of the proposed project are to develop and conduct workshops on team collaboration in cybersecurity, targeting all cybersecurity students at UCCS, and to assess the workshop's impact on students' team collaboration skills. To counter multidimensional and complex vulnerabilities, cybersecurity efforts require collaboration among multiple professionals with diverse sets of expertise and skills, which leads industry leaders to recognize team collaboration and communication skills as one of the top non-technical skills for a successful career in cybersecurity. Cyber-defense can be effective only when cybersecurity teams implement effective team communication, and yet, the education for cybersecurity students tends to focus primarily on technical knowledge, devoting little energy to improving students' team communication skills. The proposed workshop presents new pedagogical exercises drawing from the state-of-the-art research in communication and will prepare students to become more competitive in the cybersecurity workforce.
Promoting Student Empowerment in Cybersecurity
Proposed by Sue McClernan and funded with $24,000
This project will create an umbrella student affiliation that will provide support for students on the way to cybersecurity and closely related areas of study. The goal is to create multiple areas of support for students by creating community, professional development opportunities and internship and career opportunities through industry partnerships. We will support students in pursuit of scholarships with instruction and counseling on scholarship applications. We will focus on internships and career opportunities and provide access to culturally significant industry representatives through special events and speakers. We believe engaging industry to support student success may be an underutilized resource that can focus on inspiration, motivation, relevance and exposure to success, in addition to providing access to internship and employment opportunities.
Funding for the International Alliance of Trust Chains
Proposed by Terry Boult and Gurvirender Tejay and funded with $23,000
This funding will support the International Alliance of Trust Chains (IATC), a Colorado-based nonprofit founded by the Blockchain Research Program and sponsored by the UCCS College of Engineering and Applied Sciences (CEAS) and College of Business (COB) in partnership with BlockFrame, Inc. The IATC was founded as an educational institution to provide neutral governance for globally scalable distributed ledgers implemented under funding from Senate Bill 18-086. The mission of IATC is to provide neutral governance and foster excellence and innovation in trust chains.
Creation of a Graduate Certificate in Space Cyber Enterprise
Proposed by James Van Scotter and Gurvirender Tejay and funded with $20,000
This project proposes the development of a graduate certificate in space cyber enterprise. The commercial space economy is projected to grow to $1.4 trillion in economic impact by 2030, and this emerging industry will not only require superior technological and cyber skills from engineers and computer scientists, but the space industry will also require technically competent managers and future business leaders. This space cyber enterprise program will involve specialized space and cybersecurity training for future space business leaders. These leaders will need to know about the legal and regulatory environment of space, technical standards, orbital characteristics, the architecture of space systems, economic geography of the space industry, and how to manage cyberthreats in hardware, software, manufacturing processes, and supply chains. This graduate certificate will expand beyond typical MBA knowledge by adding knowledge about managing a commercial space enterprise and cybersecurity concerns in this environment.
Creation of a Cybersecurity Emergent Research Symposium
Proposed by Gurvirender Tejay, Gary Klein, Morgan Shepherd and Robert Block and funded with $20,000
The Emergent Research Symposium will focus on nurturing nascent ideas in cybersecurity among students at different stages of education. Our effort is to build cohesive learning communities of students that openly share ideas and thoughts. ERS will involve different elements to increase the engagement and feedback level among participants.
The students will present their research through five-minute pitch to the audience followed by poster presentation. As an incentive, the best 10 percent of poster submissions will be selected for Cybersecurity Research Workshop.
The aim of Cybersecurity Research Workshop is to support and nurture research work in cybersecurity. The workshop will be structured as developmental in nature with faculty led lectures along with participant presentations and feedback.
Our efforts will be to enhance research productivity of participants through publications in cybersecurity journals and national/international conferences.
Launch of a UCCS Cybersecurity National Marketing Campaign
Proposed by Eric Nissen and funded with $40,000
The UCCS Cybersecurity National Marketing Campaign will initiate a comprehensive nationwide awareness building marketing effort, in which digital marketing campaigns employing such tactics as social media marketing, search engine marketing, display network marketing and others will be deployed to bring attention and awareness of UCCS and Colorado Springs as the cybersecurity hub of the nation. This effort will attract new undergraduate and graduate students, new faculty and researchers, as well as organizations and thought leaders in cybersecurity. This influx will fund new program and degree offerings, which will further attract students, faculty, researchers and organizations to the area, creating a virtuous circle of energy, funding and dynamism.
Creation of a Cybersecurity Management National Case Competition
Proposed by Gurvirender Tejay, Gary Klein, Morgan Shepherd and Robert Block and funded with $20,000
The National Cybersecurity Management Case Competition will provide an avenue for students pursuing cybersecurity management education to showcase their talent. "Capture the Flag" competitions are geared towards technical students and as such sideline students pursuing cybersecurity management or policy studies. The case competition will focus on a business case involving cybersecurity issues. The participants will assess complexities of the case and provide an effective solution to the problem.
Superheroes Cybersecurity Middle School Camps
Proposed by Vicki Taylor and funded with $19,734.29
This project will create cybersecurity-focused middle school camps to engage underrepresented students in cybersecurity futures. By holding these cybersecurity camps and starting to engage students in middle school about cyber career possibilities, these students will also learn about resources in the area and online to continue their interest in cyber learning and future careers. This engages students early in their K-12 education to encourage students to pursue cybersecurity education and provide students to fill the cyber career pipeline.
Campus Connections: Cultivating Social and Emotional Wellness in At-Promise Youth through Digital Citizenship
Proposed by Joe Wehrman, Cortny Stark and Diane Stutey and funded with $16,805.75
The proposed digital citizenship project includes the implementation of an innovative intervention with at-promise youth participants (ages 10-18) in the UCCS Campus Connections (CC) therapeutic youth mentoring program. The project expands upon experiential activities currently employed by CC, with the primary aim of enhancing youths' knowledge and awareness of digital use habits, and skills to participate in safe self-regulated online engagement. With support from undergraduate student mentors and CC graduate assistants, youth will engage in guided experiential activities and group discussions regarding digital wellness, digital accessibility, user data and securing digital devices, and personal information and the digital footprint. Additionally, middle school youth from El Paso County will have the opportunity to interact with mentors and college aged students from STEM education and Cyber Security fields. These opportunities may help increase the likelihood of students finding interest and opportunity in pursuing STEM/CYBER career fields in the future.
Understanding the Social and Behavioral Role in Cybercrime and Cybersecurity
Proposed by Anna Kosloski and funded with $15,568
This proposal seeks funding from the cybersecurity Initiative for three specific objectives within the School of Public Affairs. The overarching intent of these initiatives is to increase the number of students studying cybersecurity, increase the number of courses within cybersecurity in SPA and increase educational opportunities for students, faculty, staff, alumni and community members in understanding the role of cybersecurity within local government, criminal justice and nonprofit organizations. Additionally, the proposed initiatives will make us competitive with peer institutions who already have cybersecurity curriculum and will support the expansion of cybersecurity education within the criminal justice academic program and the School of Public Affairs.
An Exploratory Study for Preparing UCCS to Earn NSA/DHS National Centers of Academic Excellence Designations in Cybersecurity Research (CAE-R) and Cyber Operations (CAE-CO)
Proposed by Shouhuai Xu and Joshua Alcorn and funded with $15,000
The purpose of this project is to review, analyze, plan and coordinate the competition to earn CAE-R and CAE-CO designations for UCCS. Earning these two CAE designations is integral to Colorado's cybersecurity strategy by expanding opportunities for cyber education and research, offering new opportunities for research and scholarship, doubling Colorado's cyber operations designations (as currently only the U.S. Air Force Academy holds CAE-CO designation in Colorado) and by leading the way for Colorado as its first CAE-R designee.
Developing Language and Cultural Literacy Skills to Address Strategic Diversity Needs in Cybersecurity
Proposed by Fernando Feliu-Moggi and funded with $13,333
Through this proposal, the Department of Languages and Cultures is seeking to develop and implement language courses that will allow participants to use language and cultural literacy skills associated with cybersecurity initiatives at the national and international levels.
Creating and Holding a UCCS Distinguished Lecture Series in Cybersecurity
Proposed by Shouhuai Xu and funded with $10,000
The objective of the project is to create and hold UCCS distinguished lecture series in cybersecurity. The intent is to invite nationally well-established cybersecurity researchers and educators to deliver technical talks on UCCS campus.
Cyber Girls Middle School Camp
Proposed by Vicki Taylor and funded with $9,867.12
By holding these cybersecurity camps and starting to engage female students in middle school about cyber career possibilities, the young women involved in these camps will also learn about resources in the area and online to continue their interest in cyber learning and future careers. This engages female students early in their K-12 education and continues to provide women for the cyber career pipeline.
O'Reilly for Higher Education Subscription
Proposed by Joel Tonyan and Rhonda Glazier and funded with $8,463
This project proposes purchasing an O'Reilly for Higher Education database subscription for the Kraemer Family Library. The subscription will provide curricular support to the cybersecurity program by making discipline-specific research available to faculty, staff and students. It will give students a competitive advantage in the classroom and beyond with access to current knowledge, trends, conversations and real-world experiences in business and technology.
Enhancing Digital Leadership for Student Affairs and Higher Education Professionals
Proposed by Patty Witkowsky, Phillip Morris and Nick Tapia-Fuselier and funded with $6,900
The UCCS Master's in Leadership with a concentration in Student Affairs in Higher Education (SAHE) program educates 40 students annually. Integral to the work of today's student affairs educators is digital leadership, which includes four domains: digital identity development, cybersecurity literacy, multicultural competence in technology and online engagement and leadership. Educating current and future student affairs leaders in the southern Colorado region about these aspects of digital leadership during their graduate curriculum will ensure they are deploying 21st century digital leadership skills in their roles supporting students and providing co-curricular learning experiences on college campuses. The proposed project aligns with this critical competency area and provides an opportunity to further contribute to UCCS as a cybersecurity leader by focusing on educating student affairs professionals in higher education.
About Cybersecurity at UCCS
UCCS is a recognized cybersecurity education leader in the region, awarding hundreds of degrees each year in cybersecurity fields at bachelor's, master's and doctoral levels. UCCS cybersecurity programs train security professionals who work to ensure the nation's security, support faculty research and strategic cybersecurity partnerships with industry, government, military and academic institutions, including the U.S. Space Force and the National Cybersecurity Center.  Due to generous Colorado state funding of cybersecurity education, UCCS students are eligible for significant financial aid towards security degree scholarships. Learn more about Cybersecurity Programs at UCCS.