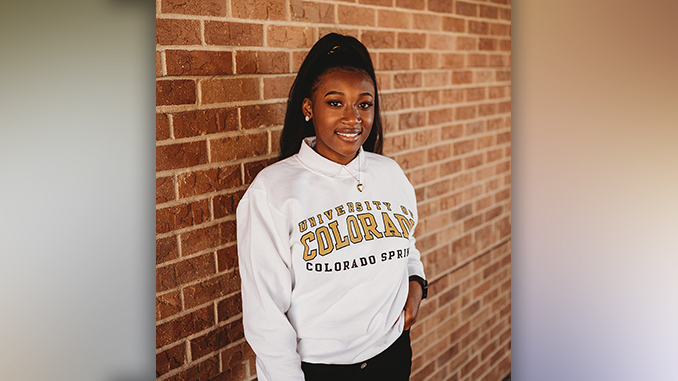 As she graduates from the UCCS College of Education this month, Sandra Curry takes with her a special gift: a promising future as a talented writer. Curry flourished in her educational journey as the recipient of a writing fellowship that gave her confidence in her craft.
Curry will graduate summa cum laude with a Bachelor of Arts in Inclusive Elementary Education and already has a teaching position in hand. She is also hard at work on a children's book detailing one child's struggle to read but ultimately finding motivation in her challenges.
Curry and her twin sister, Tamara, were conditionally admitted to UCCS, and as a result, had to overcome some academic hurdles. But as her freshman year ended with a stellar 3.8 GPA, Curry began to believe she could succeed. When Dr. Grant Clayton mentioned in an education class that he needed a writing fellow, Curry applied and was awarded the fellowship.
"I would say that the writing fellowship helped me see that I do have a gift in writing," Curry explains. "I figured this out late in the game because I struggled so much in high school."
As Curry gained academic success and personal growth, she was awarded Reach Your Peak and Denver Scholarship Foundation scholarships. She landed on the President's List and participated in a rural education fellowship. Positions as a paraprofessional and student teacher followed.
For Sandra and Tamara, graduating from UCCS means paving a path for their family. As first-generation college students and the daughters of Liberian immigrants, the twins' graduation represents what Curry calls the "fruit of my parents' journey to America to improve the life of our family."
The Curry twins enthusiastically embraced life on campus at UCCS. They participated in the Black Student Union and African Student Association. As leaders of the Residence and Housing Association (RHA), Curry served as vice president of the 2019-2020 Executive Board.
When the fall semester starts, Curry will be found in a fourth-grade classroom at the Swigert International School in Denver. Her journey as a student will not be far from her mind.
"I am most excited about building on my future students' reading and writing skills," Curry notes. "I want to build a welcoming classroom community with my students where we welcome diversity and different perspectives while fostering a global mindset."
As she looks back on her years at UCCS, Curry is grateful for the many opportunities she and her twin experienced. She knows she has changed not only the path of her life, but that of her family's, too.
"My sister Tamara and I have taken advantage of the opportunities that have been presented to us during our journey at UCCS," Curry says. "We are setting new traditions of achieving higher education in our family."
Sanda and Tamara Curry are two members of a record-setting 1,624 graduates in UCCS' spring Class of 2021, the university's largest graduating class in history. The virtual commencement ceremonies will take place beginning on Friday, May 14 at 1 p.m. Tune in online. In addition, the May 17 Picture on the Plaza event will mark the first time in decades that UCCS offers an outdoor, on-campus graduation event. 570 graduates are signed up to walk down the pedestrian Spine, hear their names read and receive a diploma jacket and photos. Learn more.