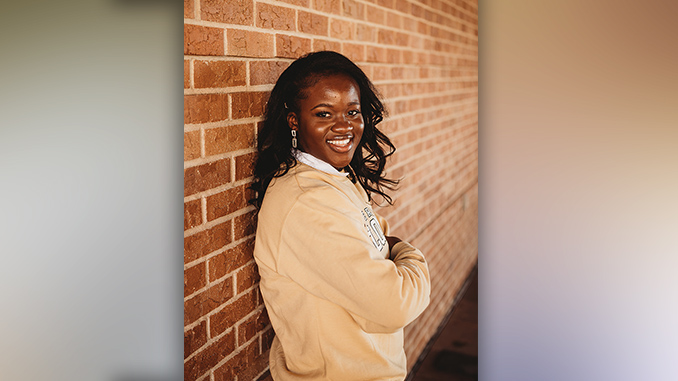 When Tamara Curry graduates this month from the College of Business, she can confidently say her path was one of personal and professional growth. She takes flight from UCCS with a full-time marketing position lined up and her fashion startup in the launch stage.
Curry took every opportunity to learn, grow and develop into a future business leader during her years at UCCS. As daughters of Liberian immigrants, Curry and her twin sister, Sandra, would be the first in their family to earn a four-year degree. But as conditionally admitted students, they knew they had a challenge ahead of them.
The Curry twins landed on campus before their freshman year started to attend the ML360 Summer Bridge Program. They focused on becoming acclimated to the college lifestyle, forming new habits and gaining new skills that would help them succeed.
"I told myself, 'This is your story,'" Curry remembers. "And I wanted to prove to myself that I could be better not only grade-wise, but growth-wise, too."
As Curry grew as a scholar and leader, she applied for and received two competitive scholarships: the T. Rowe Price fellowship program and the Reach Your Peak Scholarship. She remembers with a laugh that she set her sights on applying for several programs and scholarships early in her college career, eagerly attending business networking events. Although she wasn't eligible yet for some of these opportunities, she bookmarked them for the future.
A job application with the UCCS Financial Aid office led to staff urging the twins to apply for – and receive – a scholarship from the Denver Scholarship Foundation. As she gained confidence in her own abilities, Curry sought out not one but two mentors in the College of Business. She also landed two internships – Farmer's Insurance and Succeeding Small, a digital marketing agency.
Dr. Tom Duening, director of the Center for Entrepreneurship, worked with Curry to develop a business plan for her passion to offer well-made and fashionable clothing for professional women. Using the student entrepreneurship center, The Garage, Curry took steps to develop her company, Moti's House. She is currently talking to manufactures and suppliers. She plans to launch the startup later this year.
"The Garage and my UCCS entrepreneurship classes taught me to always look out for opportunities where I can be helpful and where it might lead to a potential business relationship with someone," Curry notes. "For me, it was about being mindful – getting out of my comfort zone and introducing myself to new people."
Curry has already landed her first professional position as an advertising and marketing coordinator at 5280 Magazine. She's also working on Moti's House and posting content to the YouTube channel she created with her sister, The Curry Twins.
Her advice for new students entering UCCS? Take advantage of the plentiful opportunities and rich resources on campus.
"For me, attending UCCS was about becoming a better person and finding out who I want to become," Curry explains. "UCCS has so many resources. Take hold of as many as possible. Don't disqualify yourself from being great and being awesome. You can do it."
Sanda and Tamara Curry are two members of a record-setting 1,624 graduates in UCCS' spring Class of 2021, the university's largest graduating class in history. The virtual commencement ceremonies will take place beginning on Friday, May 14 at 1 p.m. Tune in online. In addition, the May 17 Picture on the Plaza event will mark the first time in decades that UCCS offers an outdoor, on-campus graduation event. 570 graduates are signed up to walk down the pedestrian Spine, hear their names read and receive a diploma jacket and photos. Learn more.