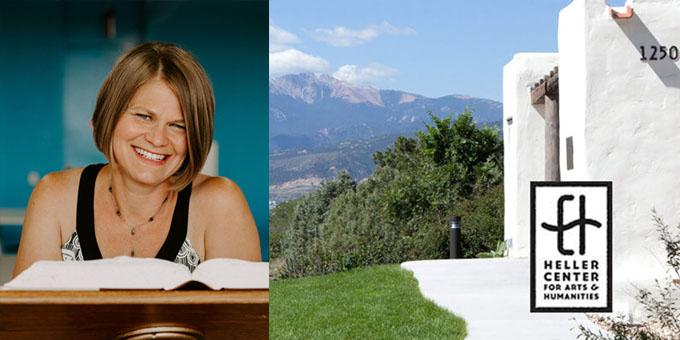 South Dakota's poet laureate Christine Stewart-Nuñez presented virtually from the Heller Center as part of the cultural center's fellow series.
Stewart-Nuñez, who has authored seven books of poetry, spoke on her approach to writing poems inspired by visual art. Heller Center representatives said her position as her state's poet laureate made this a unique learning opportunity for the campus community.
"Becoming a poet laureate of one's home state is no small feat. Such an honor indicates that a person writes about issues that resonate deeply with the cultural and social values of the people who live in that state," said Rhonda Goodman-Gaghan, curator, Heller Center for Arts & Humanities. "Stewart-Nuñez is one such poet, her awards back that up, and we are excited that UCCS students have the opportunity to interact and study with her."
The fellow series, in line with the Heller Center's mission to preserve, engage and explore the West of the imagination, has featured many notable academics and artists since its inception.
"When Dorothy Heller left her property to UCCS with the goal of developing a lab for the arts, humanities, and social sciences, she wanted to create an interdisciplinary space where academic departments can leave their campus corners and come together in a space to collaborate on creative and intellectual projects," Goodman-Gaghan said. "The Heller Center Fellowship encourages just that, explore intellectual and creative ideas that usually do not find room or time in a typical classroom setting. The physical space of the Heller Center – not just the structures, but the open landscape as well – allows for such an intense focus."
The Heller Center space is part of what makes the program a draw for fellows, according to Minette Church, chair of the Department of Anthropology.
"We house the visitors within the Heller Center for a week, provide space for classes and workshops with students, and public presentations for everyone both on and off-campus. This program has led to some wonderful collaborations and valued ongoing relationships," Church said. "Heller is such a collaborative space, where you can not only attend a poetry reading by a gifted poet, but you can ask questions and explore themes with her afterwards!"
Stewart-Nuñez presented to the public Thursday, April 22 at 6 p.m. You can find details below.