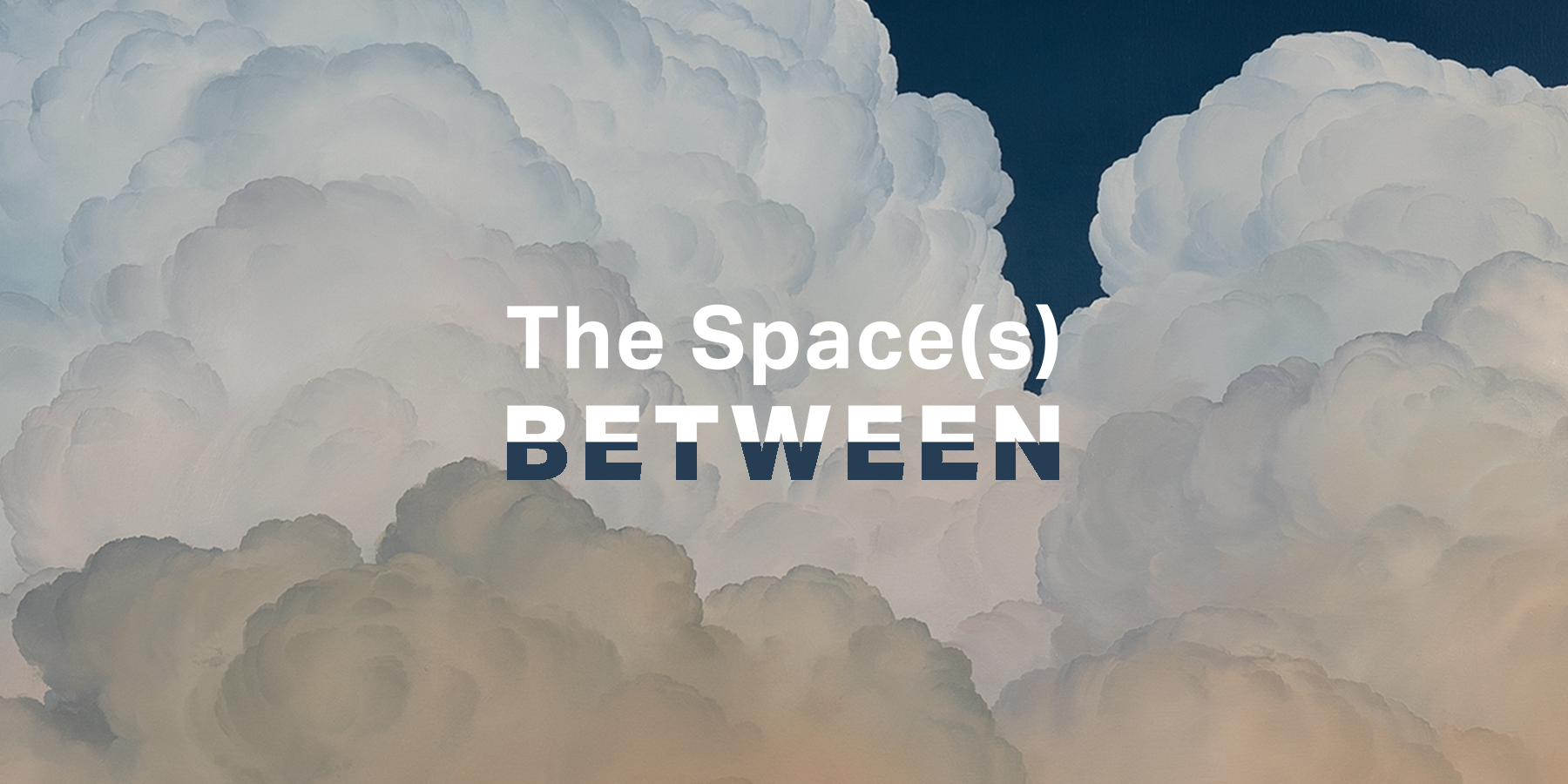 It takes a village of artists to make a landscape of art. At least, that's the main idea behind the new multi-faceted exhibit, "The Space(s) Between," from the University of Colorado Colorado Springs Galleries of Contemporary Art (GOCA), running March 11-July 2021, 
Born as a grand collaboration between the University of Denver's Vicki Myhren Gallery and GOCA, The Space(s) Between features more than 50 artists and six different project sites along the I-25 corridor.
Since GOCA opened its new gallery inside the transformative Ent Center for the Arts, Director Daisy McGowan has made it a point to bring groundbreaking art to Colorado Springs and beyond.
"There are these wonderfully expansive approaches to thinking about what constitutes an art exhibit and what constitutes a project like this," McGowan said.
With The Space(s) Between, McGowan and her collaborators are now able to make people excited about art again, despite a global pandemic.
Taking Art Beyond the Walls
"We sort of thought, with the pandemic, why do we have to do things the way we've always done them? Let's flip things upside down and if people are game, they can come along with us on this," McGowan says.
Almost four years ago, independent curator Donald Fodness and the Director of DU's Vicki Myhren Gallery, Geoffery Shamos, wanted to find a way to make an exhibit that was more involved than just the typical gallery space.
Since then, they have been slowly finding artists to participate and partnered with McGowan to expand the exhibits to Colorado Springs and the Ent Center for the Arts.
"The projects encompass a variety of approaches, mediums, and ways of thinking about land and its representation in art," Shamos said. "In bringing together so many amazing artists across multiple spaces, this exhibition helps reframe ideas about landscape, particularly with reference to the American West."
Galleries vs the Great Outdoors
While some art will be in traditional galleries, other, more intricate pieces will end up at unexpected points, all while pushing the envelope of what art is understood to be.
This includes a billboard-sized painting from artist Ian Fisher, just outside of Watkins, Colorado, near DIA. Artist Terry Campbell has created a real gold hunt (for a $1,000 chunk of gold) near Walsenburg. And, in Walsenburg itself, a team of artists created an interactive piece in an old-fashioned, idyllic, small-town VFW building.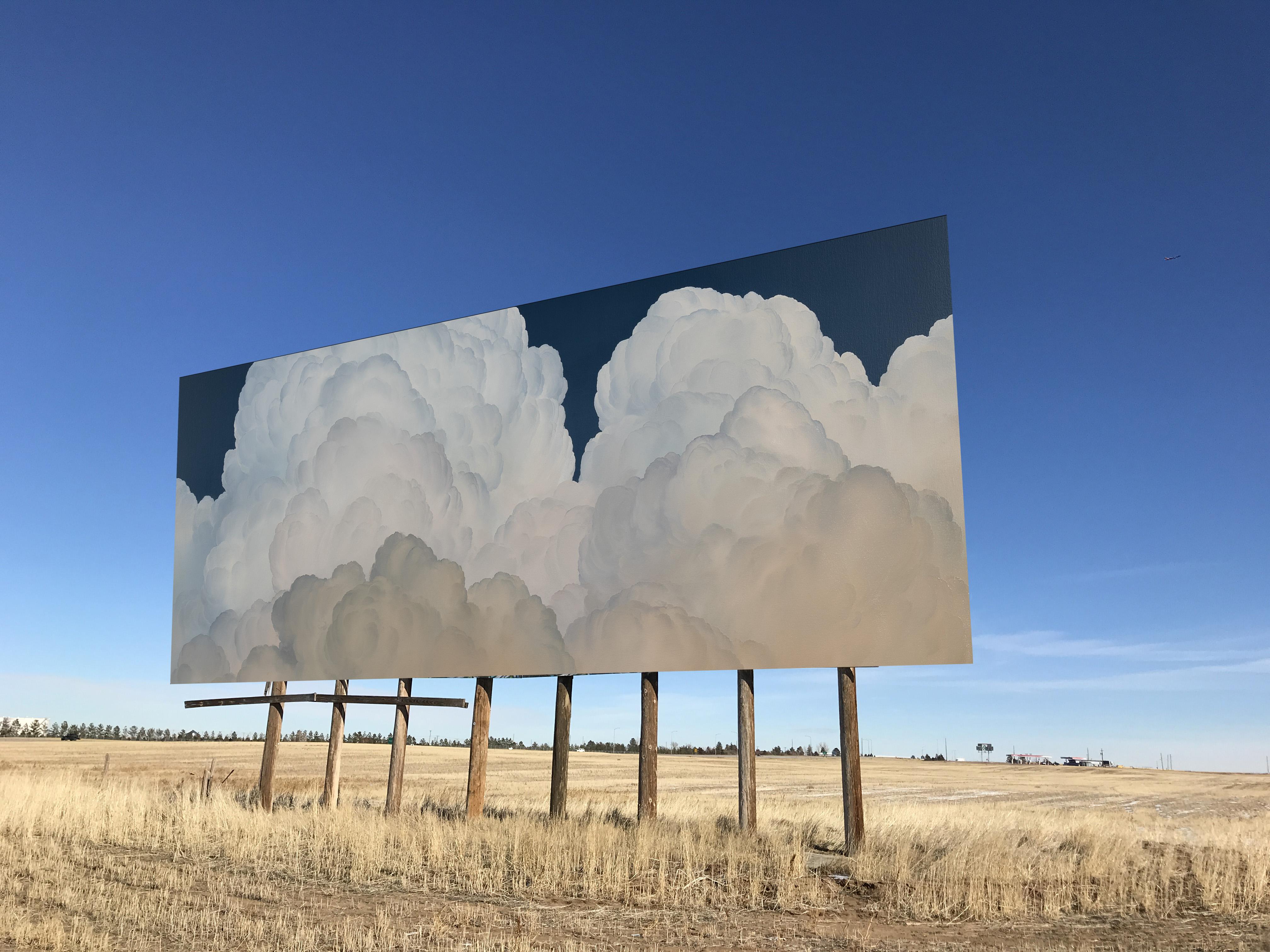 Part of this drive to bring art out into the open comes from wanting to reflect the art within Colorado's beautiful landscape, just as much as honor the art itself.
"Contemporary art reflects our human relationship with the land, sampling the horizon as an anchor for a discussion," Fondness points out.
Making Art Accessible During a Pandemic
Meanwhile, because COVID-19 has closed many galleries or caused would-be patrons to avoid them. McGowan, Shamos and Fodness want to give people a way to see art on their own terms.
"Ultimately, we're hoping that people will have encounters with art in places they might expect, like these great gallery exhibits, and places they might not expect — out in the landscape of the Old West, seeing it in a new way, which is great, especially for a day trip."
To make travel easier on all art aficionados, GOCA, in partnership with DU, created The Space(s) Between map site with all the project sites, as well as information about each artist and exhibit. In total, McGowan estimates going to each piece and gallery would likely take one day.
Sculpting a Brighter Future in Art
Within the gallery spaces, both at DU's Vicki Myhren and UCCS' Ent Center for the Arts, guests and patrons will be able to see a number of unique pieces, but the most special facet for McGowan is utilizing part of the UCCS Ent Center for the Arts' outdoor space to showcase a sculpture walk from a handful of local artists.
"So the wonderful thing about UCCS is we have a lot of open space, so we really enjoyed celebrating and elevating that by bringing sculptures there," McGowan said.
Some of these sculptures will also be interactive, with renowned Meow Wolf artist Lance McGouldrick planting a mattress covered in daisies into an area of the sculpture walk grounds, so people can lay in a bed of flowers.
"I love that we're going to have a mix of works that are quite extraordinary," McGowan said. "I hope they really inspire people to see the landscape in different ways and think about what else is possible."
Meet Some of the Minds Behind The Space(s) Between
Elspeth Schulze
Q: Tell us about yourself.
A: I grew up in southern Louisiana, where water has as much hold as land. I spent time in the marsh, catching blue crabs and counting alligators, always within a mile of an oil rig. I'm interested in the tension between land, water and industry. With a foundation in ceramics, my work explores how place becomes a material.
Q: Please explain your work in this exhibit and its meaning.
A: I have work in the exhibition titled Sift|Sieve (Undermine), which consists of three installations in three separate locations, all iterations of the same body of work. For this project, I have taken standard yellow sandbags- those you often see stabilizing flood zones or weighing down signs on the side of the road. I've cut hundreds of holes in each sandbag, making each permeable, like a sieve. Sandbags are meant to contain, and the holes undermine this ability.
This work is a direct response to the circumstances of the pandemic. Sandbags are often stacked together like bricks, individual units that come together to serve a joint purpose. In these installations, they are spread out from one another in the outdoor installation, they are spaced six feet apart. By isolating the bags and punching holes in them, I've undermined their function of collective control.
Q: In your opinion, why should people come see The Space(s) Between?
A: This is such an extensive exhibition that can be accessed in so many ways: virtually, within each gallery, and at various outdoor locations across the region. The siting of the work encourages a sense of exploration and active viewer participation. Who doesn't love a map and legend to follow, a treasure to seek?
---
Terry Campbell
Q: Tell us about yourself.
A: In 2012 I created what I thought would be a simple scavenger hunt for the show "Au Exchange." I invited friends and members of the Denver art community to solve a series of clues that would lead them to a 2.5-gram bar of gold hidden in Colorado. What started as a simple scavenger hunt has evolved into a complex game of cloak and dagger where players try to find hidden gold using their ingenuity. This June I will be inviting people to participate in my fourth Gold Hunt. Participants have the opportunity to solve 10 clues which will take them to a series of locations across the Front Range.
Q: Please explain your work in this exhibit and its meaning.
A: What started as a simple scavenger hunt has evolved into a complex game of cloak and dagger where players try to find hidden gold using their ingenuity. All participants approach this endeavor differently, and no one has the same experience on their journey. In the past three Gold Hunts I have had a tracker put on my car, my trash gone through and seen hundreds of double-crosses
Q: In your opinion, why should people come see The Space(s) Between?
A: This experience will be strange and mysterious for those who have only experienced art in museums and galleries. Everything will begin to look like a clue. Only one person or team will be able to find the piece of gold valued at over a thousand dollars. Good luck and be careful who you bring on this adventure. The first clue will be released in June – check our website for more information.
---
Ian Fisher
Q: Tell us about yourself.
A: I care about focusing more on the horizon line, the landscape, in both its effect and affect, than anything else.
Q: Please explain your work in this exhibit and its meaning.
A: I have two pieces in this exhibition. One on a billboard outside Watkins CO. called "Linda". Another in the Vicki Myhren Gallery titled Atmosphere No. 1-25 (Drive-In) Each painting took about a month to complete. Both are oil on canvas. The billboard has been much more of a collaboration between myself and the curators. Much of the time spent on this piece was research and problem-solving. These works stretch my work into a new context and medium and I hope they will stretch your imagination.
Q: In your opinion, why should people come see The Space(s) Between?
A: Well I miss seeing art and the community around it. There are a lot of good artists, making great work, in new ways. It is a huge undertaking by the curators. It just needs to be seen to be believed.
---
Richard Saxton
Q: Tell us about yourself.
A: I'm the founder of the award-winning M12 Studio of artists, researchers, and writers, based here in Colorado. We like to use art to explore public space, rural space, and our connection to both of them. M12 has been working with Daisy on developing an outdoor work + program since 2019.
Q: Please explain your work in this exhibit and its meaning.
A: We've developed a project called "Black Forest Institute" which will be displayed outdoors in the Ent Center sculpture garden as part of our ongoing "Fireside Chats" about the environment.
Q: In your opinion, why should people come see The Space(s) Between?
A: The curators' ability to wrangle a project like this — one that spans geographical distance, involves indoor and outdoor work, is presented remotely online, and in person, all pulled off through a global pandemic. I think visitors will find something in this diverse undertaking by the curators to connect with.