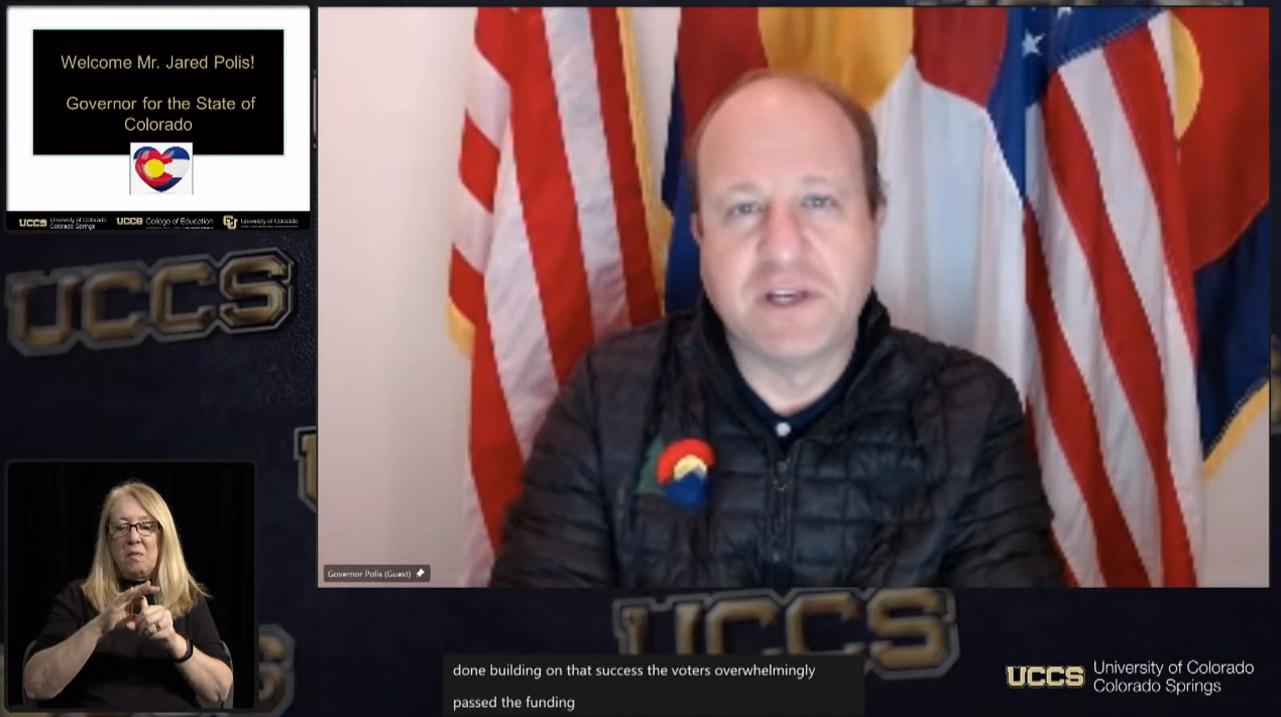 State leaders across multiple fields, including Colorado Governor Jared Polis, met virtually Wednesday to discuss today's most pressing issues facing Colorado children and families.
"At UCCS, we are deeply committed to preparing today's students to be the teachers and leaders of tomorrow. We're all aware of the challenges facing our communities and just how many challenges we face," said UCCS Chancellor Venkat Reddy. "Workforce shortages are at critical points across the state. Especially in early childhood special education."
According to research from the UCCS Department of Teaching and Learning, more than 40% of new teachers leave the profession after five years, making teacher burnout among the highest of all professions.
Despite the challenges, Chancellor Reddy said there is hope on the horizon, pointing to progress made inside the State of Colorado, CU System and UCCS, including the new 100% online Bachelor of Arts in Inclusive Early Childhood Education.
"Flexible academic programs like these are truly the future. They help us to meet the needs of students, teachers and communities, and increase the outcomes of children and young adults across the state," said Reddy.
Reddy said the success of the entire nation depends on educating the future, and Governor Jared Polis agreed.
"I want to thank UCCS and the UCCS College of Education for expanding access and availability of programs to help with Early Childhood Education," said Polis. "These kinds of programs advance your skills and knowledge, but they also help make sure we are better serving kids with the latest and best science around early brain development."
Polis pointed to recent wins in the State of Colorado, including all-day kindergarten and new universal pre-school, which will allow an additional 20,000 four-year-old children to attend pre-school. But he said there's work left to do.
You can listen to the discussion and insightful panelists by watching the video below.
The following guests participated on the town hall panel:
Dr. Rosemarie Allen, CEO and President, Institute for Racial Equity & Excellence, Assoc. Prof, MSU-D
Ms. Patricia Bolton, Director of Child Care Innovations, Red Rocks Community College/ Executive Director of Triad Early Childhood Council
Confirmed Diana Dooley Coordinator, Southeastern BOCES ECSE/Child Find
Dr. Cathrine Aasen Floyd, Grant Partnerships Manager, Trust for Learning
Janet Humphryes, Co-Principal at Dynamic Coaching Systems; Program Management Specialist at the National Center for Program Management and Fiscal Operations at UMASS; and Faculty Lecturer at UC Denver.
Noreen Landis-Tyson, MBA CEO, Community Partnership for Child Development
Vangi McCoy Coordinator, Montelores Early Childhood Council
Jennifer O'Brien, Director, Early Childhood Workforce Development, Colorado Department of Education
Heidi White, Preschool Director, Colorado Department of Education