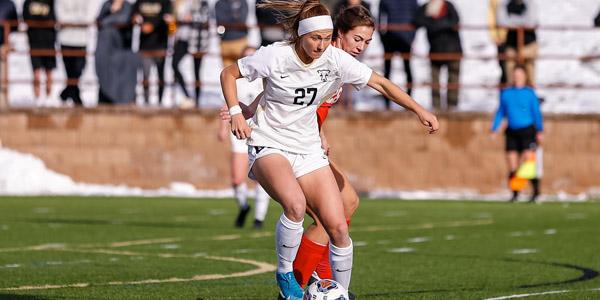 As UCCS Athletics teams, including Women's Soccer and Women and Men's Outdoor Track & Field, continue racking up victories, evaluators are taking notice.
Women's Soccer
The Women's Soccer team improved four spots to #7 in the latest United Soccer Coaches National Ranking after improving their record to a perfect 4-0.
The ranking finds the Mountain Lions ranked first in the Rocky Mountain Athletic Conference, with two of their four victories coming against conference opponents.
Tap here to follow coverage of Women's Soccer and see upcoming games.
Outdoor Track & Field
After a successful indoor campaign that saw several shattered records, the Women and Men's Track & Field teams continue to shine outdoors.
The U.S. Track & Field and Cross Country Coaches Association announced their Division II National Ratings for the outdoor season with the UCCS Men's team ranked 5 in the nation and the UCCS Women's team ranked 18.
During their indoor campaign, neither team fell below the top-25 in the same index.
Tap here to follow coverage of Track & Field and see upcoming meets.