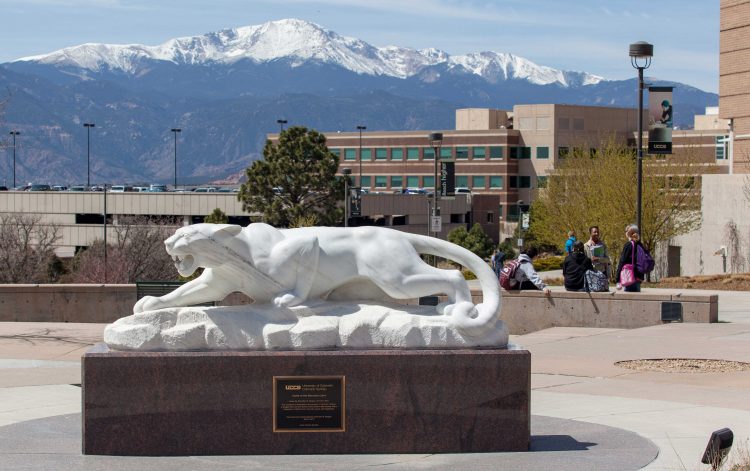 As more than 1,600 University of Colorado Colorado Springs students prepare to receive degrees this May during a formal virtual commencement ceremony, hundreds will also appear for an in-person celebration featuring some elements missed in the past two purely virtual ceremonies.
Much like an in-person ceremony, students will be able to participate in a celebration event symbolizing the completion of their studies. The free event, dubbed Picture on the Plaza, will be held on the UCCS campus.
"What makes this event special is that not only is it an opportunity for graduates to get their diploma jacket and have their picture taken with their college dean, which would normally happen at a ceremony, but it's also an opportunity to be congratulated by staff and faculty," said Andrea Cordova, chief of staff, Office of the Chancellor. "It's an opportunity to hear their names called over a loudspeaker and feel like they have finally completed their degrees."
Graduates will process across campus much like graduates did in 1993 when a series of commencement ceremonies took place on the growing UCCS campus. Unlike 1993, they will be met by columns of faculty and staff to cheer them on and a live-stream broadcast so their friends and families can hear their name being read and watch them receive a diploma jacket.
"Certainly, we lose the traditional processional, with Pomp and Circumstance playing in the background. We lose the entire class being able to do their tassel turn together, and we won't have the energy of everybody together under one roof," said Cordova. "But we gain a chance to bring closure to students' studies by having their last graduate moments on campus."
Cordova, who leads the organization of all UCCS commencement ceremonies, said the event was conceived as a way to honor a class which has persevered through extremely difficult times..
"This event provides a bonding moment for the graduates who choose to participate. They are hopefully the last of our COVID-19 classes. Just knowing they have that forever bond, the way that other UCCS classes don't have – it will stick with them as new alumni of the university."
Although an indoor, in-person ceremony featuring guests wasn't possible this spring, Cordova noted celebrating graduates in a large outdoors space didn't pose all of the same challenges.
"The Picture on the Plaza event is structured specifically to minimize risk to all participants. Our health experts agreed that gathering a limited number of individuals at one time, in a staggered format, in a large outdoor space while following social distancing protocols, is an appropriate way to celebrate this special occasion," said Cordova.
Although friends and family members won't be able to attend the in-person event, the entire UCCS campus community looks forward to celebrating these enduring graduates in a unique way.
"I am so in awe of their perseverance, their ability to pivot, even though it wasn't an ideal way to spend this past year. They're inspiring to others, and in some ways pioneers to the campus in terms of how we deliver online education to our students," said Chancellor Reddy. "While they didn't get a choice in the COVID-19 pandemic, they found a way to overcome and we're excited to celebrate them."
The Picture on the Plaza event will be live-streamed for friends, family and the broader campus community. It will be available live and for replay on the UCCS website at https://commencement.uccs.edu/, where more information on the event is available.