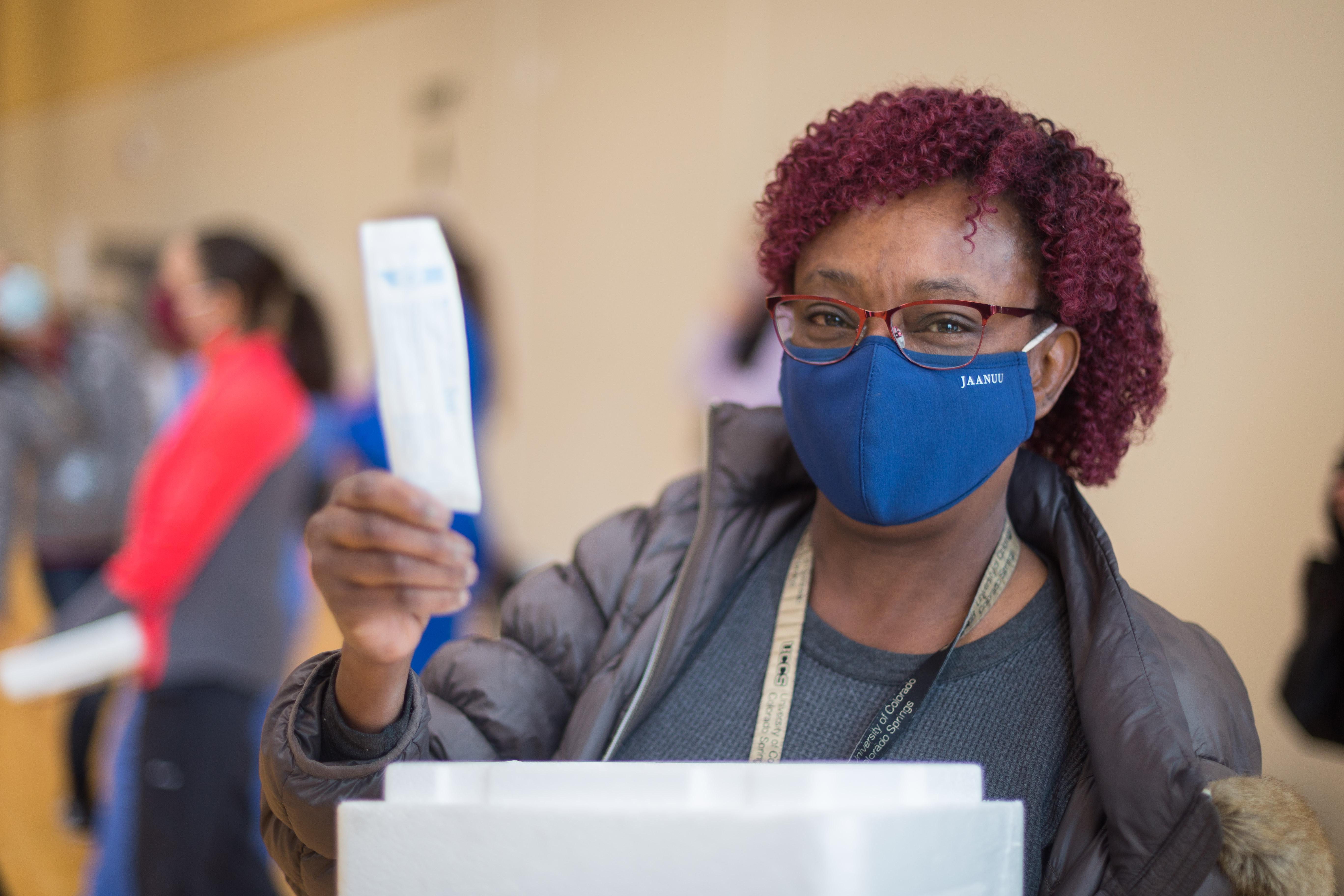 On Mar. 30, eligible UCCS faculty and staff have been invited to receive the first dose of the Moderna vaccine at UCCS' closed point of vaccine distribution (POD). Here's what you need to know before receiving your shot.
As a reminder, UCCS has only been approved to offer a closed POD, not a public or walk-in clinic. Only faculty and staff who received an instructional email from Stephanie Hanenberg, assistant vice chancellor for health and wellness, are eligible to receive their vaccination at the UCCS POD at this time. Walk-ins will not be accepted, as all participants are required to have pre-registered for their appointment.
Governor Polis has announced that all Coloradans will be eligible to receive the COVID-19 vaccine as soon as Apr. 2, and UCCS will provide information on how faculty, staff and students can register for community vaccine clinics once that information is available.
Instructions for those receiving their vaccine at the UCCS POD:
Remember to complete your daily wellness assessment before coming to campus and to wear a face covering at all times.
Make sure to bring the password you used to register in PrepMod. UCCS staff will be unable to issue you a new password at the POD.
Consider wearing a short-sleeve layer that will allow healthcare providers easy access to your upper arm.
Arrive early if possible, as this will allow time to check in and prepare for your appointment. Some participants may need to be supervised for 30 minutes after receiving their vaccine to make sure they don't experience an allergic reaction, so work with your supervisor to make sure you have enough time for your appointment and a potential observation period.
Those with a valid UCCS central campus parking permit will be allowed to park in the Alpine Garage level 1 visitor section while attending the clinic. With the appropriate parking permit, participants are welcome to park in any designated lot on campus and access the Rec Center via the campus shuttle or by walking.
If you do not have a current UCCS central campus parking permit, you may park for free in gravel lot 540 on Clyde's Way (formerly known as Spine Road) and utilize the UCCS shuttle to access the clinic. Shuttles run to and from lot 540 every 15 minutes.
Enter the Gallogly Recreation and Wellness Center using the front doors, then head to sports courts C and D, which are closest to the Aquatics Center.
All participants will be eligible to receive the second dose of the Moderna vaccine on Apr. 27.
More information about vaccination phases and vaccine eligibility can be found on the Colorado Department of Public Health and Environment website.