Chris Bell, associate professor of media studies, specializes in the study of popular culture, focusing on the ways in which race, class and gender intersect in different forms of children's media.
A a diversity and inclusiveness consultant for Pixar Animation Studios, Bell is nationally recognized for his work in the area of children's culture and has also authored the children's books "Do Not Open the Door!" and "Do Not Look Under the Rug!"
Most recently, Bell authored "Disney Channel Tween Programming: Essays on Shows from Lizzie McGuire to Andi Mack," a collection of essays by Bell and co-authors published in 2020 by McFarland and Company Publishers.
Bell answered seven questions on the new book, which turns its lens on the characters represented in the best-known Disney programs and characters of the 2000s in essays that ultimately ask "Who matters on The Disney Channel?"
1. If you were describing your book to someone outside of your field, what would you say?
In this essay collection, attention is turned to The Disney Channel and the programs it presents for a largely tween audience. With a deep focus on many of the best-known programs and characters of the 2000s – shows like The Wizards of Waverly Place, That's So Raven and Hannah Montana – this collection asks the simple questions, "What does The Disney Channel Universe look and sound like? Who are the stories about? Who matters on The Disney Channel?"
2. How did you get the idea for your project?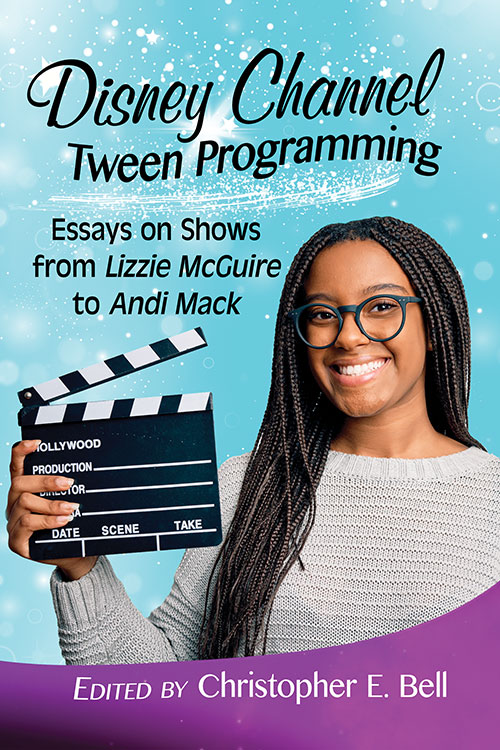 Most of my research is in children's media, and as my daughter grew older, I could see her interest changing from cartoons and toys to the tween universe as presented on The Disney Channel. I started getting very interested in the portrayals of representation in theses shows, and began researching. I eventually decided upon an edited collection, and expanded to other authors to fill out the volume.
3. Did your focus develop or change throughout the research and writing process?
It certainly developed. It began as a collection of essays on just three shows, but eventually became a collection on the entire Disney Channel lineup since 2000.
4. Which idea do you write about that most excites, invigorates or inspires you?
A tween is a unique thing – not quite an independent teenager, not really a little kid. Seeing this age group as its own entity with its own needs, likes, dislikes and wants gives us greater understanding into who these young people are and how they fit into the mediated landscape of America.
5. Describe your writing space. Where do you do your best work? What time of day? Do you have any writing routines you are willing to share?
I write in my head, which sounds strange, but I do. By the time I sit down to write, I've been working the piece over and over in my brain for weeks or months. Then I just download dump all those words onto the page in a fury. I work best in public spaces – coffee shops, small restaurants, and the like. I like the noise as I work; it oddly helps me concentrate.
6. Is there a favorite quote or passage you want to showcase from the book?
"Disney attempts to maintain its appeal to the tween audience through failures in familial settings that are common among adolescent experiences. These appeals largely relate back to questions regarding self-discovery and belonging, and the ways in which characters respond to inner conflict contributes to character identification within media texts."
7. What new questions for future exploration have you discovered?
By the time this book was published (due to the nature of academic publishing taking quite a long time to complete), most of the shows covered were off the air, and a new crop of Disney Channel shows debuted. Work is now developing on these new shows, with an eye toward a second edition of this volume.
UCCS celebrates faculty and staff who author and edit books each year. In recognition of their achievement, and as part of the UCCS Author Spotlight initiative, authors are invited to submit details on their published works.