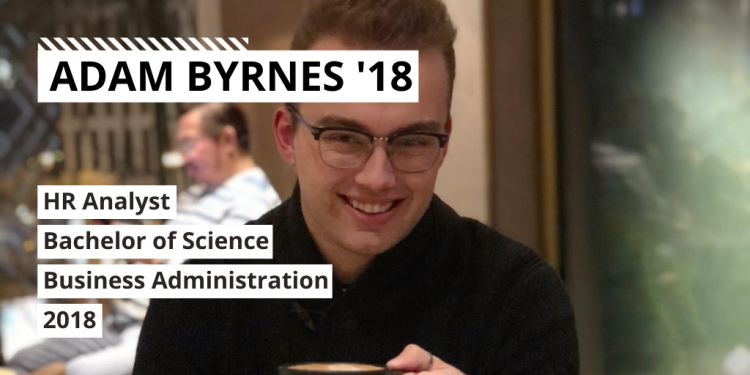 For many of us, life seems to have stood at a standstill since the spring, when COVID-19 swept the U.S.
But life hasn't stopped at all for Adam Byrnes '18 – who earned a master's degree, launched a full-time career and adjusted to living in a new city, all in the midst of a pandemic.
While earning his bachelor's degree in business administration from the College of Business at UCCS, Adam not only found a passion for data analysis. He also discovered a field that would let him tell the stories that data can show to businesses: human resources.
Now, Adam works as a compensation and benefits analyst for Siemens, the largest industrial manufacturing company in Europe, where he helps the organization to see financial data as "pieces of a puzzle" – and to make key decisions in salary management and pay equity for nearly 400,000 employees worldwide. It's a job he started in June of 2020, after graduating during a global surge of COVID-19 cases.
"When I was interviewing for a job, it was strange to have everything virtual," Adam said. "I remember doubting myself as I couldn't read expressions or gestures as easily because I was interviewing through a Microsoft Teams meeting."
"However, the same philosophy of normal interviews applied. I was diligent in expressing interest and doing research, asking questions related to COVID-19 and the digital push when interviewing. Companies are facing the real challenges of a digital environment and the uncertainty of when we can return to an office."
We caught up with Adam to hear what it was like to navigate graduation and a new job during a pandemic, how to ask for feedback early in your career, his best advice for UCCS students and where he hopes to go in the future.