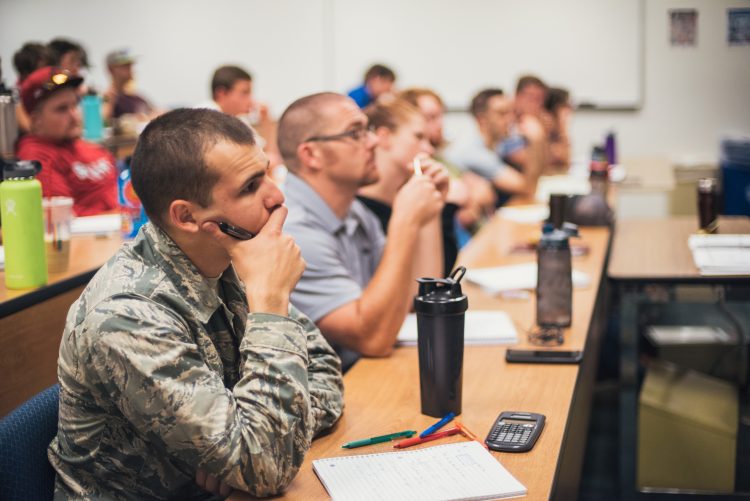 Moving from military to civilian life can be challenging enough. Then, try navigating the process of applying for the GI Bill and other Department of Veterans Affairs education benefits that help veterans, service members and qualified family members pay for college tuition. Then, try figuring it out during a pandemic.
Fortunately, more than 1,500 student veterans recently applying for benefits at UCCS had help.
This summer, a team of student workers in the Office of Veteran and Military Affairs – many of whom are veterans themselves – worked together to create new systems and processes that allowed them to process students' military educational benefits remotely.
Jeff Deickman, a Ph.D. student pursuing his doctorate in educational leadership, research and policy with an emphasis on e-learning, said that the work felt personal.
"With so many students struggling because of the change to a digital learning platform for almost every class, the work that I and the other veterans on my team did turned into more than just processing benefits," Deickman said.
"We turned into coaches and helped assist with the rules that the VA has for students. We gave reassurance about classes, reminded students that their benefits will continue and gave them updates on the benefits rules."
Jessica Newman, who also works for the Office of Veteran and Military Affairs, said that the transition to a remote system was difficult. The team had to learn new remote client software, communicate with both current and incoming student veterans, and juggle their own remote classes and work schedules, too. But the team pulled through.
"It was a tough transition, to say the least, but the team came together and made it happen – not only for the summer term, but the fall term as well," Newman said.
Deickman says that tough transition was an opportunity to grow.
"One positive aspect is that in order for us to make it work, we had to persevere," he said. "It gave us skills that not only help make us more marketable, but that allowed us to work as a team."
One thing is for sure: having already served their countries, the team of veterans only continues to give back.
The Office of Military and Veteran Affairs at UCCS, together with the McCord-Herbst Student Veteran Center, provide collaborative transition assistance and social and academic support for all UCCS veterans, military-affiliated members of the Mountain Lion community and their family members. To learn more, visit the Office of Veteran and Military Affairs website.