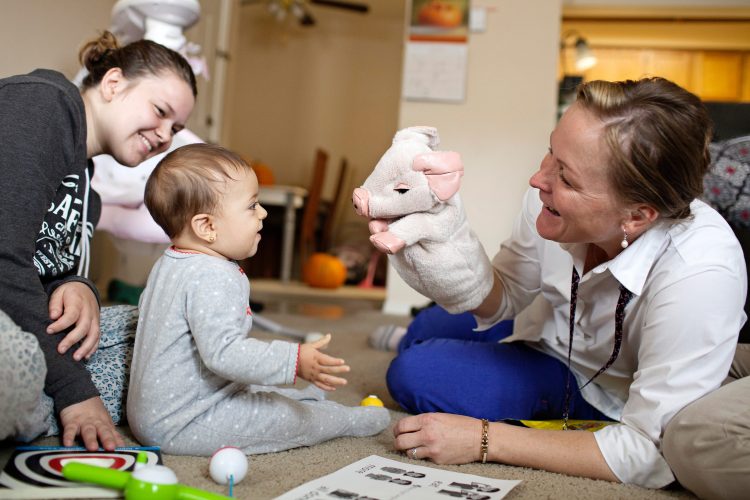 A nearly three-quarter of a million dollar grant from the Colorado Department of Human Services will allow the UCCS Nurse Family Partnership to continue empowering first-time mothers to transform their lives and create a better future for themselves and their babies.
The $745,785 grant will allow the program to continue for a sixth straight year in the Department of Nursing of the Helen and Arthur E. Johnson Beth-El College of Nursing and Health Sciences. Each year the program submits an application to be considered for continued funding.
Master's prepared registered nurses implement the mission of the NFP program by providing care during regular visits with young, first-time moms, starting nurse visits early in the pregnancy and continuing through the child's second birthday. Senior nursing students from participate in clinical experiences with the NFP nurses.
"There is a magic window during pregnancy, it's a time when the desire to be a good mother and raise a healthy, happy child creates motivation to overcome incredible obstacles including poverty, instability or abuse with the help of a well-trained nurse," said Davis Olds, national Nurse Family Partnership founder.
The first-time mothers' benefit by getting the care and support they need to have a healthy pregnancy and parenting experience. Clients on Medicaid or participating in Women, Infants and Children, or WIC, programs are automatically qualified for the program. The clients in the program face daily barriers to income, stable housing, transportation or employment. Often, these moms and growing families are living at or below federal poverty guidelines of less than $13,000 annually.
These new mothers develop a close relationship with the nurses and become a trusted resource they can rely on for advice on everything from safely caring for their child to taking steps to provide a stable, secure future for them both. Nurses provide new moms with the confidence and resources they need not only to assure a healthy start for their babies, but to establish stability and opportunities for success for both mom and child. Nursing students have the benefit of gaining exposure to public health care and in-home healthcare.
Operating during a global pandemic has presented new challenges to the program. Visits have moved virtually to telehealth, unless the nurse deems the client's or baby's need as emergent, such as not eating, and they will make a home visit wearing proper personal protective equipment.
"We changed how we deliver care and information to our clients, but the impact of the care is unchanged and often just as effective as an in-home visit," shared Katherine Barger, NFP program coordinator and clinical instructor for Johnson Beth-El.
"It is a voluntary program, and most moms are in the program and working with their nurse for almost three years. The nurses truly enjoy the relationships they build with clients and see that they are making a positive impact in the lives of the mothers and children."
For more than four-decades, the NFP has operated nationally as an evidence-based, community health program with years of evidence showing significant improvements in the health and lives of first-time moms and their children living in poverty working with nurses for better outcomes. Since program replication began in 1996, more than 330,000 families have been served by the program across the nation. Each nurse, in the UCCS Johnson Beth-El program, works with anywhere between 20 to 25 clients at any given time. Today, the NFP serves low-income, first-time moms and their babies in 41 states, the U.S. Virgin Islands and many Tribal communities.