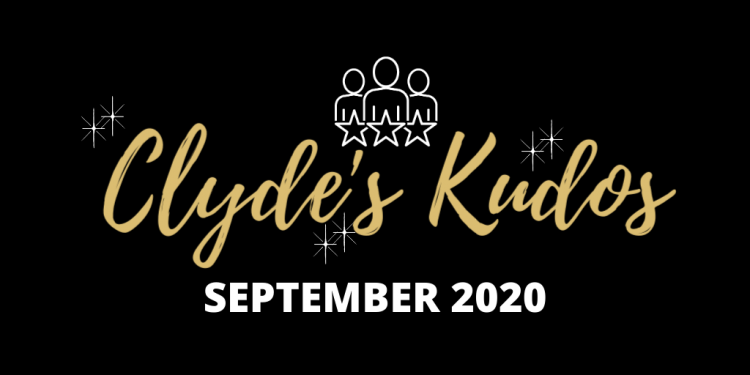 Clyde's Kudos are celebrated each month on Communique. Nominations are also recognized through a variety of forums including the Staff Association website, the Staff Association newsletter, event shout-outs, handwritten cards and other methods of distribution.
Clyde's Kudos: September 2020
Featured this month:
Teams:
Anelise Trippe, Jessica Garrett & Everyone in the Office of Admissions | Auxiliary Accounting Team | Mail & Shipping Services Team | Raymond Fisco, Katie Morton & the Office of the Dean of Students
Individuals:
Aaron Burton, Felix Oladoye & Emily Booth | Allison Noel | Anthony Trujillo | Christopher Valentine | Danny Pape & Claire Ami | Dawn Carter | Deann Barrett | Debi O'Connor | Ellen Burkart & Missy Sernatinger | Gabby Hensley | Heath Wagner | Holly Murdock | Jacob Guilez | Jared Verner & Crayton Daniel | Jeff Spicher | Jim Spice | Jina Fagerburg | Keith Valentine | Lauren Shakes | Maggie Wilensky | Manirat Chaikham, Andrew Blackman & Benjamin McIntyre | Michael Kisley, Rob Block, Meghan Stidd, Rashell McCann, Stephanie Gangemi, Rich Radabaugh, Dan Olson, Anna Kosloski, Valerie Martin Conley, Sandy Ho, Whitney Porter, Sue McClernan, Peter Gorder, Don Rabern, Michael Corl, Jackie Berning, Andrew Subudhi & Deborah Pollard | Michael Sanderson | Nicole Guthridge | Niki Juhl | Rob Block | Sandy Ho | Sherry McDonnell | Simone Woods | Terri Wagner
Teams
To: Anelise Trippe, Jessica Garrett & Everyone in the Office of Admissions
From: Crayton Daniel
Shout out to this amazing team for always being so great to work with! This kudos is for all the projects we've worked on in the past but more recently for the #WhyApplyCO video. We were able to create the concept and execute it in such a short amount of time. I couldn't have done it without you all. Thank you!
To: Auxiliary Accounting Team: Mathew Roesemann, Melissa Prinkey & Nancy Deater
From: Robin Margolin
The Auxiliary Accounting team experienced a the loss of two key people right before year end. The remaining staff has been challenged to pick up the pieces in the interim. They have done a great job by remaining positive and servicing their Auxiliary Departments to the best of their ability. Their efforts are so very appreciated!
To: Mail & Shipping Services
From: Missy Sernatinger
I want to acknowledge my dear colleagues in Mail Services who tirelessly work through hardships and additional adaptations/items due to COVID in order to continue to serve us with exemplary work. So many of us forget what it takes to keep a university functioning, especially when we ourselves work remotely some of the time. The mail services staff who have worked all through the initial closure and this summer are prime examples of the work ethic it takes to make UCCS run smooth. Thank you.
To: Raymond Fisco, Katie Morton & the Office of the Dean of Students
From: Crayton Daniel
I've been working with Ray and Katie on a social norming campaign to encourage students to wear their masks and practice social distancing. They care deeply about our campus community and the students' success and well-being. Although this campaign is a work in progress, I want to give them kudos on the research, brainstorming and hard work that is taking place to put this all together.
Individuals
To: Aaron Burton, Felix Oladoye & Emily Booth
From: Jeff Foster
Kudos to Aaron for relentless work and collaboration, and work outside of normal job scope, personally getting COVID-related campus signage updated and installed around campus, looking excellent and in place quickly, and to Felix Oladoye and Emily Booth for their help and expertise in the installation process.
To: Allison Noel
From: Anon.
Allison works in Student Financial Services and specifically works with Veteran and Military Affairs on all VA benefits processing. This semester has been especially challenging since many of our military affiliated students have dropped and changed classes as they work through the challenges of taking online classes. Allison is amazing…she always offers to talk directly to students and helps them navigate the very complicated VA benefits process. Additionally, she ALWAYS makes herself available to the VMA staff whenever we have questions. We would NOT be able to do our jobs effectively without her!
To: Anthony Trujillo
From: Patty Witkowsky
Thank you Anthony for lending your expertise about concurrent and dual enrollment to a faculty working group. Your information and knowledge was invaluable in our grant preparation!
To: Christopher Valentine
From: Anon.
Chris is incredibly supportive as a manager and leader, and has exhibited steady leadership through a difficult time. A big thank you from the entire MarComm team. We're lucky to have you here.
To: Danny Pape & Claire Ami
From: Megan Bell
Claire and Danny have been working so hard in the Career Center to serve our students despite not being able to fill two vacancies in their office. They have implemented the new job/career Handshake database and hosted a very successful webinar series. They also have rewritten their mission, vision and values for the department over the summer, and are hosting practicums for multiple master's students. I appreciate their energy, passion for students, willingness to collaborate and positive attitude especially given the challenges over the last few months.
To: Dawn Carter
From: Billie Jo Baptiste
Dawn is always willing to help and go above and beyond her regular job duties to help. She has also excelled at her computer skills while working remotely. We always have compliments from students about how helpful, kind and wonderful Dawn is. We are so lucky to have such a wonderful person in our Wellness Center.
To: Deann Barrett
From: Anon.
Deann is the HR Program Manager for the College of Letters, Arts and Sciences. She deserves huge recognition for her hard work and wonderful contributions to UCCS. She is very responsive, supportive, efficient, consistently excellent and a great team player. We are very lucky to have her as part of our UCCS community. In addition to the extremely high quality of her work, Deann is also a very positive influence on those around her. She sets a great example for everyone. Thank you Deann for everything you do!
To: Debi O'Connor
From: Anon.
I was having a really hard time with feeling isolated and not knowing what to do with an issue I needed to resolve with my job. I happen to have a standing meeting with Debi and several others on that same day. After the meeting I reached out to her to see if she would be willing to help. As usual, I was greeted with a welcoming smile and a willingness that is not easy to find these days. I know she is extremely busy but you would never guess this when we spoke. She took the time to remind me I am not alone and could call her any time. She also gave me some great advice and contacts to work out my job issue. Debi deserves to be recognized for going above and beyond.
To: Ellen Burkart & Missy Sernatinger
From: Megan Bell
I wanted to express appreciation for all of the support that Missy and Ellen have provided to our parents and families, and to our students through the early alert process. These conversations require a lot of energy and they continue to provide a safe place for students to learn, and for parents to get connected. I appreciate all that you and the student staff do for our campus.
To: Gabby Hensley
From: Crayton Daniel
Firstly, Gabby is such a talented graphic designer and photographer. I want to give her a long-overdue kudos for the help and guidance over the past few months, conceptualizing and creating designs. Especially this month – she has been able to quickly turn around two different projects. They turned out beautifully and it saved me time and a headache. Thank you so much, Gabby!
To: Heath Wagner
From: Polly Knutson
On March 17, 2020 as the UCCS campus shut down for the COVID-19 pandemic, one person comes to mind as someone who went out of their way to work harder and more systematically. When faced with stressful, unseen situations Heath Wagner kicks into gear and finds solutions. As an essential employee, Heath Wagner has been a cornerstone to making sure students who are on campus during the COVID-19 pandemic have been taken care of. He is a member of the Dining and Hospitality Services management team and goes above and beyond for the students and campus members he serves. Heath's leadership and commitment to excellence during the COVID-19 shutdown has been another reminder of what it takes to be a steward to the UCCS community.

Daily, Heath arrives early, works tirelessly and often comes in on his day off to make sure the dining staff has the support they need. Recently a student told me that the environment of community and teamwork that Heath promotes is why she likes to work at the UCCS campus. Heath supports students and staff individually when they experience difficult times. As a co-worker of Heath I know I can turn to him for any guidance when a situation arises. It is a true pleasure to know that Mr. Wagner is someone on the UCCS team.
To: Holly Murdock
From: Benek, Jesie & Nikki
Holly generously deployed the resources of her department and coordinated the marketing and live streaming efforts for the September 18 Wellness Center suicide prevention training. She was generous and enthusiastic with an infectious "can do" attitude. Holly has been an invaluable asset to us at the Wellness Center for this and many other projects.
To: Jacob Guilez
From: Benek, Jesie & Nikki
Jacob was so helpful in making the September 18 Wellness Center suicide prevention training happen. He worked hard, he was dependable, with remarkable patience and grace to make a live stream happen for the training. If it was not for him, I am not sure we could have pulled it off the way that we did.
To: Jacob Guilez
From: Anon.
Jacob went out of his way to research methods and options of streaming a live session for one of our clients (the Wellness Center). He found a solution that would fit everyone's needs and helped Benek and her team go live with a suicide prevention training that was superb. Watching the conversations unfold and discussing the project in team meetings and one on ones, I was very glad this was not an assignment given to me–it was a technical and sufficiently complicated process. He did a superb job!
To: Jared Verner & Crayton Daniel
From: Anna Squires
I am grateful for my team every single day. Jared and Crayton, you are the most hard-working, wholehearted, thoughtful and kind coworkers I could ask for. On the hardest days, you keep me going. We may be small, but we're mighty, and together we move mountains!
To: Jeff Spicher
From: Anon.
It's rare to come across people who are so dedicated and trustworthy. Jeff's efforts have not gone unnoticed. Thank you!
To: Jim Spice
From: Molly Larson
Since I normally do not buy a parking permit, Jim offered to walk me through the most economical options during my injury. He saved me so much money because I was going to go another route. Thanks Jim! His department is always in a tough spot and get mostly complaints. Not this time!
To: Jina Fagerburg
From: Benek, Jesie & Nikki
Jina has always been quietly and diligently creating materials that help us amplify our voice when we have something to say to our community. The September 18 Wellness Center suicide prevention training was no exception. Because of her success, our training caught many people's attention and interest. Jina has been an invaluable asset for us for this project and many others in the past. Thank you!
To: Jina Fagerburg
From: Anon.
Jina is an exemplary employee who quietly and CONSTANTLY does her job with excellence. Taking hardly any vacation time, Jina is on the job, every single day, answering emergency requests in record time and turning out superb work – from posters to animated movies, from stickers to flyers, from published books to giant banners. If you have spent more than a day on the UCCS campus, I absolutely guarantee you have seen Jina's work.
To: Keith Valentine
From: Sandy Ho
Keith is consistently professional, timely and kind in his communication regarding requests. He takes time to explain processes and why work orders are completed in certain ways. He follows up to let me know realistic timelines for completion. Overall, he's kind and friendly. I always feel like he is happy to support my many requests. And after I moved from one office to another, I didn't realize I had lost something behind my old desk, but he found it and was considerate enough to not throw it away (someone else might have assumed it was trash). Thanks to Keith for making me feel like a welcome colleague and not "that random lady who puts in too many work orders."
To: Lauren Shakes
From: Kristina Coggins
The past seven months have required flexibility and pivoting, unlike anything we could have anticipated. The arena of event planning has been deeply impacted. Lauren Shakes has not only risen to the occasion, but she has flourished! We've had to look at approaching events in completely new and different manners. Lauren is always down for a brainstorming session. She is consistently looking for new ways to keep our scholars and donors engaged. I consider myself lucky to have an event planning partner in Lauren.
To: Maggie Wilensky
From: Debi O'Connor
Maggie, it's been great getting to know you better and I've really enjoyed working with you. Thanks for jumping in and helping the UCCS campus – this was not an easy task. You're a great coworker!
To: Manirat Chaikham, Andrew Blackman & Benjamin McIntyre
From: Anon.
These three individuals are absolutely phenomenal! Each individual is consistent, effective and efficient in completing their work. They tirelessly work towards protecting each campus community member by ensuring the work they are completing is to University standard. Each individual understands the importance of providing a clean, healthy academic workspace for students, staff, and faculty to engage in. Thank you! Thank you for all of your hard work that is hardly ever seen or recognized!!
To: Michael Kisley, Rob Block, Meghan Stidd, Rashell McCann, Stephanie Gangemi, Rich Radabaugh, Dan Olson, Anna Kosloski, Valerie Martin Conley, Sandy Ho, Whitney Porter, Sue McClernan, Peter Gorder, Don Rabern, Michael Corl, Jackie Berning, Andrew Subudhi & Deborah Pollard
From: Nick Lockwood & The Orientation Team
A HUGE thank you to these representatives who assisted with faculty presentations at Orientation's New Student Campus Visit Days. Thank you for volunteering your time to welcome new students and their families! Everyone adapted beautifully to our ever-changing schedules and the new dynamics of a socially distanced classroom. It was great to witness your excitement and enthusiasm for your academic areas. We are very grateful for your support and collaborative spirit.
To: Michael Sanderson
From: Jessi Smith
Mike is dedicated to helping our faculty, staff, and students maintain a safe and compliant working and learning environment. His impact is felt in every corner of the campus, and the COVID crisis has made his impact that much more meaningful. He has gone above and beyond to help us understand the impacts of COVID on our international students; get out in front of possible COVID impacts on our IT needs; and lead our human subject researchers to be able to resume some level of investigation.

Mike is tireless in his willingness and ability to grasp the ever-changing regulations and orders and being proactive to help us easily clear the compliance bar. From new cybersecurity regulations, to ever changing export controls, Mike is the go-to person who finds out the answer when no one else can. Mike is a true community member and everyone one of us should be grateful for his smart, friendly and steady approach. Kudos to Mike!
To: Nicole Guthridge
From: Anon.
Nicole's work is impeccable. She is precise, dependable, organized and puts out excellent work. A great team player, as she always steps in where and when needed without hesitation. I'm glad she is a member of our team as has helped immensely. Thank you! Your work is greatly appreciated.
To: Niki Juhl
From: Anon.
Niki has designed and implemented extraordinary online labs for CHEM 1201 and CHEM 1211!Additionally she has made it possible for students to have in person lab experiences.
To: Rob Block
From: Anon.
Rob Block has been a rock during all these changes and challenges. He is very transparent and supportive to faculty and stuff. He always provides support, knowledge and even humor. Rob never seems to stop working! Thank you Rob.
To: Sandy Ho
From: Jesse Perez
Thanks for being such an amazing advocate for the campus and especially our students. Your passion is valued and lights up the darkest of spaces. 감사합니다
To: Sherry McDonnell
From: Rose Johnson
Sherry is a wonderful asset to the Dean's Office in the College of Letters, Arts and Sciences. She is a go-to person when program assistants and others have questions. Sherry will always take time to assist you and in crazy times, that means a lot. Thank you Sherry for all you do. You are so appreciated, and I truly value you as not only a colleague, but as a friend.
To: Simone Woods
From: Billie Jo Baptiste
Simone has been such an asset to our team at the Wellness Center. Her work is exceptional! She is always willing to help wherever she is needed and has taken to lead to write up protocols and scripts for contact tracing that streamline our process. She is truly a wonderful addition to the Wellness Center team.
To: Terri Wagner
From: Debi O'Connor
Thank you for supporting me wholeheartedly. The role you play at UCCS is invaluable. I'm so grateful for all of your help and continued support. It means a lot!
Want to celebrate your colleagues? Submit kudos anytime through the Staff Association website. Communique publishes Clyde's Kudos on the first business day of each month.