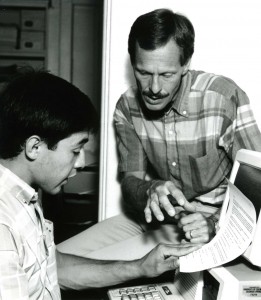 A June 28 campus memorial service for former dean of students Ron Wisner drew more than 40 people to the Kraemer Family Library to reminisce or to learn about the long-time former staff member.
Remembered for his patience, good humor and overall humanitarian approach to student affairs, Wisner served as dean of students from 1979 to 2003 and recently rejoined the campus part-time. He died May 21 from injuries suffered in a bicycle accident.
Speakers included former student leaders CU Regent Steve Ludwig, a 1993 UCCS graduate, and Ben Gilliam, a 1984 UCCS graduate; Paul Ballantyne, professor, Economics; Tamara Moore, marketing director, Auxiliary Services; Jeff Davis, director, University Center; Chancellor Pam Shockley-Zalabak and retired staff member Diana Cook.
"His patience is remarkable," Shockley-Zalabak said. "I do not know how many people have said to me in the last several weeks 'he had more patience than all of us put together.'"I think that was absolutely true. In fact, it was his profound belief in the positive aspects of human beings and young people in particular that makes him absolutely so special to the legacy and life of this university."
Ludwig and Gilliam, a Denver commercial real estate broker, shared their perspectives as students who benefitted from Wisner's mentoring.
"One of the things he taught me is that there are a lot of different ways that people can do things and get results," Gilliam said. "Ron was always the guy that made me sit back and think this through and think about the constituents. He taught me a very valuable lesson in life that I remember 31 years later."
A slideshow used at the memorial service is available here: Ron Wisner memorial slideshow (pdf)
To see an earlier story about Wisner, including the obituary prepared by family members and comments posted by friends and colleagues, visit https://communique.uccs.edu/?p=1108