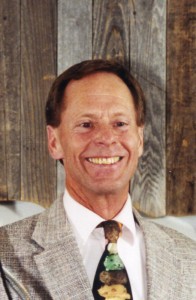 Ron Wisner, dean of students at UCCS from 1979 to 2003, died Friday, May 21 in a mountain bike accident in an open trails area between Monument and Castle Rock, according to family members.
Following his retirement from UCCS, Ron served as an instructor for the Semester at Sea Program and recently rejoined the university on a part-time appointment to assist with student affairs.
Memorial arrangements are pending. The obituary, as prepared by family, follows.
Ronald E. Wisner, born June 18, 1942, adored husband, father, grandfather, brother, and uncle, died May 21, 2010.
Ron led a full and adventurous life. Born in Upper Sandusky, OH, he graduated from Wittenberg University and joined the newly created Peace Corps to teach agricultural practices to farmers in Niger, West Africa. From this experience a lifelong love of world travel and interest in exploring cultures was born.
After his return from Africa Ron attended Michigan State, where he met Jane Haven. After a six-month courtship, they married. Ron received his Masters from Michigan State and began his career at UM-Flint as Assistant Dean for Student Services.  Ron and Jane welcomed Sara and Mark into the world, and moved their family west for Ron to accept a position at the University of Colorado at Colorado Springs as Dean for Student Life and to enjoy a sport-filled lifestyle. At UCCS, Ron also served posts as Executive Director of Student Affairs and Dean of Students. Concurrently with his academic positions and in between running marathons, skiing Colorado's resorts, and living life to the fullest, Ron achieved his Ph.D. from the University of Michigan.  A Fulbright Scholar, he was as intelligent as he was lovable.
Ron and Jane were exemplary models for retired life. They spent a year teaching in Copenhagen, Denmark, twice travelled around the world as staff of the Semester at Sea program, and embarked on cycling, skiing, and hiking trips with family and friends. Ron was a serial volunteer, giving of his time and talents to the Pikes Peak Marathon, Garden of the Gods running club, US Olympic Committee, Vail Music Festival, Pike's Peak Library, Tri-Lakes Transportation Services for Seniors, and Citizen's Project. He served as a board member of the Karen Possehl Endowment for Non-Traditional Women's Scholarships, the UCCS Chancellor's Leadership Class, the Pikes Peak Area Peace Corps Alumni, and his latest passion, the Kids on Bikes project.
Ron never met a dessert or beer he didn't enjoy. Scheduled to the maximum, above all else family came first in his heart and calendar.
A campus memorial service is scheduled for 3:30p.m. June 28 on the third floor of the Kraemer Family Library. Jane Wisner will attend the service and represent the family. Those interested in speaking at the service are asked to contact the Office of the Chancellor by phone, 255-3436, or email, [email protected].
Family and community memorial services were held May 28  at Hillside Gardens, 1006  S. Institute St. In lieu of flowers, please donate to Kids on Bikes, 600 South 21st Street, Suite 100, Colorado Springs, CO 80904.