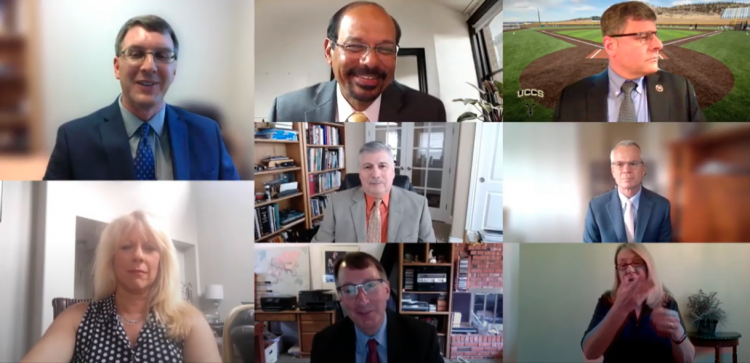 Chancellor Venkat Reddy and campus leaders addressed campus in the third virtual Town Hall of the summer on June 24.
Chancellor Reddy and a panel of campus leaders provided updates on topics including the fall semester, returning to on-campus work, strengthening UCCS' culture of diversity and inclusion and more.
President Mark Kennedy also joined the session to offer remarks on navigating the challenges COVID-19 has presented to higher education, recent work to deepen the University of Colorado's commitment to equity, diversity and inclusion and statewide efforts to advocate for resources for Colorado's higher education institutions.
Updates presented by Chancellor Reddy and campus leadership included several key takeaways.
Here's what you need to know:
As he closed out the session, Chancellor Reddy remarked, "In so many ways, the success of our university during this challenging time depends on all of us pitching in – just as the success of larger movements for acceptance, diversity and inclusion depend on all of us, doing the work, together."
"Above all," he continued, "we have learned that resilience and resourcefulness are the keys to a brighter future. Sheer resilience is going to get us through this – and knowing that we are not alone. We are all in this together. And we will get through this together, just as we always have."
Members of the UCCS community who would like to submit additional questions for response may do so online. They may also fill out a survey response to the event.