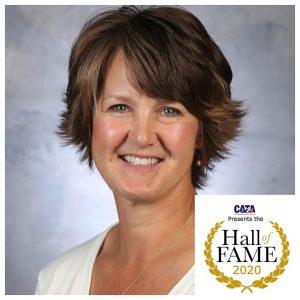 Margie Hunt, senior instructor of health sciences and the clinical education coordinator for the Masters of Science in Athletic Training with the Helen and Arthur E. Johnson Beth-El College of Nursing and Health Sciences, is a 2020 Colorado Athletic Trainers' Association Hall of Fame inductee.
"I am extremely honored and grateful to be considered in the same company as the previous and co-inductee CATA Hall of Fame recipients, many of whom were mentors to me throughout my career," Hunt said. "I have heard many coaches and athletes say 'no one player is ever more important than the team,' and I've been fortunate enough to have been a part of many great sports medicine teams with many caring and deliberate mentors, who have taught me about sports medicine and life. I hope to be able to continue to learn and then share and replicate these examples with students."
Hunt will be honored at the state CATA virtual meeting on June 30.
Mandi Elder, associate professor with Johnson Beth-El and MSAT program director said, "The value that Margie brings to the emerging athletic trainers at UCCS is immense. Her network of healthcare professionals in the Colorado Springs area is a tremendous asset to the MSAT program. It is my privilege to work beside Margie, and learn as much from her as the students do."
Hunt became certified as an athletic trainer in 1989. She earned her undergraduate degree in physical education at the University of Iowa with an emphasis in athletic training. She went on to receive her master's in physical education from Syracuse University, while working as a graduate assistant athletic trainer.
Hunt worked as a collegiate athletic trainer at Marquette University before moving to Colorado to work with the United States Olympic and Paralympic Committee After seven years as a staff athletic trainer, Hunt became the head athletic trainer for the Colorado Springs Olympic Training Center campus, later transitioning to a manager role in the Sports Medicine and Sport Performance Divisions. During her nearly 20-year tenure with the United States Olympic and Paralympic Committee, Hunt served as an athletic trainer for Team USA in five Olympic Games and two Paralympic Games.
In 2013 Hunt moved from the clinical to the academic setting, working as an instructor at UCCS. Hunt instructs in the CAATE accredited Master of Science in Athletic Training program and serves as the clinical education coordinator.
In her spare time, Hunt works as an athletic trainer with various Olympic and Paralympic sport national governing bodies and volunteers with community organizations.