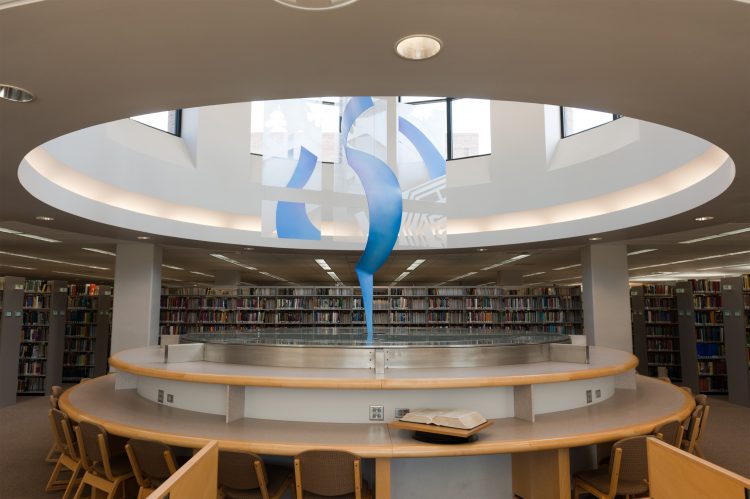 Tabby Farney and Rhonda Glazier will serve together as interim deans of the Kraemer Family Library and Glazier will join 12 others on the search committee to find the permanent dean.
Farney, associate professor and library director of web services and emerging technology, and Glazier, assistant professor and director of collections management, will split the duties of interim dean. They will serve in place of Martin Garnar, who will be the next director of the library at Amherst College.
"Their combined knowledge and skills will keep the library in excellent shape while we search for a new dean," said Provost Tom Christensen. "I am very grateful for their willingness to serve during this transition."
Christensen also announced that Kevin Laudner, dean of the Helen and Arthur E. Johnson Beth-El College of Nursing and Health Sciences, will chair the search committee for the next permanent dean of the college. Laudner will be joined by Glazier, and:
Brad Bayer, senior executive director of student life and assessment, Office of Student Life;
Lindsey Coppa, administrative assistant II, Kraemer Family Library;
Carlos Duarte, outreach and intergenerational librarian and instructor, Kraemer Family Library;
Lesley Ginsberg, professor, Department of English;
Rhonda Gonzales, dean of library services, Colorado State University-Pueblo;
Shad Harder, IT professional, Kraemer Family Library and Office of Information Technology;
Matthew Jabaily, assistant professor and electronic resources and serials librarian, Kraemer Family Library;
Colin McAllister, assistant professor and director of the music program, Visual and Performing Arts Department;
Don Pawl, interlibrary loans and library technician III, Kraemer Family Library;
Lisa Steck-Gillen, cataloging assistant and library technician I, Kraemer Family Library; and
Regina Winters, senior instructor and assistant dean, School of Public Affairs.
Applications will be available after the committee's charge meeting at cu.edu/cu-careers.
The Kraemer Family Library encompasses nearly 1.3 million records of books, microforms, government documents, audio/visual items and serial titles with over an additional 400,000 online full-text journals, e-books and streaming videos. It is a member of the Colorado Alliance of Research Libraries which includes the Prospector Union Catalog that provides UCCS faculty, staff and students with access to more than 50 libraries and 30 million pieces of materials in Colorado and Wyoming.
The dean serves as an officer of the university and the chief administrator for the Kraemer Family Library. It is a member of the Deans Council, reports to the Provost and Executive Vice Chancellor for Academic Affairs, and represents the library within the university and at the local, state, national and international levels.