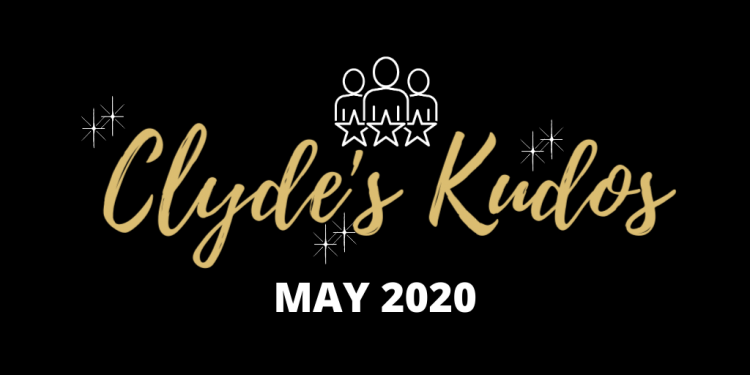 The start of summer is always a time to celebrate – whether it's longer days, a looser schedule or the tremendous accomplishments of our colleagues.
Clyde's Kudos are celebrated each month on Communique. Nominations are also recognized through a variety of forums including the Staff Association website, the Staff Association newsletter, event shout-outs, handwritten cards and other methods of distribution.
Clyde's Kudos: May 2020
Featured this month:
Teams:
The Family Development Center Staff | The UCCS City Employee Medical Clinic | The Media Services Team | The Wellness Center Front Office Team | Andrea Cordova and the Virtual Commencement Team | All Who Assisted with Spring 2020 Virtual Commencement
Individuals:
Brittany Almeida | Rose Johnson | Charlie Kuehler | Stephen Cucchiara | Lisa Buckman | Crayton Daniel | Benek Altayli | Phillip Gallegos | Missy Sernatinger| Emily Cooper | Katherine Placzek | Steve Linhart | Gwen Gennaro | Season Doebler | Tracy Barber & Todd Casey | Margie Oldham | Anna Squires | Allison Noel, Deborah O'Connor and Jacqueline Gatlin
Teams
To: The Family Development Center Staff
From: Brad Bayer
For continuing to provide quality curriculum and instruction, as well as engaging social activities via a remote platform to UCCS's youngest students!
To: The UCCS City Employee Medical Clinic
From: Anon.
This team of nurses and medical assistants is absolutely resilient and have taken this global shift in stride. The City Employee Medical Clinic at UCCS supports the UCCS mission by housing clinical positions for our nursing students and by being one of the many ways our campus integrates with the City of Colorado Springs. They have worked tirelessly over the past couple of months to treat the patients they can, and triage those they cannot. This small, tight-knit team provides a variety of medical care for our city's firefighters, police officers, utility workers and heroes. If that is not something to be celebrated and appreciated during such uncertain times, then I am not sure what is.

Thank you for keeping our city's heroes healthy, UCCS City Employee Medical Clinic! You are appreciated and admired.
To: The Media Services Team
From: Anon.
This team did a phenomenal job preparing for the virtual commencement and making it as special as possible. Thanks for all your hard work!
To: The Wellness Center Front Office Team
From: Chrissie Bailey
The Wellness Center front office team has done an incredible job of helping students access Wellness Center services while working remotely. They communicate with students through multiple avenues to help them make Telehealth medical and mental health appointments, fill out forms and make payments. They have converted paper forms to electronic forms, accessible to students through the Wellness Center portal. They have updated Wellness Center protocols and continue to manage immunization compliance for the University. They are also an ongoing resource for other Wellness Center staff. They have been an amazingly resilient and hard working team during this challenging time; I can't thank them enough!!
To: Andrea Cordova and the Virtual Commencement Team
From: Alumni Relations and Annual Giving
Andrea Cordova and the virtual commencement team she led created an outstanding, moving and high-quality commencement for the UCCS Class of 2020 – and in just a matter of weeks. What an amazing effort and amazing group of people.
To: All Who Assisted with Spring 2020 Virtual Commencement
From: Andrea Cordova
There certainly was not anything normal about this spring's Commencement. On March 17 we learned we would not, for the first time in our campus' history, have an in-person Commencement ceremony for graduates. Several people joined me in a virtual meeting on March 20, which was eight weeks from Commencement day, to start talking about what we might do as a virtual alternative for our spring graduates. I thank everyone for your efforts, large and small, to make our first-ever virtual Commencement a success. Thank you for joining me on the journey to design a virtual ceremony from scratch; thank you for your encouragement; thank you for your strong collaboration during these extraordinary times which had already created challenging work environments and behaviors for all of us; thank you for problem-solving; thank you for volunteering to participate in different projects; thank you for going above and beyond!

I hope you were all able to tune in and watch the May 15 ceremony and recognitions. If you were not, the videos are accessible on our Virtual Commencement website. I feel extremely fortunate to work at a place with such amazing individuals. I sincerely appreciate you all. Go Mountain Lions! ❤
Individuals
To: Brittany Almeida
From: Sandy Ho
Brittany has become such a big help to the Directors of the Excel Centers. We have been without administrative support for over a year, but she came on board and caught up quickly. She is positive, professional, and proactive. I want to acknowledge how much I appreciate her and her efforts. So, from all of us at the Excel Languages Center THANK YOU, BRITTANY!
To: Rose Johnson
From: Ann Amicucci
Rose's work during this remote working time has been invaluable. She is the guru of our department and has helped me with so many questions, especially regarding the budget, over the last several weeks. I am incredibly grateful for her expertise, her infallible positive attitude, and her professionalism.
To: Charlie Kuehler
From: Missy Sernatinger
I had to quickly jump into a budget role, and Charlie has been SO helpful in making sure that all of my questions are answered and that I have all of the support that I need, despite being extremely busy himself, in order to help me successful in these anxious times. He's always helped me to remain calm, informed, and prepared. It has reduced so much stress and I am so very grateful.
To: Stephen Cucchiara
From: Brad Bayer
For continuing to provide a creative and engaging six week calendar of Student Life From Home virtual programming for our students during the remote learning period.
To: Lisa Buckman
From: Brad Bayer
We are beyond pleased to welcome Lisa Buckman, the new Director of Veteran and Military Affairs, to UCCS and the Mountain Lion Family.
To: Crayton Daniel
From: Liz Bunkers
HUGE shout out to Crayton for all of his hard work to make our alumni social media pages shine during commencement this year. He put in extra hours to edit a video for us and went above and beyond to tell great stories on our social media channels! Thank you!!
To: Crayton Daniel
From: Kayla Gronseth Boyer, Anna Squires & Liz Bunkers
Crayton is a motivated, team player who is always working hard to help. He is a great addition to the Marketing and Communications office and always has a way of lighting up a room and being a friendly presence! Even in remote work, he is a force to be reckoned with in his work! He truly has a heart for our UCCS community and approaches his work with compassion and respect for everyone he meets. Crayton, we're overjoyed you're part of our team!
To: Benek Altayli
From: Anon.
Benek attended a Dining and Hospitality Manager's meeting in order to counsel the team on how to deal with extreme stress, uncertainty and managing through change. She lends a very empathetic and caring ear to all. UCCS is very lucky to have her. We are grateful for her assistance.
To: Phillip Gallegos
From: Sabrina Wienholtz
Phillip may well be the glue holding the Ent Center for the Arts together. Through much turnover, change, and challenge; Phillip keeps Ent Center Business Operations moving and innovating. He knows all the things and is always willing to pitch in to solve a problem. It has been a true pleasure getting to work with Phillip in learning my interim role. Phillip – Thank You for all you do!
To: Missy Sernatinger
From: Ellen Burkart
Missy has gone above and beyond to maintain office functions during COVID-19 while, at the same time, serving as the sole professional staff member in our department while I have been on maternity leave. Her decisions, actions, and work ethic have done impressed me beyond words. I am grateful to have a wonderful colleague who is willing to help out whenever possible and always goes above and beyond.
To: Emily Cooper
From: Anon.
For taking on so many new projects to help support the campus IT needs.
To: Katherine Placzek
From: Anon.
A huge kudos to Katherine, who volunteered to help OIT get the ball rolling for a new program that will provide first-year students with Chromebooks, free of charge. Katherine has gone above and beyond to help this program become a reality. There have been a thousand and one obstacles in her way, but Katherine has shown her dedication to our mission of innovation, access and affordability and her huge heart for all of our students. Kudos to her!
To: Steve Linhart
From: Jesse Perez
Steve has a genuine care for all people and goes out of his way to be helpful. Our campus is a better place because he is here. Love you Steve!
To: Gwen Gennaro
From: Anon.
Gwen has been an amazing supporter of our dispersed team in light of everything going on. She sends constant words of encouragement and funnies. It really helps us all stay connected even when we can't be together.
To: Season Doebler
From: Anon.
Season is the director of the Family Development Center and has been a fearless leader through the COVID-19 pandemic. She has remained open for communication with her staff 24/7. We had to switch to remote teaching preschoolers over night and Season gave us full reign and supported each of us in doing this in our own individual way. She has consistently encouraged us and praised us for our hard work with each family. Her hours have been long and she has always provided us with the support we have needed to complete our jobs remotely. We could not have made it through the last 2 months without her leadership.
To: Tracy Barber & Todd Casey
From: Academic Scheduling/Office of the Registrar
Tracy & Todd are two powerhouses over in the Office of the Registrar and deserve to have their hard work acknowledged! They possess phenomenal leadership and have dealt with the entirety of COVID-19 related changes with great efficiency, communication, and poise. To say our office is lucky is a true understatement and we appreciate you now more than ever. Thank you for everything that you do for our office and the entire campus!
To: Margie Oldham
From: Stephanie Adams
The work she is doing with LAS students for the Peak Ambassador program is wonderful. She connect with these students and they have a GREAT new YouTube channel that is full of great UCCS content. I love seeing our students thrive in new modes and media. Margie does a great job supporting and coaching them, especially now in the post COVID-19 world.
To: Anna Squires
From: Benjamin Kwitek
Anna is a great asset to UCCS. She was very helpful in supporting news for the Innovation Program this Spring – including an article and helping to share social media from the US State Department. She is very responsive and effectively navigates through multiple people and organizations.
To: Allison Noel, Deborah O'Connor and Jacqueline Gatlin
From: Anon.
These three individuals need to be recognized for their hard work and commitment to our military and veteran population. The campus recently had a Department of Defense Memorandum of Understanding Compliance review and they work diligently with partners across the UCCS Campus to ensure all of the findings were addressed. These improvements were not just to check a box to pass the audit, but rather to improve campus processes and better the campus experience for our military, veteran, and their dependents experience here at UCCS. Kudos again to these three individuals.
Want to celebrate your colleagues? Submit kudos anytime through the Staff Association website. Communique publishes Clyde's Kudos on the first business day of each month.