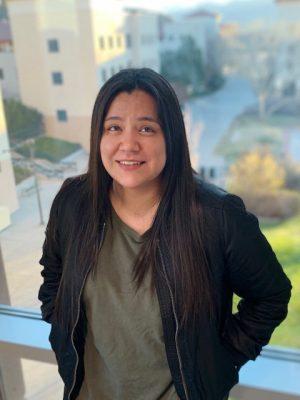 Abigail Solis has always had a passion for helping people through counseling.
On top of being a member of the Chi Sigma Iota sorority, a National Board of Certified Counselors Minority Fellow and an intern at Mt. Carmel Veteran Service Center, she became a graduate research assistant and counselor-in-training for Campus Connections.
Campus Connections is a youth mentoring program that has been hosted at UCCS since 2019. It allows student counselors to work with middle school students for an entire semester or more, offering guidance and discussing issues.
When Counseling and Human Services Assistant Professor Diane Stutey realized how invested Solis was in Campus Connections, she asked her to start exploring the program to find out how counseling is impacting the kids. Eventually, Solis wanted hands-on experience.
"The more I interacted with kids, the more I wanted to dive in," Solis says. "It was amazing being able to communicate with them and see them develop into more confident, resilient individuals."
In-person counseling made Solis a more confident and resilient individual herself. After being diagnosed with epilepsy, she faced her own mental health issues. Her father served in the military and was deployed to the Middle East. Upon coming home, it was clear he had developed post-traumatic stress disorder.
"The readjustment piece can be very difficult," Solis explains. "But we understood what he was going through and I think that's what happens when you have a good counselor — it made me want to be a counselor."
Now, Solis is closer than ever before to fulfilling her dream. Before graduating, she was hired as a peer specialist at an individualized counseling center in Colorado Springs called Colorado Motion.
In this role, Solis has been working with kids of all ages while she pursues her license in professional counseling. This will require her to get 3,000 supervised counseling hours, plus take a national exam, but it means more job opportunities. Solis is even thinking about Ph.D. options.
Such credentials will allow Solis to work with more patients over time and, soon, she would like to focus on helping military families living in Hispanic communities, just like her own.
"I used to work at a base, seeing how the military community was treated," Solis says. "I could see how listening and being empathetic — what that could do for someone."
She will be graduating with her Master of Arts in Counseling and Human Services with an emphasis in clinical mental health counseling, and is one of two recipients of the Student Achievement Award.
This award is given out annually to two graduating students who have made either a significant personal accomplishment or substantial contribution to the quality of student life at UCCS while finishing school.
While working and doing more research this summer, Solis will visit her family and show them this special, unexpected merit.
"This award feels weird to me because I know there were so many other people out there trying for it," Solis concludes. "It took a while to sink in, but I'm very grateful."