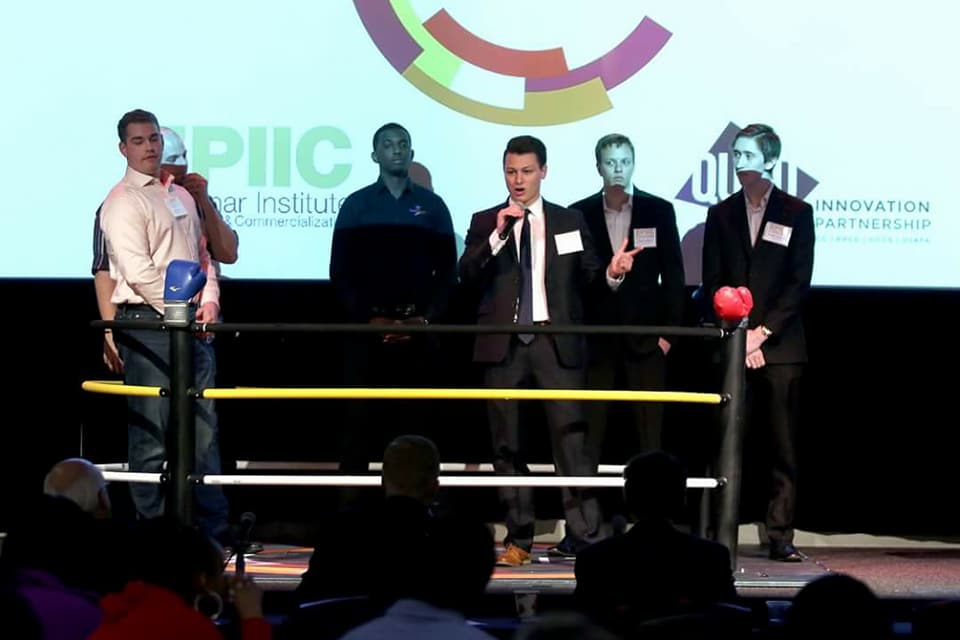 Lee Haider knew he wanted to attend UCCS before he ever visited Colorado Springs. The North Dakota native packed his bags in pursuit of a startup culture with a degree that could support his passion for entrepreneurship: the world's only Bachelor of Innovation program at UCCS.
"I wanted to attend a college that could provide me the resources, network and overall environment to help launch a startup, which is something I couldn't find in North Dakota," said Haider. "I chose marketing emphasis because I believe marketing is crucial for any business to succeed and I enjoy experimenting with all the different ways to tell the world about a company."
As a Colorado transplant, Haider learned firsthand the difficulties of meeting people when you come to a new city. He and a fellow student quickly recognized a need in Colorado Springs for an app that allows you to meet new people, face-to-face. This initial idea sparked his first project as an undergraduate student. With three other colleagues, Haider developed an app concept to connect people together over food.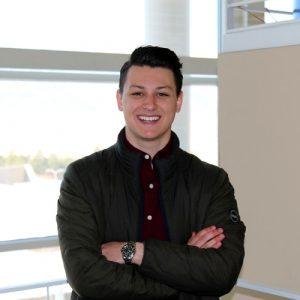 "My co-founders and I started Trof to solve a problem we all personally experienced," said Haider. "Between the four of us, we all had experienced what is like to move to a new city, not know anyone and feel lonely. We looked around for solutions and felt we could do something better than what was currently available."
By his junior year at UCCS, this concept became a reality. Utilizing resources such as The Garage at UCCS, his professors and local community professionals, Haider celebrated the launch of his company: "Trof." Trof is an app that allows you to organize meet-ups at local restaurants to meet new friends and discover new food in your area. The app focuses on building community and supporting local businesses.
The Trof team took their startup to compete in several state-wide angel investment competitions. Only two months into their startup, Haider and team placed third in an international competition, which sparked a large amount of interest from app developers. On day three of the 2019 Rockies FUND Conference, Trof was voted a "Top 10 Startup" out of 100 companies.
Juggling a new business and his academic studies was no easy feat. Lee quickly recognized the challenge of launching a startup while pursuing his undergraduate degree.
"I think any student who is trying to be an innovator while in college knows the struggle of managing time," said Haider. "I constantly had to juggle homework and studying while trying to manage everything that comes with building a startup. I always had to ask myself, 'Is this homework assignment or exam more important to my future than a pitch to an audience of 50 plus entrepreneurs and investors?'"
Haider quickly learned the importance of time management and found comfort in confiding in other Bachelor of Innovation students.
"I think my biggest support system was being around other entrepreneurial classmates," Haider recalls. "We all were going through the similar struggles and could relate to one another."
He also attributes his success in college to the professors that believed in him and helped him launch his business. Haider developed a strong bond with his Bachelor of Innovation and College of Business faculty that went above and beyond to encourage his entrepreneurial passions.
"I am beyond thankful for all of the professors that have taken an interest in me and helped me grow as an entrepreneur, student and innovator, especially Dr. Tom Duening, Dr. Colleen Stiles, Dr. Ben Kwitek and Dr. Terry Boult," said Haider. "Ultimately, I was lucky enough to be surrounded by amazing professors that really helped me and my startup."
Staying true to brand, Haider stresses the importance of staying connected. His favorite aspect of Colorado Springs is the sense of community, from which he has had the opportunity to meet incredible friends and colleagues. Alongside "Trof" and his school studies, Lee served as president of the Entrepreneurship Club, which he recognized as an amazing learning and leadership experience.
After taking his virtual commencement walk in May, Haider hopes to continue expanding his current startup.
"Ideally I would like to get into one of the startup acceleration programs, receive investment and turn Trof into my full time job."
"I think as an innovator you often do not know what is next but you do know how to seize opportunities. I am looking forward to exploring what the future holds for me."