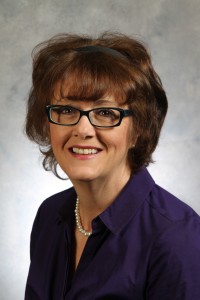 As part of a long-term plan to build on faculty expertise and to integrate health and wellness into the campus lifestyle, UCCS will manage its own food service operations beginning in May.
Susan Szpyrka, vice chancellor, Administration and Finance, announced Oct. 7 the decision to begin preparations to self-operate campus food service. Her announcement followed meetings with campus leaders and representatives of Sodexo Corporation. Sodexo has managed campus food service as a contractor for 16 years.
Sodexo is a for-profit French multinational corporation and one of the largest food services and facilities management companies in the world with more than 380,000 employees. As part of its agreement with the university, 180 days notice of contract changes was required.
"As UCCS continues to grow both in size and in its desire to connect campus food service with academic programs, wellness goals and on-campus expertise, it became clear that we must build our own structure," Szpyrka said. "Sodexo has been a valued partner for many years. I want to thank the company for its service as we move in a new direction. Sodexo leadership has pledged to continue to provide high levels of food and service quality to UCCS through this transition."
The change from Sodexo-operated campus eateries and catered events to those staffed by UCCS employees will occur May 23. Szpyrka is aiming for a seamless transition and several busy months as the university builds a new Auxiliary Services function.
Working closely with Szpyrka is a committee of faculty and staff members who were essential in assisting in the development of a program plan to bring food services in house. The members of this committee are Janel Owens, assistant professor, Department of Chemistry and Biochemistry; Nanna Meyer, associate professor, Beth-El College of Nursing and Health Sciences; Tamara Moore, executive director, Auxiliary Services; Jeff Davis, executive director, Auxiliary Operations;  Megan Bell, director, University Center; Ralph Giese, director, Residential Life and Housing; and Linda Kogan, director, Office of Sustainability.   Over the next several months, the committee will assist Szpyrka in the transition including serving on search committees to hire leaders for the new unit as well as to host an employment fair for Sodexo employees interested in transitioning to UCCS employment.
Eventually, Szpyrka believes the new food service unit will employ as many as 100 people approximately 75 being UCCS students. The desire to provide on-campus employment opportunities for students was part of the decision to create a new operation, Szpyrka said. Other factors included connecting with faculty expertise and campus sustainability goals that include locally grown food and reduced waste streams. UCCS constructed a campus greenhouse last year.
Over the next several months, faculty and staff will be asked to share opinions about the new food service enterprise through surveys and focus groups.
"We have world-class experts in nutrition, wellness and service marketing on this campus," Szpyrka said. "I want them to help us create something that is truly exceptional and serves students, faculty and staff well."