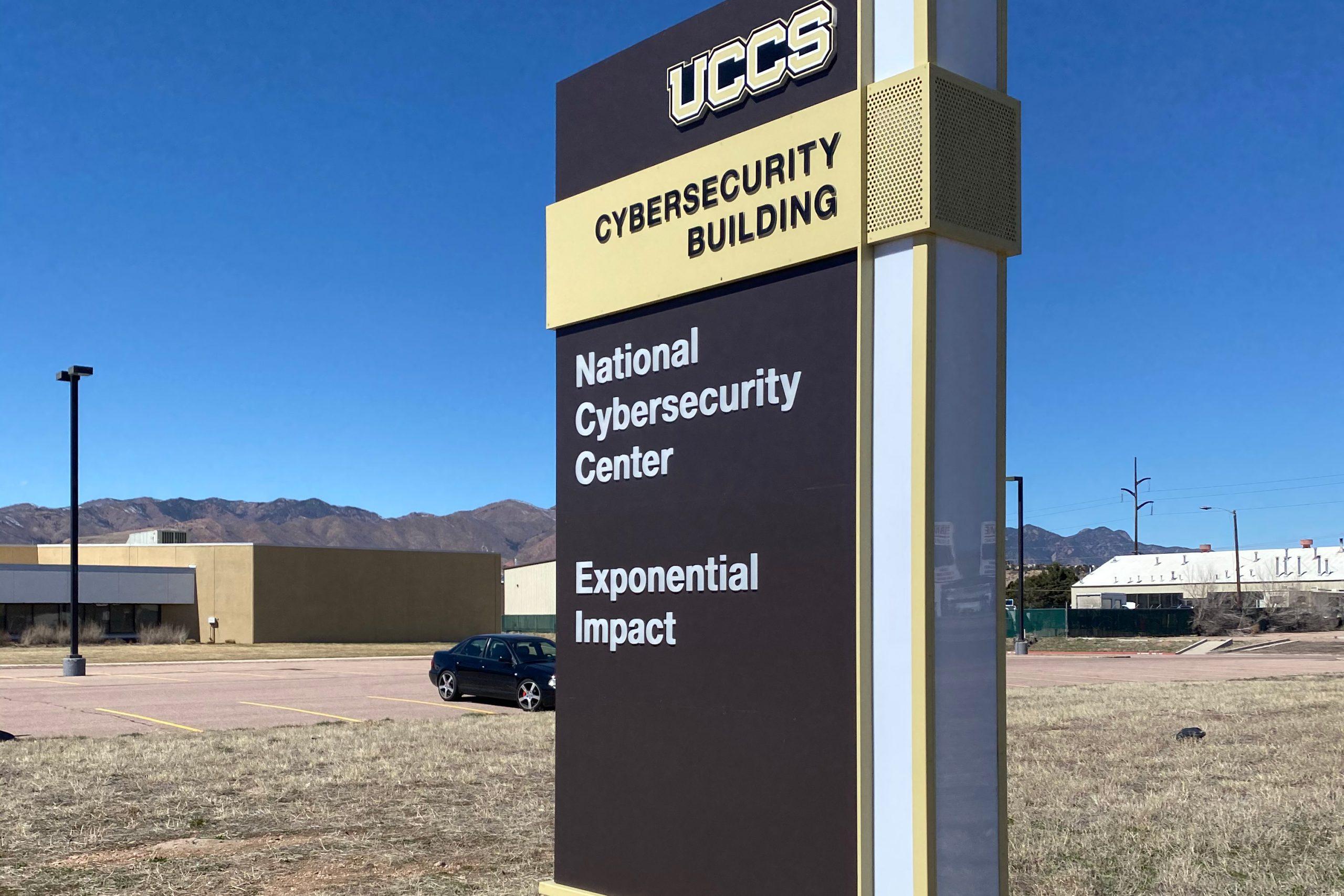 Three donors matched a $2.75 million grant from the U.S. Department of Commerce to begin the design and build out of 31,000 square feet of classrooms, labs, student areas and offices in the UCCS Cybersecurity Building. It will also fund the creation of the Space Information Sharing and Analysis Center. Construction is expected to be ready for students and faculty by the fall 2021 semester.
"We look for win-win partnerships in every endeavor, and this facility will not only serve our students, but will bolster our workforce and boost the economic impact of the region," said Chancellor Venkat Reddy. "This project brings us one step closer to making Colorado Springs the nation's destination for cybersecurity innovation and leadership."
The grant from Commerce's Economic Development Administration is being matched dollar-for-dollar by the collection of the El Pomar Foundation, The Anschutz Foundation and Lane Foundation. UCCS is also fundraising to furnish and equip the new space, as well as to build out an additional 20,000 square feet in phase two of the three-phase initiative.
"This grant to expand and renovate the University of Colorado Cybersecurity Building is critical for boosting the industry and innovation of our region," said Congressman Doug Lamborn. "We thank the Department of Commerce and Secretary Ross for creating this opportunity zone, which, in return, has strengthened our community and made it a better place to live and work."
The facility will allow for student enrollment in computer science and cybersecurity to increase to 1,000 students, and host related progrmaming in the College of Business and School of Public Affairs, reflecting the multi-disciplinary approach to cybersecurity. It will allow for the continued expansion of academic programs with cybersecurity degrees, certificate programs and partnerships with other colleges and universities.
"This $5.5 million collaboration will allow us to realize a vision for Colorado Springs to become a national and global leader in cybersecurity education, training and research, " said Gretchen Bliss, director of cybersecurity programs. " These grants will complete the build out of the building that we envisioned years ago that brings together education, industry and government to provide solutions in this constantly evolving field. "
The facility also houses the National Cybersecurity Center, Exponential Impact and the soon-to-be constructed Space ISAC.
"As a fifth-generation Coloradan who grew up in a rural town out on the Eastern Plains, I know how important it is to attract growth to local communities," said Senator Cory Gardner. "The opportunity zone program continues to bring new investment and jobs to Colorado communities, and I'm pleased to see this funding from the U.S. Department of Commerce awarded to the University of Colorado Colorado Springs. Especially with the economic challenge posed by the coronavirus, it's important that opportunity zone investments continue, and we should look for ways to accelerate the deployment of opportunity zone capital in every corner of Colorado."
The Cybersecurity Building is located within a Tax Cuts and Jobs Act Opportunity Zone, one of 126 zones in Colorado established by President Donald J. Trump's Tax Cuts and Jobs Act of 2017. This award is expected to create in excess of 360 jobs and attract more than $9.3 million in private investment during its initial years of operation.
"President Trump is working every day to empower our nation's entrepreneurs so they can grow, thrive and create jobs for Americans," said Wilbur Ross, Secretary of Commerce. "This project will provide the University of Colorado with the necessary modernized space to support the growth of new cybersecurity businesses in an opportunity zone."
The U.S. Economic Development Administration leads the federal economic development agenda by promoting competitiveness and preparing the nation's regions for growth and success in the worldwide economy. An agency within the U.S. Department of Commerce, EDA makes investments in economically distressed communities in order to create jobs for U.S. workers, promote American innovation, and accelerate long-term sustainable economic growth.
About the University of Colorado Colorado Springs (UCCS)
The University of Colorado Colorado Springs (UCCS) offers 55 bachelor's, 24 master's and eight doctoral degree programs and enrolls about 12,000 students annually. Located in the heart of Colorado Springs, UCCS has a strong student focus and access mission, with a goal of transforming lives for the better. Learn more about UCCS at uccs.edu.
About Cybersecurity at UCCS
UCCS is a recognized cybersecurity education leader in the region, awarding hundreds of degrees each year in cybersecurity fields at bachelor's, master's and doctoral levels. UCCS cybersecurity programs train security professionals who work to ensure the nation's security, support faculty research and strategic cybersecurity partnerships with industry, government, military and academic institutions, including the U.S. Space Force and the National Cybersecurity Center.  Due to generous Colorado state funding of cybersecurity education, UCCS students are eligible for significant financial aid towards security degree scholarships. Learn more about Cybersecurity Programs at UCCS.