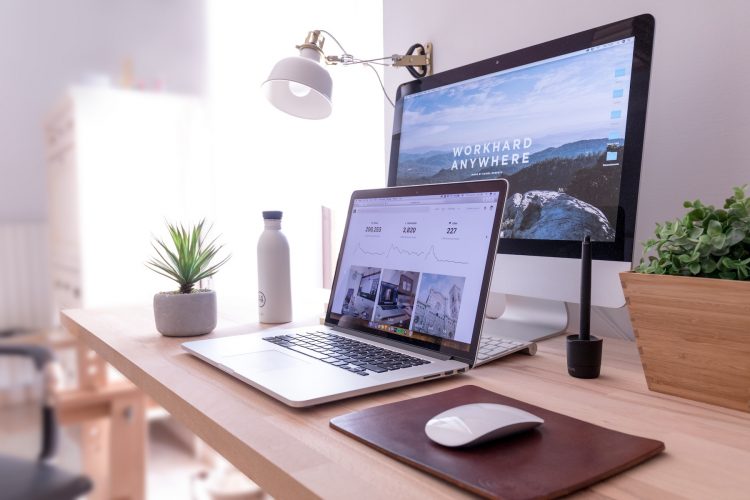 As UCCS finishes the semester via remote learning and working, it can be challenging to make the transition to online classes. Below, find seven strategies to stay focused and productive.
Create your space
When you go to work, there is a physical space set up for you to help you work efficiently and productively. Entering this space sends a message to your brain that it's time to get down to business.
Treat your classes the same way by creating a dedicated working space that separates classes and studying from your personal life. Make sure it's close to a power source and has everything you need – your textbooks, syllabi, assignments, homework, headphones and other tools – nearby.
It should be comfortable, but not a place you go specifically to relax, so avoid your bed or the couch. You'll be more productive and focused if you're sitting up straight, with your computer about an arm's length away from your eyes.
If you have family or roommates in the house with you, consider setting the expectation that you will close the door when you are tuning into online class or studying. The point is to make a place for yourself that is for you and only you, so that you can be focused and efficient.
Find your new rhythm
We are all adjusting to a "new normal", and it's okay to feel disconnected from the rhythm you followed earlier in the semester. It will help to create a new rhythm. Routine and structure signal to your brain that it's either time to work, or time to relax – so be intentional in creating a schedule that you can consistently follow each day and week.
Whether it's Friday afternoon or Monday morning, take a few minutes to plan out when you need to attend classes, when you will study and what assignments have deadlines coming up.
Part of this rhythm includes fitting in all the other important things in your life, like family, friends, exercise and work. Make sure you're creating a balance between what you have to do and what helps you feel happy and relaxed.
Reduce distractions
Technology is amazing. But it's also a huge source of distraction. If you think back to a lecture you listened to and can't remember anything that was discussed, you might need to create better boundaries to help you engage with your classes.
When you're attending online classes, turn off your phone or put it on "Do Not Disturb." Close out of additional browsers on your computer and put a door in between you and other distractions. Consider taking notes using pen and paper to avoid switching between different screens – and to keep yourself from browsing social media or unrelated websites.
Find an accountability buddy
Just like a workout buddy, an accountability buddy can help you stay on track with your studying and assignments. Ask a friend, roommate or classmate to be your accountability buddy. Agree to check in on each other's' progress. Then, establish a time to check in with your accountability buddy, whether it's at the beginning and end of the day or before each class.
Sometimes, the small act of holding your progress accountable to someone else can be the motivation you need.
Use your resources
UCCS has many resources available to help you adapt to remote learning.
All five Excel Centers are offering online tutoring. The Kraemer Family Library is offering virtual research assistance through chat, email, phone and text. Several publishers are making books and journal articles free during this time, and the library can also digitize materials that are only found in print. The Office of Information Technology can help with technology-related questions.
On that note…
Ask questions
If you need a resource but don't know how or where to find it, ask. If you are struggling with a topic or question in class, email your professor or ask a classmate.
Moving to online classes can make you feel like you're alone. You're not alone – and there are resources available to help you succeed.
Be honest with yourself
Take a few minutes every day to check in with yourself. Did you stick to your schedule? Did you accomplish what you said you would? What worked, and what didn't work? Where do you need extra help and support to be successful?
The more you become aware of what is helping you to be successful – and what's not – the more you can create a system that works for you.
Remember, the hardest part of any new transition is the beginning. What may seem difficult and strange will become easier as you get used to it and as you create good structures and routines to support your success.