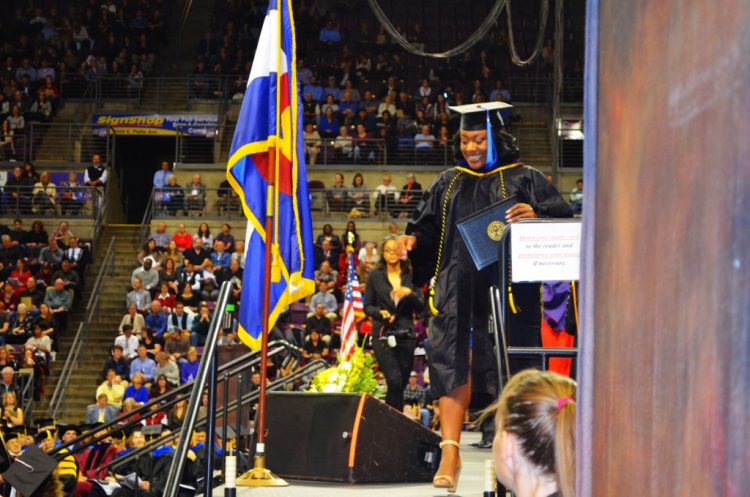 A record-breaker and trendsetter in her own right, Christine Izuakor, Ph.D. '16, enjoys shattering expectations while setting and meeting her own definition of success.
That mindset proved beneficial multiple times in her rise through the field of security engineering, especially as she set out to prove wrong the opinions of those who diminished the potential contributions to the field of security by a young woman in her 20's. She credits her family with instilling her with courage and drive.
"My family struggled on-and-off with affording food and electricity," she said. "I watched my parents leave everything they knew to come to America – to sacrifice so my siblings and I could have better lives. It's been a huge motivation for me."
Fueled by her family and her passion, Izuakor earned her master's degree and converted an internship with United Airlines into full-time employment before she even graduated.
While working in the field of security, Izuakor set her sights on taking the field by storm. To do so, she formulated the goal of a doctoral degree.
"I came across the UCCS program in security. I reached out to a professor, and the dynamic was good, but I was in a unique situation because I wasn't living in Colorado," she said. "Ultimately, I'm thankful because while it wasn't an online program, the faculty and team were willing to accommodate and support me."
Izuakor enrolled in the College of Engineering and Applied Science's Ph.D. in Engineering with a focus in security, and she took advantage of her professor's willingness to accommodate her by succeeding in her research and schoolwork.
"I remember one time I had to participate in an in-person presentation, but I was able to do it via Skype," she said. "All of my professors stayed in close contact with me."
With support from her professors and fellow classmates, Izuakor was able to dig in and design her studies around her career goals.
"You'd assume you're learning more about in-depth security," she said, "but the way I was able to design my program, there was a lot of work in systems engineering and growing my security knowledge through additional classes."
Izuakor learned from her UCCS professors how to take hyper-complicated and challenging problems and break them into accomplishable chunks, from which she could create and deliver solutions.
"In my work today, there's just so many areas where it applies," she said. "Learning that at UCCS is something I'll never forget."
She realized that at UCCS, she already proved any doubters wrong as she shattered records, earning her Ph.D. at just 27 years old. She was the youngest woman and the first African American woman to do so.
Izuakor remarked, "In order to accomplish goals, you need to believe in yourself. Especially people who come from certain backgrounds, if you're teaching yourself not to dream in fear of not being disappointed. It's important to know it's okay to dream beyond that. If people think you're crazy, it's important to protect your dreams."
Protecting her dreams allowed Izuakor, now a figure in the field of security, to become United Airlines' Senior Manager of Global Security and Awareness. She now focuses on encouraging other young people to seize their dreams. She credits UCCS with helping fuel hers.
"I think for UCCS to be one of the first universities with a reputable and customizable degree is huge," she said. "You can pick which areas you want to focus on, and it's easy to overlook that there are so many subdisciplines in cyber. The program truly groomed me and got me ready to persevere even today."