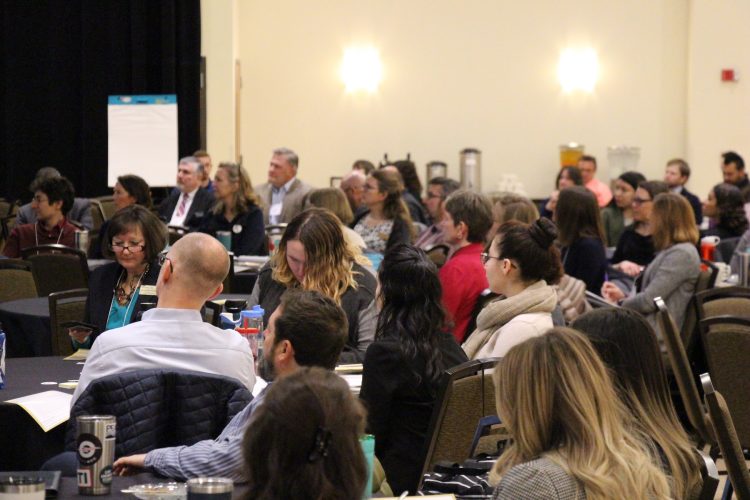 Faculty, staff and students gathered for the second campus-wide Diversity and Inclusion Summit on Mar. 4 with a goal of identifying action items to strengthen UCCS' culture of ethics, diversity and inclusion.
The Office of Equity, Diversity & Inclusion hosted the event as part of UCCS' Advancing Ethics series. It featured a keynote address from University of North Dakota's senior vice provost and professor of sociology Debbie Storrs, panels of faculty, staff and community members and interactive sessions aimed at identifying bright spots in UCCS' ethical culture, along with areas for improvement.
As he welcomed participants to the summit, Chancellor Venkat Reddy remarked, "Being a Mountain Lion means that we support each other and include each other in the conversation. That we do the right thing, even when it is difficult. That we work every day to become a place where every member of our campus can thrive – and our students are prepared to transform the world for the better."
He continued, "As we work to strengthen the diversity of our campus community, strengthening our culture of ethics goes hand-in-hand. And there is a place for all of us in this work."
Director of the Daniels Fund Ethics Initiative at UCCS and professor of marketing Tracy Gonzalez-Padron spoke in a panel focused on defining ethics across disciplines and fields.
She remarked, "When we think of ethical leadership, we often think of the tone at the top – what we hear and see from the university's administration. But what we feel is that everybody is an ethical leader. By your actions, you are showing that you think ethics are important."
In her keynote address, Storrs seconded that point.
"If we are really to create a culture in higher ed that is vibrant and supportive and respectful, we can't expect the administration to do all the work," she said. "Fundamentally, each of us is responsible for acting."
She continued, "We inherit cultures, but cultures don't exist outside of us. We create them. And I want us to feel empowered to do something about them."
Her keynote addressed centered on features of higher education institutions that can lead to unethical behaviors and poor university culture. At the heart of the issue, Storrs explained, is that bad behavior resulting from incivility touches every segment of a university population. It disproportionately affects faculty, staff and students of color, women and vulnerable populations such as non-tenured faculty.
Storrs cited research on discrimination as a source of stress conducted by the Higher Education Research Institute. Research shows that discriminatory and unethical behaviors in higher education – which can take the forms of bullying, harassment, implicit bias, microaggressions, tokenism, wage gaps, promotion caps, double standards and unenforced policies for certain individuals – correlate with job and academic dissatisfaction, disengagement, low performance and low productivity. Many of those affected express a desire to leave the university.
Storrs also suggested ways to embed ethical practices into individuals' daily work and at the institutional level. Among her suggestions were using diagnostic tools to evaluate the cultural health of academic units and departments, empowering students, staff and faculty to negotiate conflict, creating departmental codes of conduct for faculty and staff and – most importantly –building ethical practices into evaluation processes for all university employees.
"Policies are there for good reasons, but they create an illusion of action," Storrs remarked. "Just because you have a policy doesn't mean people follow it. You have to follow good policy with good faculty and staff development, and make sure you build these practices into their evaluations."
The summit also gave participants tools to incorporate ethics into their daily work. One handout overviewed the steps faculty and staff can follow when they notice potentially unethical situations: ask questions, gather information, seek outside input, reframe the situation and then take time to think clearly about it.
In interactive sessions, participants collaborated to determine areas where UCCS' ethical culture is strong and where it has potential for growth.
Among cultural bright spots were Clyde's Cupboard, the on-campus student food pantry; the work of the Daniels Fund Ethics Initiative, Disability Services, Multicultural Office for Student Access, Inclusiveness and Community (MOSAIC) and the LGBTQ Resource Center; support for veteran and military-affiliated students; the presence of diversity champions on search committees and campus-wide sustainability efforts, including the Green Action Fund and PIPs program.
Participants also noted areas for improvement, including mental health support for faculty, staff and students; training and development for faculty, staff and student supervisors and expanded infrastructure to support inclusion efforts, including childcare resources, gender-neutral restrooms and a larger physical space for MOSAIC and the LGBTQ Resource Center.
They also brainstormed solutions for larger cultural improvements in the areas of expanding diversity, improving search committee processes, correcting bad power dynamics and connecting evaluation processes to ethics.
As he summarized the work done over the course of the day, Provost Tom Christensen remarked, "One of the main ideas I heard today was the importance of individuals in this process. The other main idea I heard is that you've got to be uncomfortable in order to grow."
He continued, "We own our own culture, and in our sessions today, we talked about making this a better home for all of us. We talked about working together, and about valuing each other's individual contributions. And finally, we took the individual and the collective and considered looking at not just the 'me,' but the 'we' – considering the collective good that we could build together."
As she closed out the summit, Associate Vice Chancellor of Equity, Diversity and Inclusion Andrea Herrera asked participants to take out their cellphones and submit one word that summed up how they felt about the future of ethical culture at UCCS. In the middle of the screen, in large purple letters, floated one word: "Hopeful."
To learn more about advancing ethics at UCCS, visit the webpages of the Office of Diversity, Equity and Inclusion and the Daniels Fund Ethics Initiative.