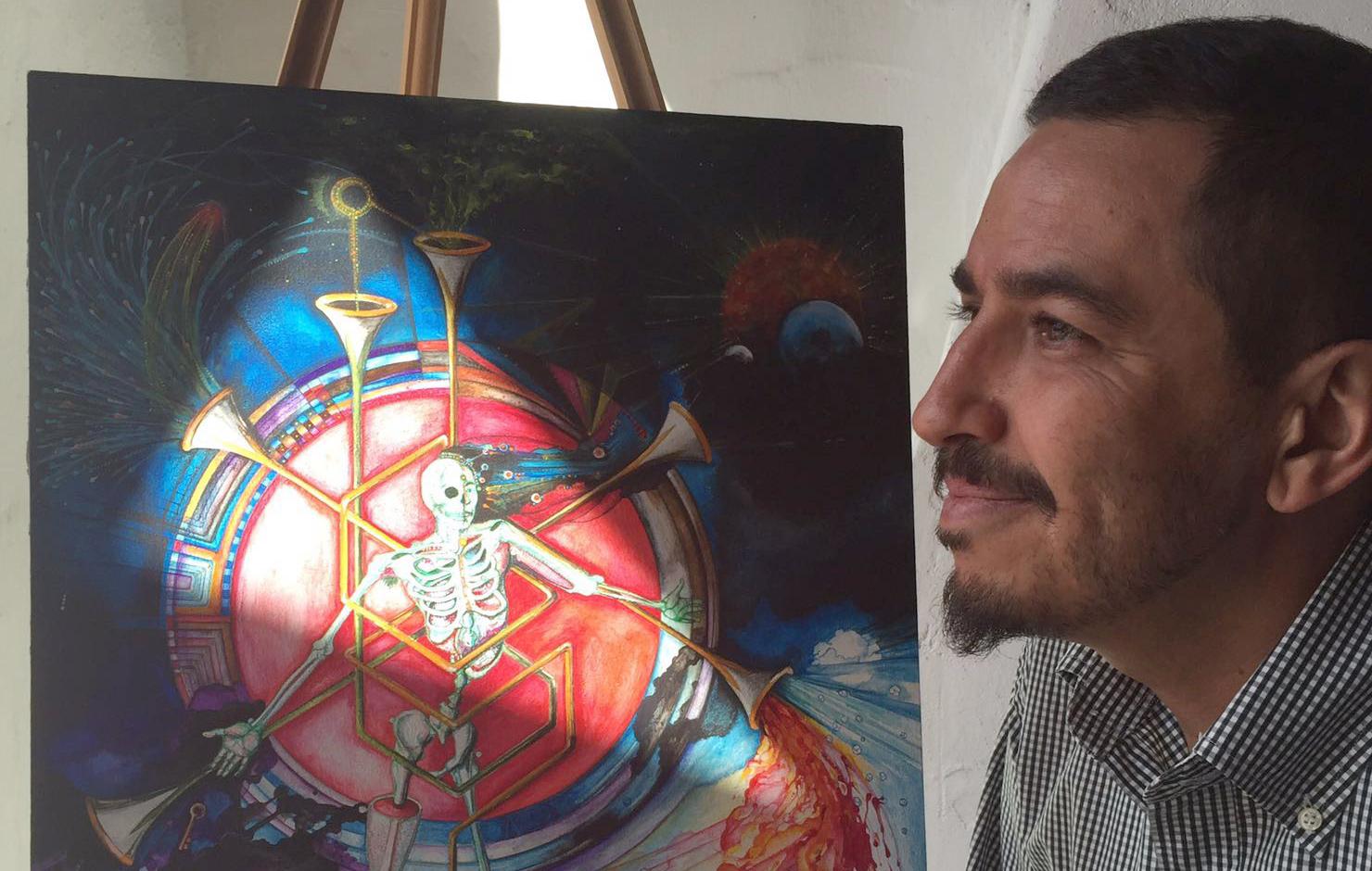 The study of humankind's fascination with the apocalyptic worldview is a vast field, and has increased in interest over the last three decades with the approach and passing of the start of a new millennium. It is a subject that spans cultures, religions, time and space, and one that resists easy categorical definition. In "Through a Glass Darkly," scholars and artists will return to UCCS to deliver presentations and engage in dialogue on campus.
"Through a Glass Darkly" was founded in 2015 and is directed by Colin McAllister, assistant professor and co-director of music program in the Department of Visual and Performing Arts. In 2018, Lorenzo DiTommaso of Concordia University Montreal joined as co-director of the annual symposium. "Through a Glass Darkly" is generously underwritten by the UCCS Humanities Program, the Heller Center for Arts & Humanities, the UCCS Department of Visual and Performing Arts, the UCCS Department of History, the UCCS Center for Religious Diversity and Public Life, and the CU President's Fund for the Humanities.
"Each year this symposium has grown, and, after six years, we are the largest conference in the world that is focused strictly on apocalypticism," said McAlister. "We're excited to host some of the top researchers, artists and musicians in the field, and this year especially welcome two scholars from Canada, and one coming all the way from Romania. This a topic that has evolved for thousands of years in literature, religion and art, and this is an opportunity to take a deeper look at how that interpretation has reached its current point."
All events will be held at the Heller Center for Arts & Humanities, with the exception of the March 20 event at UCCS Downtown and evening events on March 26 at the Ent Center for the Arts. For complete information on the symposium, including abstract and presenter information, visit https://www.uccs.edu/vapa/index/apocalyptic. All events are free of charge and no registration is required.
2020 Symposium Schedule
Friday, March 20
4-5:30pm.: Jon Forshee (UCCS) – "Apokatastasis," an original composition for 10 players + electronics. Presented in conjunction with Third Friday Colloquia. Held at UCCS Downtown (102 S Tejon St.)
Wednesday, March 25
3-3:15 p.m.: Welcome and introduction by Colin McAllister
3:15-4 p.m.: Brian Duvick (UCCS) – "Patchwork Apocalypse and Universal Salvation in the Homerocentones of Eudocia et al."
4-4:45 p.m.: James D. Romano (Fuller Theological Seminary) – "Apocalyptic Wonder and Paul the Apostle"
5-6:30 p.m.: Book release event for the "Cambridge Companion to Apocalyptic" Literature, ed. Colin McAllister (Cambridge University Press, 2020)

"Through a Glass Darkly: Time, the End, and the Essence of Apocalyptica" (Colin McAllister, UCCS)
Response #1 (Jeffrey Scholes, UCCS)
Response #2 (Francis X. Gumerlock, Colorado College)
Response #3 (Lorenzo DiTommaso, Concordia University Montréal)
Discussion
Thursday, March 26
9-9:30 a.m.: Coffee and Donuts, Meet and Greet
9:30-10:15 a.m.: "On The Nature Of The Apocalyptic: Towards a Comprehensive Definition" (Lászlo Hubbes, Sapientia University of Translyvania)
10:15-11 a.m.: "Apocalyptica as World Literature" (Brandon Hawk, Rhode Island College)
11-11:45 a.m.: "Hellscapes: Japanese Medieval Scrolls of the Afterlife" (Suzanne MacAulay, UCCS)
11:45 a.m.-12:30 p.m.: "Exegesis of the Apocalypse in the Tenth Century" (Francis X. Gumerlock, Colorado College)
12:30-2 p.m.: Lunch
2-2:45 p.m.: "Peevish and Rude": The Monster and Norse Apocalyptic (Eli Mason, Concordia University Montréal)
2:45-3:30 p.m.: Late Medieval Illustrated Apocalypses in France: Tradition and Innovation (Karlyn Griffith, Cal Poly Pomona)
3:30-4:15 p.m.: Byzantine Apocalyptic Literature (András Kraft, Princeton University)
6-7 p.m.: Concert, underwritten by a President's Fund for Humanities grant

Jon Forshee – "APOCATASTASIS," for chamber ensemble and electronics (2020)
Helmut Lachenmann – "Salut für Caudwell" for two guitars (1977), featuring Derek Keller (guitar) and Colin McAllister (guitar, conductor)

7-7:30 p.m.: Keynote address, "The Apocalyptic Roots of Contemporary Social Violence" (Lorenzo DiTommaso, Concordia University Montréal)
7:30-9 p.m.: Through A Glass Darkly Closing Reception