A lead challenge gift of $8 million from Lyda Hill Philanthropies will lay the initial groundwork for the creation of the National Institute for Human Resilience at the University of Colorado Colorado Springs. The university must raise an additional $7.75 million in order to receive the $8 million investment for the project with a total cost of $15.75 million.
Resilience is a person's ability to cope with traumatic events, which can include natural disasters, violence, pandemics, accidents or workplace experiences common for military members or first responders.
For the last 18 years, the Trauma, Health and Hazards Center at UCCS has conducted research and trainings to reduce the impact of those extreme events for individuals and large groups. In 2014, the Veterans Health and Trauma Clinic opened to provide focused clinical care for veterans experiencing combat-related trauma.
In addition to supporting the Veterans Health and Trauma Clinic, Lyda Hill also underwrote the creation of the Public Safety Initiative in 2017, led by George Reed, dean of the School of Public Affairs, specializing in the preparation of first responders to cope with traumatic experiences.
Building on that foundation, the National Institute for Human Resilience will focus on the health and well-being of all trauma survivors with specialty expertise for those who put their lives on the line: veterans, military members, first responders and their family members. Colorado Springs is the perfect location for this institute with its significant military and veteran populations and the commitment to their well-being. Beyond the targeted focus on these military and first responder groups, cross-disciplinary scientific exploration will focus on developing resilience more broadly for individuals, families and communities.
The COVID-19 situation has challenged people to adopt to a new normal in unprecedented ways. In response, Chip Benight, professor of psychology and the institute's director, built upon the NIHR model and created GRIT, Greater Resilience Intervention Teams, to train volunteers to promote wellness and resilience support to fellow community members – friends, family, and acquaintances – in the wake of the stress caused by coronavirus.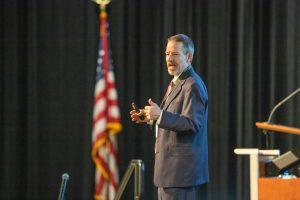 "This new model is built on over 25 years of research that emphasizes human empowerment as a key to trauma recovery and puts clients at the center of their care in order to move forward for complete recovery," Benight said. "We will utilize a fully integrated and advanced technological approach to resilience care, and target each individuals' unique needs, strengths and resilience."
"This gift from Lyda Hill Philanthropies will allow Dr. Benight's team to transform care and change the scientific dialogue of trauma from one of illness and disability to one of strength and empowerment," said Chancellor Venkat Reddy. "There is a need for additional work, and we're gracious that this gift will allow us to begin the process of establishing a national center that we believe will lead the country in terms of innovative resilience-based treatment, research and training."
"I'm pleased to continue to support the evidence-based resiliency work being led by Dr. Chip Benight at UCCS," said Lyda Hill. "The National Institute for Human Resilience will be launched at a time when we are dealing with what seems like an ever-increasing number of unprecedented events – from extreme weather events to the COVID-19 pandemic to veterans returning home from years of war – and I look forward to UCCS continuing to lead on resilience care."
With Lyda Hill Philanthropies funding dependent upon UCCS securing the balance of the $15.75 million project, work is underway to complete the $7.75 million in additional gifts that will allow the institute to become a reality. For additional information on making an investment, contact Tom Dewar, senior director of development, at (719) 255-5104 ([email protected]).
About Lyda Hill Philanthropies
Lyda Hill Philanthropies encompasses the charitable giving for founder Lyda Hill and includes her foundation and personal philanthropy. The organization is committed to funding transformational advances in science and nature, empowering nonprofit organizations and improving the Texas and Colorado communities. Because Miss Hill has a fervent belief that "science is the answer" to many of life's most challenging issues, she has chosen to donate the entirety of her estate to philanthropy and scientific research. For more details visit lydahillphilanthropies.org.
About UCCS
The University of Colorado Colorado Springs offers 52 bachelor's, 24 master's and eight doctoral degree programs. UCCS enrolls more than 12,000 students on campus. For more information, visit uccs.edu.