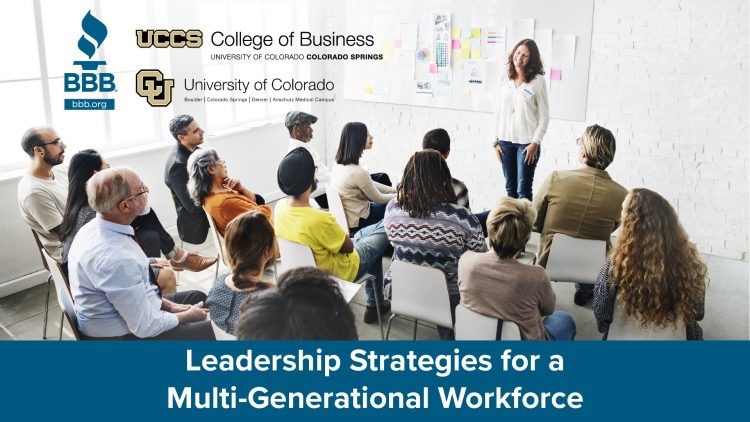 The Better Business Bureau of Southern Colorado and UCCS College of Business will offer a two-part, interactive, professional development program, beginning March 5 through March 12, titled "Leadership Strategies for a Multi-Generational Workforce."
This session marks the fourth year of collaboration between BBB and the UCCS College of Business to address the human resources and marketing needs of small-business owners and professionals in the Pikes Peak region.
Integrating theory, research and evidence-based practices, attendees will analyze the leadership strategies to successfully overcome generational differences. Attendees will leave with real-world tools that they can apply and use in their respective organizations immediately after course completion.
The session will be facilitated by Scott Van Ness, instructor in the College of Business. Scott teaches courses in operations and supply chain management, quantitative methods and service management at UCCS, with specific emphasis on multigenerational workforce productivity and retention. With the rise of millennial influence in workplace, Scott also focuses on motivating and retaining the millennial workforce.
Millennials comprise 26 percent of the population in Colorado Springs, higher than the national average, and the city remains among the top in the nation for attracting millennials. Currently one-third of the workforce, millennials are expected to make up half of the workforce this year.
Business owners, managers, and their employees of all workforce generations are encouraged to attend this two-part program.
"We look forward to offering this professional development series in conjunction with UCCS," said Jonathan Liebert, CEO and executive director of BBB of Southern Colorado. "Learning to motivate, support and interact with employees within each generation is vital for business owners and other professionals."
"We are excited to partner with the BBB of Southern Colorado to offer this timely and important professional development program for a fourth consecutive year," said Eric Olson, interim dean of the College of Business. "As the workplace continues to diversify, it is essential that business professionals understand the nuances of a multigenerational workforce and how to lead them effectively. We are pleased to be a resource for these skills."
The program will take place at UCCS Downtown, 102 S. Tejon St. in Colorado Springs, and will go from 8:30-11:30 a.m. Registration is $275 for the two, 2-hour sessions, and includes program handouts, light refreshments, networking opportunities and a certificate of completion from the UCCS College of Business. Discounts are available for UCCS alumni, faculty, staff and students; Office of Professional and Executive Development program alumni and organizations; and BBB accredited businesses. To secure the discounted rate, contact Pamela Preston at presto2@uccs.edu.
Since August of 1980, Better Business Bureau of Southern Colorado has helped consumers find businesses, brands, and charities they can trust. It serves 25 counties throughout Southern Colorado. BBB of Southern Colorado sets standards for marketplace trust – to create a community of trustworthy businesses and charities – by encouraging and supporting best practices, educating consumers and businesses, celebrating business role models, and calling out and addressing substandard marketplace behavior. BBB of Southern Colorado houses nearly 40,000 business profiles on companies in the region. In 2016, it received 2,660 complaints and had 1.67 million page views on its website. All company and charity reports are available for free online. For more information, visit BBB of Southern Colorado, follow on Twitter, or like on Facebook.
The UCCS College of Business was established in 1965 and has more than 1,300 undergraduates and 350 MBA and distance MBA students. The College of Business and Administration awards the Bachelor of Science in Business and Bachelor of Innovation degrees. The Graduate School of Business Administration awards the Master of Business Administration and Master of Science in Accounting degrees. More than 10,000 alumni of the College of Business live and work around the world. For more information, visit www.uccs.edu/business.
The University of Colorado Colorado Springs, located on Austin Bluffs Parkway in Colorado Springs offers 50 bachelor's, 24 master's and seven doctoral degree programs. UCCS enrolls about 12,100 students on campus. For more information, visit uccs.edu.