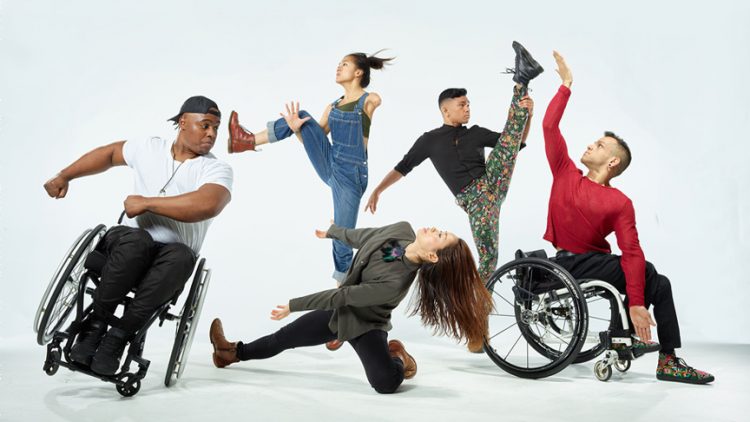 AXIS Dance Company, the nation's most highly acclaimed physically-integrated dance company, will be performing "Radical Impact" in a 7 p.m. performance Feb. 22 at the Ent Center for the Arts. Tickets are through the UCCS Presents Box Office at (719) 255-3232, by email at tickets@uccspresents.org, and online at uccspresents.org.
"AXIS is an amazing dance company, full stop. Their radical vision breaks down barriers and completely reconceptualizes who dance is for," said Aisha Ahmad-Post, director of the Ent Center for the Arts. "The answer, of course, is that dance is for every body, regardless of physical ability."
"Radical Impact" is AXIS Artistic Director Marc Brew's first work for the company, and was created in collaboration with composer JooWan Kim of the hip-hop orchestra Ensemble Mik Nawooj. Using powerfully vulnerable stories, the piece explores what it means to be human through the exhilarating virtuosity of disabled and non-disabled artists moving as one.
The company is co-presented by UCCS, The Independence Center and Colorado Springs Dance Theater.
The UCCS Presents Artist Series brings the world to Colorado Springs by leveraging the Ent Center for the Arts to connect world-class performers with the people of southern Colorado. Founded in 2018, the Artist Series features emerging and venerated musicians, dancers, and live performance experiences. 
Colorado Springs Dance Theatre is a 501(c)(3) nonprofit organization that promotes dance in the Pikes Peak Region. Their mission is to promote a diverse range of world-class dance events that cross generations, cultures, and classes while ensuring that it reaches the most underserved sectors of our community.
The Independence Center is the local home of civil rights for people with disabilities. Working with individuals, their families, and the community, we create independence so that all may thrive. Unlike an assisted living center, our organization provides information, resources, and support to help people with disabilities live, learn, work, play, and participate in civic life as equals.