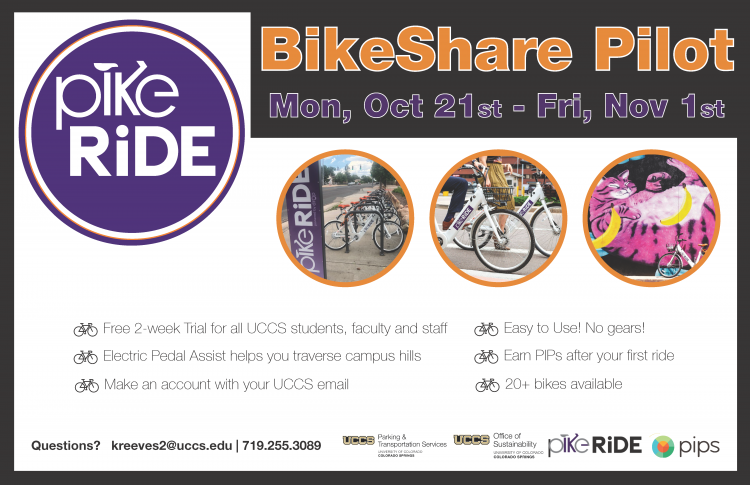 Looking for another (free) way to get around campus? UCCS is bringing PikeRide bike share to campus for a two-week trial.
From Monday, Oct. 21 to Friday, Nov. 1, UCCS faculty, students and staff can create a PikeRide account using their UCCS email and ride more than 20 on-campus PikeRide bikes for free. Students can earn 100 PIPs by creating an account and riding at least once during the two weeks.
The bikes are electric pedal-assist, meaning that an electric motor helps riders pedal more easily and move faster – making UCCS' hills much easier to traverse. The bikes can be parked at any bike rack on campus, but will be rebalanced back to bike racks outside of University Hall, University Center, Columbine Hall, the Gallogly Recreation and Wellness Center and Roaring Fork Dining Hall.
To participate, download the Drop Mobility app on a smart phone and follow the in-app instructions. Riders will be asked to provide a credit card, but no fees will be charged so long as they follow PikeRide's rules.
The Office of Sustainability and Parking & Transportation Services encourage the UCCS community to try the bikes and provide feedback to the office. Questions and comments can be sent to Kimberly Reeves.