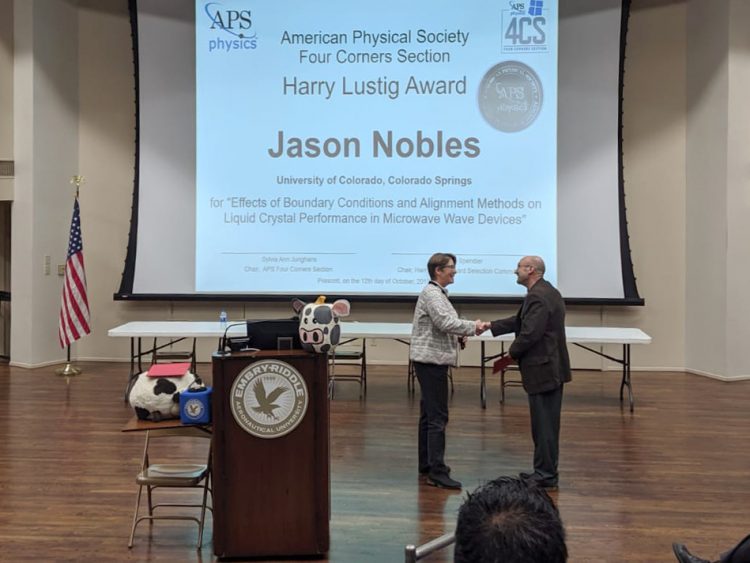 Jason Nobles, a doctoral student in applied sciences, won the Harry Lustig Award for his research work in liquid crystals Oct. 12 during the Four Corners Section annual meeting of the American Physical Society in Prescott, Arizona.
Nobles, who is working with Zbigniew Celinski, distinguished professor of physics, and will defend his dissertation in the spring semester, received a $1,000 stipend and recognition from the members during the conference. He won with his presentation titled "Effects of Boundary Conditions and Alignment Methods on Liquid Crystal Performance in Microwave Devices."
"It's always good to have that validation from your peers that your research is important," Nobles said. "We're doing great work in our physics department at UCCS, and there are some major research universities in the Four Corners region, and this showcases the important work that we're doing on campus."
Nobles' work is how liquid crystal devices can be used for microwave technology, and specifically radar systems that could be as small as a cell phone. While liquid crystals have been used for years in displays, the use in microwave signal applications has not been as heavily studied. In improving our understanding in this area, we can shrink the technology, one of several uses would be to enhance the technology in self-driving cars.
"What they use now is a type of ranging system, which only tells a car how far an object is," Nobles said. "This new technology would allow a vehicle to determine how large it is and how fast it's moving. So instead of just stopping, a car could drive around a moving object."
Nobles said his next steps will be to turn the presentation he gave at the Four Corners Section meeting into a manuscript to be published in a scientific journal.
The Harry Lustig Award was established in 2015 to encourage graduate-level physics study and to honor the memory of Lustig. He was a physics professor, provost and vice president for academic affairs at City College of New York, and secretary-treasurer of APS from 1985 to 1996. He passed away March 17, 2010, and the award was endowed by his friends and family, and members of the APS.