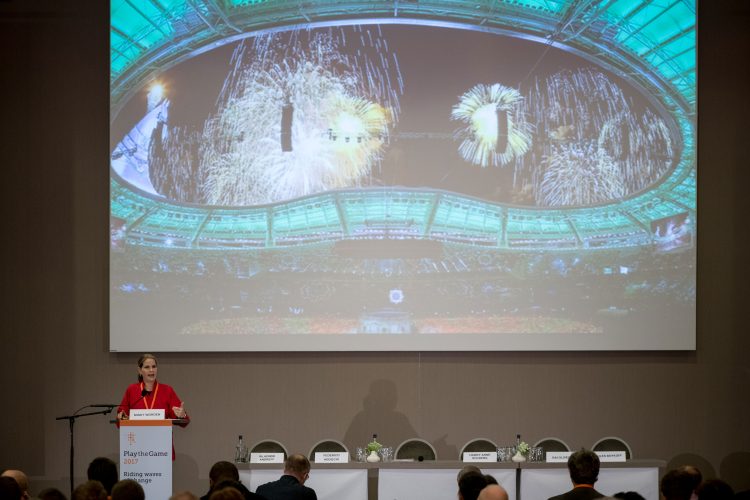 Leading athlete representatives, investigators, sports officials and whistleblowers will gather from October 13-16 in Colorado Springs, Colorado, to discuss anti-doping, matchfixing, abuse and other challenges to sports integrity. Registration is now open for attendees to join a unique network of experts.
Professionals engaged in grassroots sport, anti-doping, corruption prevention, event management, athlete activism, protecting children against abuse – or those simply devoted to sports politics – will soon have a unique opportunity to upgrade their commitment at the Play the Game 2019 conference.
For the first time in the U.S., the international Play the Game conference will gather over 150 athlete representatives, academic experts, journalists, whistleblowers, sports officials, union leaders, and other stakeholders to share their expertise and experience in the fight for better governance at the executive level and safer sport on the ground.
A selection of the agenda-setting presenters:
Richard W. Pound, founding WADA President and doyen of the IOC
Evan Norris, former leading Department of Justice attorney in the FIFA case
Sarah Lewis, secretary general, International Ski Federation
David Howman, chairman, Athletics Integrity Unit
Hajo Seppelt, investigative journalist
Brendan Schwab, executive director, World Players Association
Yuriy Ganus, head of Russian antidoping agency RUSADA
Beckie Scott, chair of WADA's Athlete Commission
Federico Addiechi, head of sustainability, FIFA
Emma Terho and James Tomkins, IOC's Athlete Commission
Declan Hill, PhD, reporter, pioneer in the fight against matchfixing
Ju'Riese Colon, CEO, U.S. Center for SafeSport
Richard H. McLaren, sports lawyer
Nancy Hogshead-Makar, CEO, ChampionWomen
Travis Tygart, CEO, USADA
Yuliya and Vitaly Stepanov, whistleblowers
Andrew Zimbalist, professor in sports economy
Han Xiao, chair, Athletes' Advisory Council, USA
The full program, the list of speakers, registration and all other conference information can be reviewed at www.playthegame.org/2019.
The conference is not-for-profit and financially supported by the University of Colorado Colorado Springs and numerous stakeholders (detailed below).
Media representatives must register in advance and pay a fee covering the costs related to meals, venue etc. For questions, please contact Jens Sejer Andersen, international director, Play the Game, at [email protected].
About Play the Game
Play the Game is an initiative run by the Danish Institute for Sports Studies (Idan), aiming at raising the ethical standards of sport and promoting democracy, transparency and freedom of expression in world sport.
Through its international conferences, website, news production and research initiatives, Play the Game has become a first mover and a unique platform for addressing a number of challenges to modern sport, such as corruption in sports organizations, match-fixing, doping, unsustainable mega-events and the need for more active sports participation policies.
The 2017 conference gathered almost 450 experts in sport from 45 countries on all continents, bringing together a wide range of professions – academics, media professionals, athletes, sports officials, business people, government representatives and other agenda setting stakeholders in sport.
Sponsors of the 2019 conference
Thanks to the fundraising efforts of the Sport Management Program in the UCCS College of Business, the following U.S. sponsors supported Play the Game 2019:
Daniels Fund Ethics Initiative at UCCS
LART (city council of Colorado Springs)
UCCS
UCCS Sport Management
University of Colorado Boulder
Visit Colorado Springs
The Colorado Springs Sports Corporation
U.S. Anti-Doping Agency (USADA)
Partnership for Clean Competition
El Pomar Foundation
From Denmark, the conference is financially supported by:
National Olympic Committee and Sports Confederation of Denmark (DIF)
Team Denmark, national elite sports institution
Anti-Doping Denmar
The Danish FA (DBU)
Danish Journalists' Union
Norwegian Journalists' Union
Association of Danish Sports Journalists.
About UCCS
The University of Colorado Colorado Springs, located on Austin Bluffs Parkway in Colorado Springs. The university offers 48 bachelor's degrees, 28 master's and seven doctoral degrees. UCCS enrolls about 12,200 students annually and another 3,300 in online programs. For more information, visit www.uccs.edu.