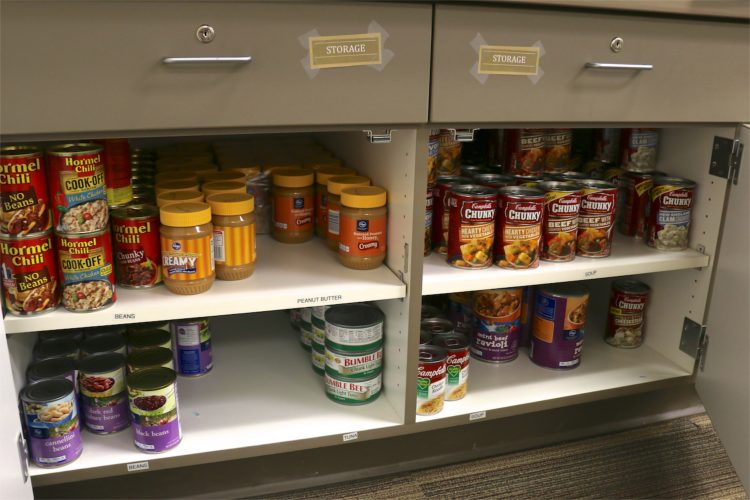 For many students, missed meals, ramen noodle dinners and hunger are a reality of college life. Clyde's Cupboard, UCCS' on-campus food pantry, is expanding hours and creating new initiatives to ensure that all UCCS students have access to pantry staples, fresh vegetables and meal vouchers with a goal of reducing food insecurity for all UCCS students. 
The food pantry, housed in the Student Life Office in the University Center, has seen growing use among students – and growing donations from faculty, staff and community partners. 
"90% of the food in our cupboard is donated," says Ray Fisco, prevention and outreach manager in the Dean of Students Office who oversees Clyde's Cupboard. "Our campus is extremely supportive of this program. It wouldn't be what it is without the help and support of faculty, staff, and students." 
A recent survey administered through the Gallogly Recreation and Wellness Center revealed that 25% of UCCS student respondents have struggled with food insecurity during their time in college – meaning they have missed meals because of lack of funds or have faced hard choices between paying bills or buying groceries. 
Clyde's Cupboard, which is open to all UCCS students, aims to fill some of those nutritional gaps. 
"We want all students to know is that Clyde's Cupboard is not a need-based food pantry," Fisco says. "You don't have to be food insecure to use it. You just have to be a student here at UCCS."  
He continues, "If you're hungry, come use the Cupboard. If you want a snack in between classes, come use the Cupboard. We want any and all students to use it, even if they use it one time." 
New this year are expanded hours and initiatives to increase the variety of foods available. 
The Cupboard is open every Tuesday, Wednesday and Thursday from 10 a.m.-5 p.m. Students can pick up pantry staples like peanut butter, soup, beans and breakfast cereals, as well as grab-and-go options like macaroni and cheese cups, oatmeal and canned ready to eat meals. 
Clyde's Cupboard will offer five Fresh Food Fridays using a new refrigerator acquired through a grant from UCCS' Green Action Fund. On August 30, September 20, October 11, November 22 and December 13, students can visit the Cupboard to pick up fresh fruits, vegetables, bread and milk. Dietitians associated with the Wellness Center will demonstrate how to prepare healthy meals for the week using the exact ingredients available to students. 
The Cupboard has also partnered with Dining and Hospitality Services to provide an increased number of meal vouchers to students. Each meal card is good for a free, all-you-can-eat meal at Roaring Fork Dining Hall or the Lodge. To pick up a voucher, students should visit the Office of the Dean of Students in Main Hall between 11 a.m.-3 p.m. on Mondays with their student ID. 
Fisco stresses that although departments can keep an eye out for food drives sponsored by the Cupboard throughout the year – like the annual Battle of the Departments food drive and Food for Fines program – any individual or department can organize a food drive or donate to the pantry at any time. 
"Our campus [has] really rallied around the program," Fisco says. "They are so supportive of this service. I think everybody wants to see it succeed, and I also think that everybody has a story of their own about how they have been impacted by food insecurity."
Clyde's Cupboard accepts all donations. Healthy, non-perishable items such as breakfast cereal, peanut butter, canned beans, boxes of pasta and on-the-go meals are especially helpful to students. 
See additional coverage of Clyde's Cupboard: 
Campus food drives net more than 12,000 items for Clyde's Cupboard