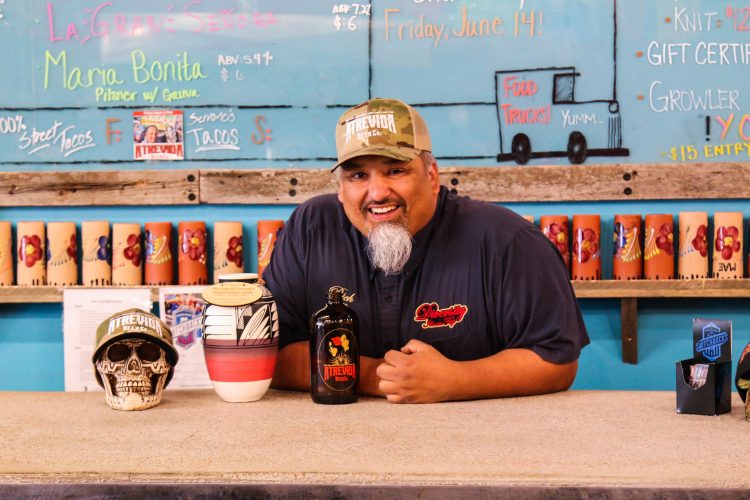 At Atrevida Beer Company, you won't just find brews flavored with Latin-inspired fruits and spices – you'll find a healthy serving of diversity, too. 
Atrevida is co-owned and operated by Richard Fierro, a U.S. army veteran and current UCCS MBA student, and his wife and head brewer Jessica. It's the first Latino-owned brewing company in Colorado with a female head brewer. And it's just won Governor Jared Polis's inaugural Governor's Minority Business Award. 
According to the Colorado Office of Economic Development and International Trade (COEDIT), the awards "recognize for-profit businesses that have contributed to the economic diversity and success of minority communities across Colorado".  
Nominated businesses face a hefty scoring criteria: they must demonstrate their commitment to diversity in business practices, community engagement, job creation and more. And they must illustrate that they contribute to the economic diversity and success of minority communities in Colorado. 
At Atrevida, these criteria are par for the course. Richard and Jessica write on the company's website that "diversity is on tap". 
The couple purchased the former Great Storm Brewing space in June 2017, after Jessica won cable network Viceland's Beerland homebrewing competition show with her tamarind-infused Doña Neta brew. By April 2018, Atrevida Beer Co. was open for business.
With Jessica taking the lead on the brewing side – creating beers imbued with guava, Mexican chocolate, lemongrass, cinnamon and agave – Richard has applied his MBA coursework to build out the ethics, marketing, operations and accounting sides of the business. 
"The UCCS MBA program has been challenging and rewarding," Richard says. "The instructors are engaging and all have been very supportive of assisting me when I have real world questions for my small business. They have given me the opportunity to actually apply projects and lessons to my small business that I can use in real time." 
Richard notes that professor of service management and marketing Jeffery Ferguson has challenged him to better position Atrevida on the market. 
"[Dr. Ferguson] understood the challenge of a small business and that I was doing the marketing as the owner in a bubble," Richard says. "He enabled me to use the class to build a marketing plan for my business and leverage the lessons to improve my marketing for my brewery." 
When Richard presented a final marketing plan project to the class, Ferguson and the class visited Atrevida to meet Jessica and see the brewing operation. "He was able to provide his insight as to what I had presented in my final presentation and his recommendations for improvement on site," Richard recalls. "It was the most rewarding class I had ever taken and helped me to select marketing as my second emphasis for my MBA." 
For Richard – an Army veteran and manager and deputy site lead of the Fort Carson Mission Training Complex – the UCCS MBA program has helped him to become a better leader, whether it's in military or business operations. 
"The MBA program exposes you to the challenges in the business environment, frames the current business terrain, provides you the tools, sets the conditions for your profession and gives you that edge you need to move forward in the civilian workforce," he says. "It's helped me to become a more effective small business owner." 
Those interested in sipping Richard and Jessica's brews can find more information on Atrevida Beer Co.'s website.