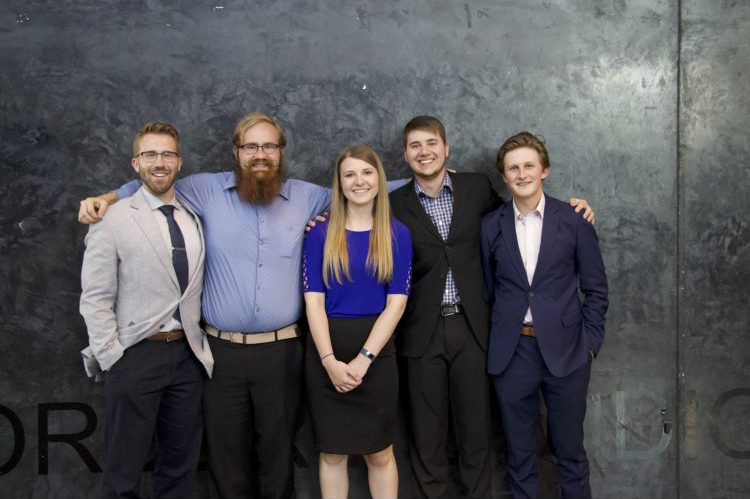 Is it possible to do good and turn a profit? UCCS students participating in the Quad Innovation Partnership Summer Intensive think so.
These six UCCS students spent four weeks of their summer devising innovative solutions for local businesses. Their goal: to create tangible change for Colorado Springs while kickstarting their professional careers.
According to the Quad's executive director Jake Eichengreen, the Quad Innovation Partnership was "born from a vision of retaining more young professionals in Colorado Springs." Students from Colorado Springs' four higher education institutions – Colorado College, Pikes Peak Community College, the U.S. Air Force Academy and UCCS – take on the role of business consultants to develop new strategies for the Quad's partner-clients.
All participants save Air Force Academy cadets receive a $1,000 stipend. In return, they form teams and spend four weeks producing and validating solutions for pressing problems facing Colorado Springs.
The result are collaborative, community-focused solutions at a fraction of the cost of traditional consulting firms.
The Quad's Summer Intensive culminates in a showcase of each teams' presentations. Three of the five teams in the summer showcase included UCCS students.
Morgan Schachterle and Nathan Sanders focused their efforts on increasing access to composting in Colorado Springs. The project they joined, an initiative named Soil Cycle, is a subsidiary of partner-client Colorado Springs Food Rescue which aims to make composting convenient – and in turn, reduce the dangerous emission of methane gas from rotting food in landfills.
Schachterle and Sanders' group oriented their solutions proposal around two poles: fully fleshing out Soil Cycle's volunteer program and offering workshops to engage the wider community.
Two additional initiatives centered on affordable housing in southeastern Colorado Springs.
UCCS students Kevin Tuttle and Jacklynn Snyder joined a project for partner-client Pikes Peak Community Foundation. Their strategy focused on eliminating barriers to for-profit and non-profit development of affordable housing units by creating a social impact fund to cover pre-development costs, such as market analysis studies and permitting fees.
Tanner Harbick and Mitch Risdon tackled Colorado Springs' dearth of affordable housing from a different angle.
Their team developed plans for a campus-style senior living complex on a 5.8-acre plot of land in southeastern Colorado Springs. The initiative – phase two of three in a project championed by Innovations in Aging – proposes to fund the complex with a community shopping center named "The U." Long-term leases in the shopping center would theoretically generate revenue for the apartment complex, allowing it to offer both affordable units and extensive health and accessibility services.
UCCS students and recent graduates interested in participating in future Quad Innovation Partnership programs should keep an eye on the deadline for the next cycle of innovation consulting projects in September. More details can be found at https://www.quadcos.org/.