A "topping off" celebration for a final piece of Lane Center for Academic Health Sciences structural steel is scheduled for 8 a.m. July 22 near the intersection of Austin Bluffs and North Nevada Avenue.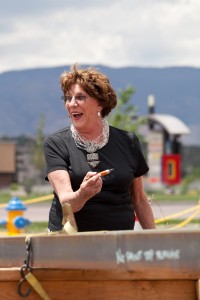 Members of the CU Board of Regents, Chancellor Pam Shockley-Zalabak, Colorado Springs Mayor Steve Bach, Phil Lane, leaders of Peak Vista Community Health Centers, and representatives of GE Johnson Construction are expected to give brief remarks and to sign the steel beam before it is hoisted into place.
The beam will be available for signing on July 18 and 19. Faculty and staff are invited to stop by the north end of Parking Lot 12, north of the Lane Center construction site, to sign the beam. The beam will also be available for signing beginning at 7 a.m. July 22.
"The Lane Center represents a true partnership between the university and the greater Colorado Springs community," Chancellor Pam Shockley-Zalabak. "We will celebrate the building's progress to date and the craftsmanship of hundreds of workers who are turning the university's vision into reality."
A "Topping Off" ceremony is a tradition that dates to 700 A.D. Scandinavia. In modern times, those involved in construction sign their names to a beam to symbolize team work, high-quality craftsmanship and future good luck.
About the Lane Center
Ground was broken on the $18.5 million 54,000 square foot Lane Center for Academic Health Sciences in June 2012 ceremonies with visible progress beginning in early 2013. The project is about 15 percent complete. The building is expected to open in Jan. 2014. The Lane Center is the first UCCS building in the North Nevada Avenue urban renewal zone and the lead for a long-term project that involves performing arts, athletics and additional health-related facilities on the west side of the campus.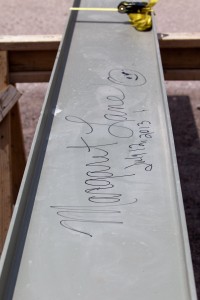 Inside the Lane Center will be the Lane Family Senior Health Center operated by Peak Vista Community Health Centers as well as wellness programs associated with the Beth-El College of Nursing and Health Sciences, the CU Aging Center, the Gerontology Center, the Trauma, Health, & Hazards Center and a branch of the CU School of Medicine for third and fourth year medical students.
In Nov. 2011, a $4 million gift from the John E. and Margaret L. Lane Foundation and Margot Lane of Colorado Springs to UCCS and Peak Vista Community Health Centers launched the planning and eventual construction of the Lane Center for Academic Health Sciences.
Related articles
— Photos by Jeff Foster, University Advancement