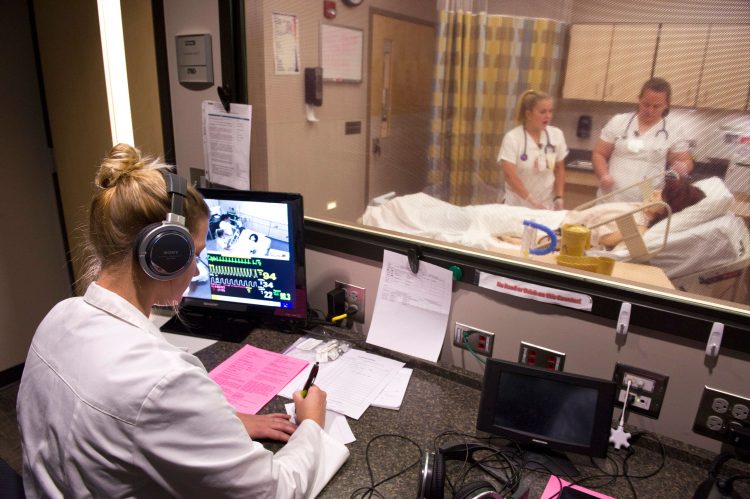 Students who participate in immersive education at the Clinical Simulation Center in the Helen and Arthur E. Johnson Beth-El College of Nursing and Health Sciences will learn how to interact with patients in the only accredited center in southern Colorado. The Society for Simulation in Healthcare announced UCCS as one of six new fully accredited programs May 14.
"Across the board, our health care, nursing, athletic training and nutrition students will go out into the workforce and be well prepared for what they need to do," said Lynn Phillips, assistant professor and director of the Simulation Learning Center.
The center is one of 144 in the world to earn the SSH accreditation. Students who step into the center will use the same equipment found in local hospitals, experience the same conditions and are expected to interact with patients and students the same as they would in a hospital or clinic. A single control room monitors three examination rooms and can simulate a wide range of medical conditions with voice responses and physical movements, including child birth. Instructors and actors will use prosthetics and makeup for an additional level of realistic training.
Students can also participate remotely through TelePresence technology. Exam rooms are equipped with cameras for students to participate in the treatment, and robots from Double Robotics allow participants to move around the room. Faculty provide feedback after the session in debrief rooms and students can access the video remotely for personal review and critique.
"In our accreditation, they called out areas of excellence, and one of our areas was in our training for long distance students," Phillips said. "We have students from around the world who have participated here, who can move around the simulation lab and interact with our students."
While simulations have become standard in health care education, the Society for Simulation in Healthcare helps identify those that meet international standards for quality. Phillips said that UCCS was praised in the way the simulations on campus were developed, vetted, integrated with the curriculum and performed by instructors.
The college has been preparing for accreditation for the last five years. UCCS is the only accredited facility in Colorado outside of the Denver metro area and will maintain its accreditation through 2024.
The Helen and Arthur E. Johnson Beth-El College of Nursing and Health Sciences offers three bachelor's degrees, five master's degrees and the Doctorate of Nursing Practice. The college is expected to double enrollment by fall 2020 when the William J. Hybl Sports Medicine and Performance Center opens in the areas of anatomy, nursing, physiology, exercise science and physical therapy.
Established in 2004, the Society for Simulation in Healthcare seeks to improve performance and reduce errors in healthcare through the use of simulation. The purpose of the SSH is to serve a global community of practice enhancing the quality of healthcare. The accreditation program began in 2010 and is the largest healthcare simulation accrediting body in the world.